SK Telecom (NYSE: SKM, hereinafter referred to as "SKT") today announced the launch of 'SKT 5GX Edge,' the first 5G edge cloud service in Korea, in collaboration with Amazon Web Services (hereinafter referred to as "AWS").
Using AWS Wavelength at the edge of the 5G multi-access edge computing (MEC) networks, SKT 5GX Edge enables customers to build mobile applications that require ultra-low latency.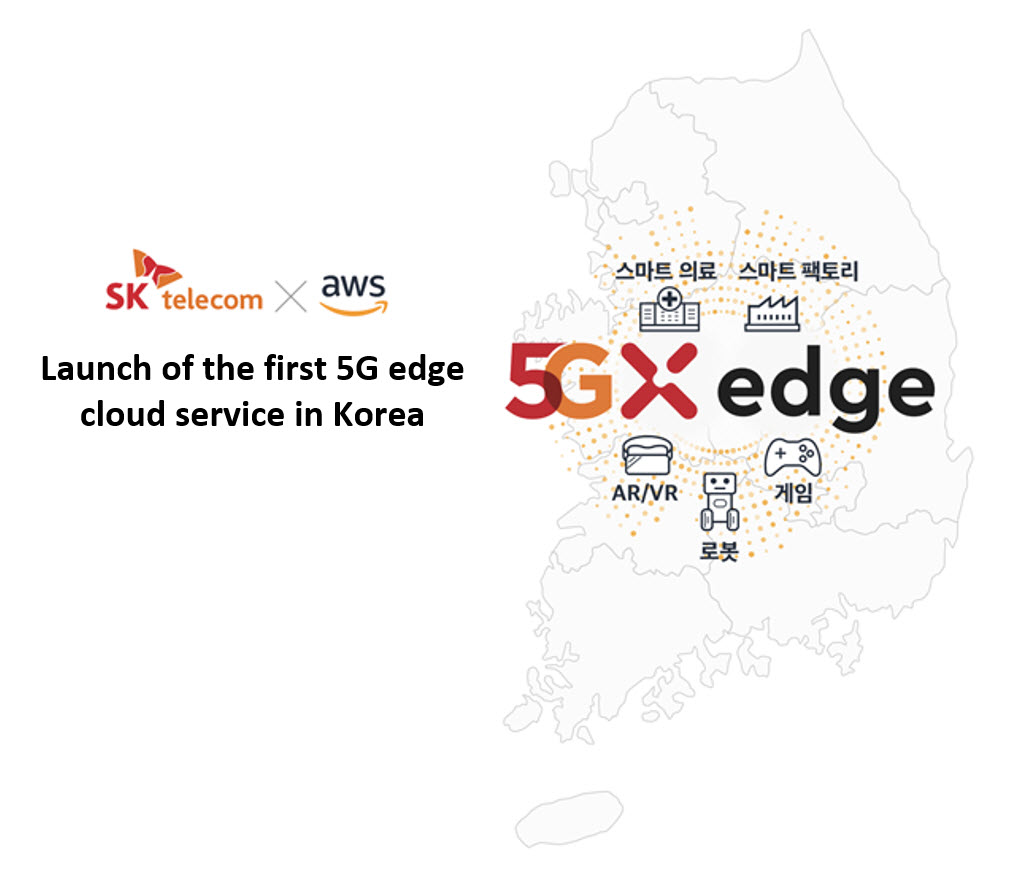 With SKT 5GX Edge, applications are connected to 'AWS Wavelength Zones,' which are located at the edge of SKT's 5G network, making it unnecessary for application traffic to hop through regional aggregation sites and the Internet. This reduces the network latency and thus maximizes the benefits of the 5G network.
SKT 5GX Edge with AWS Wavelength will enable SKT's enterprise customers and developers to build innovative services in areas including machine learning, Internet of Things (IoT), video games and streaming using the familiar AWS services, APIs, and tools they already use today.
SKT and AWS began operating the first AWS Wavelength Zone in Korea in Daejeon and plan to expand the infrastructure to other areas including Seoul in 2021.
SKT has collaborated with AWS since February this year to deploy AWS Wavelength Zones on SKT's 5G network and worked with 20 enterprise customers to test the service for technological perfection.
SKT and AWS have been making efforts to improve operational stability of autonomous robots and efficiency in remote monitoring and control. Together with Woowa Brothers, the operator of food delivery app 'Baedal Minjok,' the two companies have completed tests of applying the 5G MEC service to outdoor food delivery robot Dilly Drive. Meanwhile, work continues with local robotics company Robotis to test run autonomous robots in the 5G cloud environment.
The two companies have also signed an agreement with Shinsegae I&C and Maxst to build an Augmented Reality (AR) navigation and guidance system in Coex Starfield, a large-scale shopping mall in Seoul. They are also working on potential use of the 5G cloud service with Deep Fine, an AR glass solution developer, and Dabeeo, a spatial recognition service provider. With the National IT Industry Promotion Agency (NIPA), SKT has launched an open lab to develop realistic contents optimized for the 5G network and to promote the growth of the related ecosystem.
Collaboration is also ongoing with Looxid Labs, a provider of real-time analysis for eye-gaze tracking and brain wave data, to develop services on the 5G MEC for a senior citizen center in Busan.
As part of efforts to unlock new values of 5G ultra-low latency, SKT and AWS have worked with diverse companies across various industries. To explore the possibility of using the 5G cloud service for real-time communication between autonomous vehicles and their peripheral environments, they worked with Seadronix, a company that delivers monitoring systems for ship loading, and Gint, an agricultural tech startup.
Furthermore, SKT and AWS are actively cooperating in the area of non-face-to-face services as demand grows due to the pandemic. The two companies have been working with video conferencing solution provider Gooroomee to build an environment where two-way video conferencing and remote education services are provided without delay, and have realized a service with a latency of less than 100 milliseconds for multiple simultaneous sessions.
"With AWS Wavelength on SKT's 5G network, customers in South Korea can develop applications that take advantage of ultra-low latencies to address use cases like machine learning inference at the edge, smart cities and smart factories, and autonomous vehicles – all while using the same familiar AWS services, API, and tools to deploy them to 5G networks worldwide," said Matt Garman, Vice President of Sales and Marketing, AWS.
"In collaboration with AWS, SK Telecom has successfully integrated private 5G and edge cloud. By leveraging this new technology, we will lead the efforts to create and expand innovative business models in game, media services, logistics, and manufacturing industries," said Ryu Young-sang, President of MNO at SK Telecom.