KT-Nokia-Megazon Cloud Collaborates To Revitalize AWS Cloud-Based Private 5G Market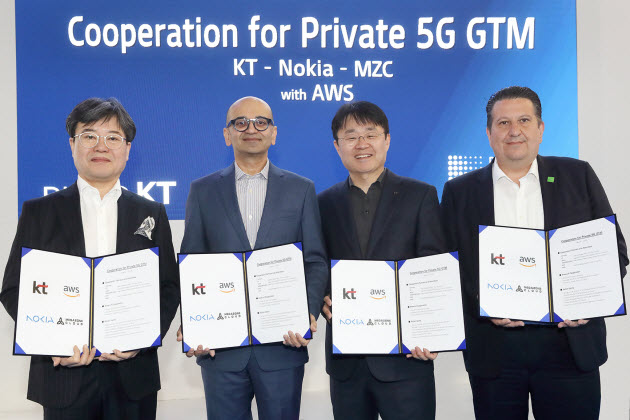 From the left, Cho Sung-hoon, head of the telecommunications business platform division, AWS Chief Technician Ishiwal Farooker, managing director Min Hye-byeong, head of KT Enterprise Services DX, and vice president of Nokia Head of APJ Enterprise PWLS Campus Donny Jansen
Cooperation in all aspects of equipment and solutions and sales to activate the global private 5G market.

Disclosure of industrial safety solution using cloud private 5G at MWC2023.

KT "Building a customer-oriented service platform to vitalize the private 5G market"
KT announced on the 2nd that it had agreed with Nokia and Megazone Cloud on a plan to develop a private 5G business using the cloud of AWS at MWC 2023 held in Barcelona, Spain.
Through this cooperation, KT, Nokia, and Megazone Cloud will join forces to establish a private 5G business strategy with AWS, develop management solutions, and build and operate cloud network infrastructure.
In detail, AWS Cloud-based,
▲Establishment of an end-to-end private 5G service platform ▲Development of 5G network functions running in the cloud for private 5G ▲Expansion of software as a service (SaaS) ▲Development of network operation management system for customers ▲Promotion of joint demonstration project ▲ Discovering business opportunities for small businesses and securing a sales cooperation system ▲ strengthening professional manpower and capabilities.
At MWC2023, KT exhibited safety solutions that can be used in industrial sites using mobile cameras and private 5G network consisting of AWS cloud and Nokia equipment.
In addition, the ultra-lightweight mprivate 5G core technology developed through joint research between Korean local vendor and the KT Convergence Technology Institute was also introduced.
"KT will take the lead in revitalizing the private 5G market by establishing a service platform that supports customers to easily introduce and operate the solutions and networks they want without restrictions," said Min Hye-byeong, executive director of KT Service DX.