CJ Logistics launches Korea's First Private 5G Network in a Logistics Center Sector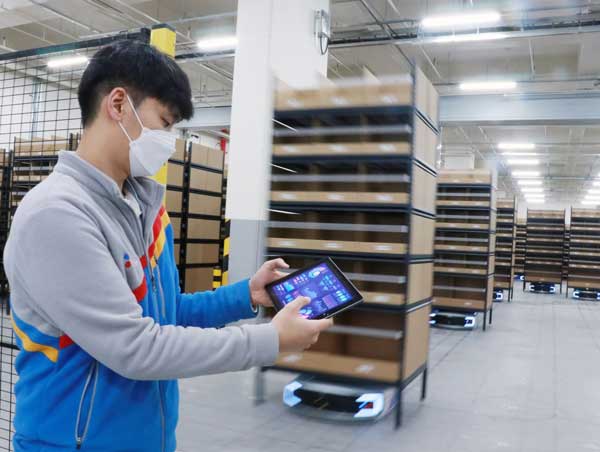 Collaboration with CJ Olive Networks to deploy private 5G in the entire space of the Icheon 2 Fulfillment Center
Reduced infrastructure equipment compared to the existing Wi-Fi environment, 1000 times faster speed... Increased logistics center productivity
CJ Logistics, an innovative technology company, has built a private 5G network for its logistics center. This is the first case where a private 5G network has been built in a logistics center in Korea. The wireless network speed is 1,000 times faster than conventional Wi-Fi, increasing productivity and leading the era of smart logistics 4.0.
CJ Logistics, in collaboration with CJ Olive Networks, today announced that it has deployed the first private 5G network in a distribution center in Korea at its Icheon 2 Fulfillment Center, scheduled to open in May.
Private 5G is a network in which companies or institutions, rather than mobile operators, are directly assigned 5G frequencies and build 5G networks in buildings or factories to utilize them on-site. It is characterized by △high speed, △ultra-low latency, △ultra-high density, etc.
Most logistics centers use Wi-Fi wireless networks. However, Wi-Fi has been cited as one of the causes of low productivity in logistics centers due to frequency channel interference and low speed.
CJ Logistics collaborated with CJ Olive Networks, a private 5G operator, to build a private 5G environment in the entire space of the newly opened Icheon 2 fulfillment center.
CJ Olive Networks was granted a private 5G spectrum and 'common carrier change registration' by the Ministry of Science and ICT in August last year, and is embarking on a full-scale private 5G business. In particular, it is developing the 5G market by focusing on the smart logistics, entertainment, and media industries.
The Icheon 2 fulfillment center, which has three floors and 12,000 square meters, uses private 5G frequencies of 4.72 to 4.82 GHz. Since the private 5G network utilizes dedicated frequencies, there is no channel interference.
The wireless network speed is expected to be 1,000 times faster than conventional Wi-Fi, increasing the productivity of the logistics center. Since private 5G has a range of radio waves that is more than three times wider than existing Wi-Fi, the number of wireless network equipment is reduced, making it easier to manage the infrastructure.
The private 5G will first be used for wireless terminals used by workers. Workers at logistics centers typically use PDAs or tablets to scan boxes, pick goods, and manage incoming and outgoing shipments.
The introduction of 5G-only terminals along with the establishment of a private 5G network is expected to improve work speed compared to the existing Wi-Fi environment, as well as facilitate logistics data management and processing. The two companies plan to expand the scope of private 5G application to robots, facilities, and CCTV after the pilot application to wireless terminals.
"A smooth network environment is essential for fulfillment centers with advanced technologies such as transportation robots and AI," said Ryu Sang-cheon, Head of IT Solutions at CJ Logistics. "With the launch of private 5G, we will deepen our cooperation to introduce advanced technologies in logistics centers so that we can provide better services to consumers."
"It is meaningful to launch 5G at CJ Logistics' fulfillment center as the first project after entering the 5G business," said Lee Ju-young, Head of DT 1, CJ Olive Networks. "We will continue to work together to introduce advanced technologies that drive logistics innovation."