DASAN Networks has put on display its future Internet technology, developed in South Korea, which is capable of downloading a Full-HD movie in a blink of an eye (0.8 seconds.)
DASAN Networks has announced that it has successfully presented its 10G Internet service using SK Broadband's service network at BEXCO, Busan in front of the ICT Ministers and field experts on the 20th of October.
The technology that has been revealed, was led by SK Broadband and DASAN Networks (#1 Network Solution Provider in Korea,) as a joint government project to demonstrate '10G Future Internet Service.' DASAN Networks' 10G EPON equipment performed 10 times faster than the 1G service that we are now growing accustomed to.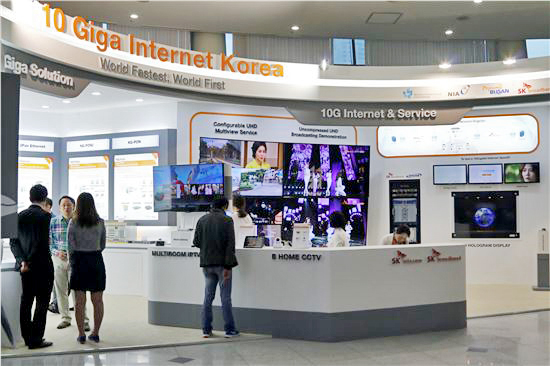 At the demonstration DASAN Networks connected its equipment to National Information Society Agency (NIA)'s test network and to SK Broadband's commercial service network to send Full-HD Videos at 10G speeds from Seoul to Busan, while comparing speeds with the 100Mbps and 1Gbps services.
10G Internet Service is approximately 100 times faster than the 100Mbps Internet Service. While it takes 1 minute and 20 seconds to download a 1G content using 100Mbps Internet, the same content would only take 0.8 seconds for 10G Internet.
Giga-Internet is not only a representation of Korea's Internet status and IT development, but also is considered basic infrastructure for IoT, UHD TV, 3D Hologram Communication and other future Internet services.
What is most special about this demonstration would be that this is the world's first successful demonstration of 10G EPON technology serviced on a GPON technology based commercial network. Based on current technology and services, GPON and EPON cannot co-service on the same cable. However, this ground breaking demonstration done by SK Broadband and DASAN Networks, successfully serviced the world's first EPON and GPON on the same cable on a commercial network.
DASAN Networks is expanding into the global market based on its expertise in Super-Fast Internet technology. This year, DASAN Networks has been chosen as a supplier to Taiwan and Vietnam's #1 communication service providers, while also doing business with approximately 60 different partners and customers located in 25 different countries around the world.
DASAN Networks CEO Mr. Minwoo Nam said, "Korea's #1 FTTH Solution Provider DASAN Networks is expanding into the global market based on its superior technology and experience in multiple markets. This successful demonstration of 10G future Internet will become the basis of our future success in the global super-fast internet market, and will become an important mile-stone of Korea's IT technology"
Meanwhile, DASAN Networks will also be participating in the World IT Show 2014 for 4 days (20th-23rd) at the 2nd Exhibition Hall in BEXCO. At an independent booth on the 1st floor of Hall 4, A101, DASAN Networks will showcase its network devices for 10G Internet and have 1:1 meetings with potential buyers.
News Source: DASAN Networks
Web Site: http://www.dasannetworks.com

Related Netmanias DOCUMENT
[PDF] Dasan Networking Solutions, KCR January 2015, page 52-53