KT-Ericsson demonstrates the World-First Core Technology for maintaining CA in 5G Network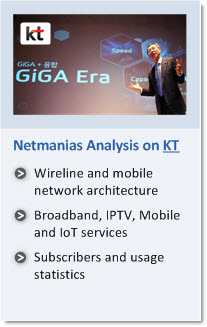 KT announced on Dec. 16 that, together with Ericsson, it has developed and verified the world's first technology to maintain Carrier Aggregation (CA) for macro cells and small cells in HetNet, which is currently drawing attention as the core network infrastructure for 5G.
HetNet, being a network technology increasing data processing capacity and speed by establishing a number of small cells (low-power base stations) within a single macro cell (high-power base station), is coming into the spotlight as a very efficient network in the 5G communication environment, where an explosion of data traffic is expected in the future.
The 5G communication environment of the future is expected to shift into the network environment in which several frequency bandwidths will be mixed, resulting in frequent handovers among small cells and a drastic increase in overlapping and interference regions.
To ensure the communication quality in these overlapping and interference regions, KT and Ericsson have developed the world's first technology to maintain CA among macro cells and small cells.

Its method is for the handset to automatically select optimum small cells during its movement between small cells, enabling it to continuously maintain its CA status.
In the existing HetNet, if its carrier aggregated handset gets out of the small cell's coverage, CA is cut off, making it hard to ensure proper data quality.

But now, with the new CA technology capable of seamless connection even during movement between small cells, the provision of organic interconnection and uniform communication quality has become a reality.
According to the verification result from the HetNet test bed installed at KT's Umyeon-dong R&D center, the data rate in the interference region, when applied with the newly developed technology, resulted in more than a 20% improvement over the existing technology without CA interlocking.
In the future, applying this technology will enable provision of more stable communication speed in such places as downtown areas, large stadiums, event halls, etc., where traffic easily becomes dense.
What is more, securing additional frequency bandwidth would enable greater data processing capacity through additional installation of small cells, which reduces the requirement for the installation of wide-area coverage base stations, with expected future contribution to the reduction of 5G network building costs.
Hong-Beom Jeon, the head of the infrastructure research center under KT's Institute of Convergence Technology (ICT), said, "KT, through technical cooperation with Ericsson, has established building and management technology for a cost-efficient wireless network for the next-generation 5G network based on HetNet," and declared that "the building and operation of the next-generation LTE and 5G base stations will enable us to provide the best wireless communication quality to our customers."
Martin Wiktorin, President & CEO of Ericsson-LG, said, "This cooperation combines KT's superior wireless network management capability with Ericsson's strong and leading technology competence and is sure to create powerful synergy in driving the 5G mobile communication of the future." ♦