The subscription of KT's 'Olleh GiGA Internet' is growing steadily since its nationwide commercialization in Oct. for the first time in Korea. On Dec. 21, KT announced that the subscription of 'Olleh GiGA Internet' has continued to grow by more than 7,000 per week since its release on October 20, and exceeded 100,000 in just two months.

'Olleh GiGA Internet' offers up to 1Gbps, 10 times faster than the previous 100Mbps, successfully appealing to users who want to enjoy movies, music, UHD contents, etc. fast through the Internet.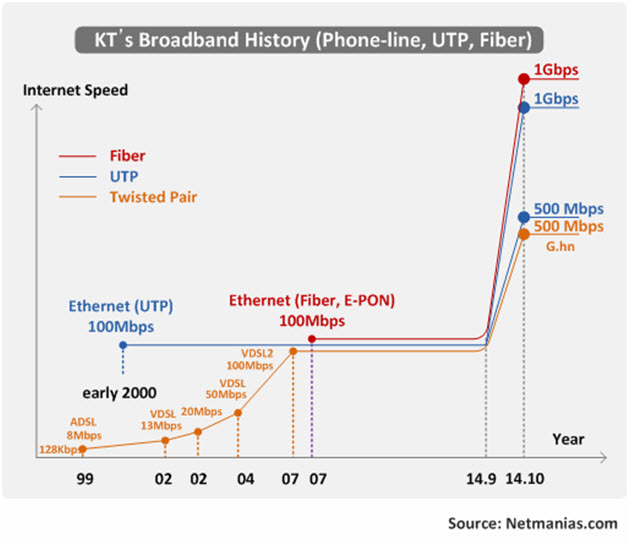 There have been lots of positive reviews and feedbacks about the service, especially about its greatly improved speeds, in many online communities. And also KT's customer center has received quite a lot of inquiries from potential customers who want to know if the service is available in their home areas or not.

According to the analysis of KT's subscription over the past two months, a great proportion of the subscribers i) are living in apartments in Seoul metropolitan area, ii) use HD, large-volume video contents, and iii) are subscribing to Olleh GiGA Compact (500Mbps) service. One thing interesting was, over 50% of the subscribers were found to be residents in Seoul metropolitan area. It was pretty high considering that Internet subscription (of all the big 3) in Seoul metropolitan area accounts for only 40% of the nation's total. This result seems to be affected by the fact that there are large-scale apartment communities in Seoul metropolitan area, and thus building necessary infrastructure was relatively easier than other areas.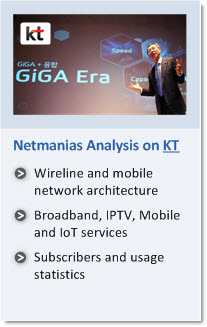 The analysis also found the data usage of GiGA Internet subscribers was more than 4 times as much as that of non-GiGA Internet subscribers. These days, large-volume HD contents like video have become one of the most basic of all customer needs. This has made fast speeds and reliable quality the key contributing factors to successful customer attraction.
Another interesting finding is the popularity of Olleh GiGA Compact. When KT began GiGA Internet services, Olleh GiGA Internet capable of 1 Gbps was very popular but the popularity declined soon. And by December, Olleh GiGA Compact (500Mbps) has become more popular, and its subscription accounted for over 80% of the total GiGA Internet service, proving the point that GiGA Internet is not a privilege for some users any more, but a necessity for everyone by now.
KT plans to make more aggressive investment in building GiGA infrastructure in major facilities and apartment complexes by 2016 to make its GiGA Internet service nationwide. ♦