Samsung Electronics launches the World's First LTE Advanced 3-Band Carrier Aggregation Smartphone
New technology delivers download speeds of 300Mbps, four times faster than LTE services

Samsung Electronics Co., Ltd., today announced the world's first commercially available LTE Advanced (LTE-A) Tri-Band Carrier Aggregation (CA) smartphone. The LTE-A 3-Band CA enabled Galaxy Note 4 will provide a download peak speed of 300Mbps, four times faster than the speed of today's 4G LTE service. This will deliver an unparalleled multimedia experience by enabling faster downloads and web browsing, as well as powering faster content streaming and better access to data intensive applications.
"The LTE-A 3-Band CA smartphone is a meaningful advancement in mobile and telecommunications technologies, and demonstrates Samsung's long-term commitment to providing innovation within the telecommunications industry," said JK Shin, CEO and President of IT & Mobile Communications Division at Samsung Electronics. "We continue to set new challenges for the industry and push boundaries to take mobile technology to the next level and deliver the best possible customer experience."
The LTE-A 3-Band CA enabled Samsung Galaxy Note 4 will provide the most innovative network experience currently available on the market by selecting optimally available bandwidths. The device receives three different frequency bands and aggregates them into a single connection, supporting Category 6 network service with speeds of up to 300 Mbps. Users can download a 700MB video in about 19 seconds or 10 songs with 40MB in about one second.
As mobile and telecommunications technologies continue to evolve, the LTE-A 3-Band CA Galaxy Note 4 will be LTE-A Category 9 service ready, with speeds of up to 450 Mbps download expected to be commercialised later in 2015.
Samsung's commitment to driving 4G LTE adoption reached a major milestone with the Galaxy S5 LTE+ and Galaxy S5 Broadband LTE-A earlier in 2014, which provided the fastest download speeds to date. During Mobile World Congress 2014, Samsung demonstrated the world's first LTE-A 3-Band CA network solutions with 450Mbps speed. ♦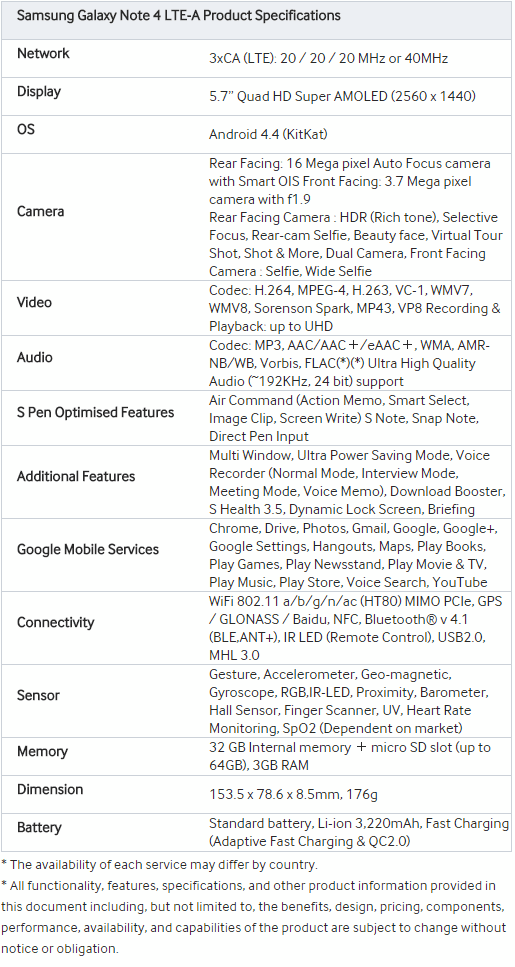 News Source: Samsung Electronics
Web Site: http://www.samsung.com/