Ericsson-LG's 'SDN·NFV·Cloud' Integration Strategy begins in Earnest, helping Operators Face Challenges
02/16/2015 | By Y.J. Lee (yjlee@ddaily.co.kr)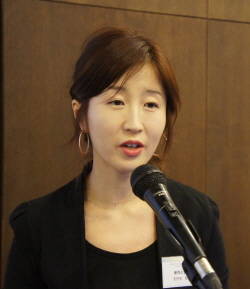 "By 2020, a new era capable of connecting more than 50 billion devices will arrive. To get ready for the challenges they would be facing in this era, service providers around the world must find a way to implement software defined networking (SDN), network function virtualization (NFV) and Cloud all together. To this end, Ericsson provides solutions covering an extensive area including mobile·fixed, IP and transport network, Cloud, etc."
Ericsson-LG has started to work in earnest on finalizing its SDN·NFV·Cloud integration strategy that would bring evolution and innovation in service providers' networks.
Ericsson's presentation material at 'Open & Virtual Networking Conference 2015' (Seoul, Feb. 5, 2015)
Ms. Insook Cho, head of Ericsson-LG Could/IPBB/I&S Solution Team, said, "Service operators today are burdened with the challenge of providing less-complicated networks, making network operation and management simpler and more efficient, and creating more sales and profits, all at the same time. To help ease the burden, Ericsson presented the SDN, NFV and Cloud integration platform as a network-transforming tool box.
This does not merely mean NFV conversion in limited areas like Core (EPC, Evolved Packet Core), Access (RAN, Base Station), IMS (IP Multimedia Subsystem) virtualization in mobile communication networks or IP access router virtualization in wired networks, but rather means proposing of solutions from perspectives of the entire communication network and service provision.
Ms. Cho added, "Ericsson, in a strong and advantageous position in the mobile communication network industry, has been leading development of NFV and supporting implementation of SDN and Cloud." She also highlighted, "The key principle of our SDN·NFV·Cloud integration strategy is to be 'open' and to achieve mutual benefit through multi-vendor support.
The key element of Ericsson's open networking strategy is SDN. Since its foundation, Ericsson has been a platinum member of 'OpenDaylight (ODL)', one of the most representative open source SDN projects operated by Linux Foundation.
Ericsson has also introduced an openflow switch along with an ODL-based commercial SDN controller.
What's special about the company's SDN strategy is that it can apply to the entire physical and virtualized wired/wireless network. Also, its SDN controllers are designed to control optical transport and IP, SDN switch, SDN virtualized switch, and network function virtualization (VNF).
Actually SDN is one of the key areas where many leading enterprise network switch vendors like Brocade, Cisco, HP etc. are in fierce competition with each other. Ms. Cho noted that SDN is the essential element of Ericsson's strategy for providing helpful and working end-to-end solutions to service providers.
Ericsson's SDN controller consists of a Multi-Layer WAN Controller (MLWC), Broadband Service Controller (BBSC) and Cloud Network Controller (CNC). MLWC is in charge of controlling transport·IP access network in multi-vendor environments. It has been jointly developed with Ciena and is expected to be commercialized soon.
BBSC is primarily responsible for service chaining of applications, supporting in interoperation with openflow switches. CNC takes care of controlling DC connectivity as well as virtualization environments. In addition, Ericsson provides an OpenStack-based orchestration tool in Cloud environments.
Ericsson supports all the elements required for integration of SDN, NFV and Cloud. Ms. Cho said, "Our proposed integration platform covers not only legacy physical network, but also SDN support network and virtualized data center." She also noted, "SDN controller controls IP·transport network including openflow SDN switches, and VNF manager is in charge of NFV function management.
Now with our data center virtualized infrastructure manager (DC VIM) added, all the three tools will be working together as one powerful control tool in the Cloud and Service Orchestration domain, eventually."
As a use case, a virtualized enterprise service platform built through integration of SDN service chaining and cloud environment was presented.
Ms. Cho explained, "This platform, by utilizing the two key players, SDN controller and openflow switch, can implement service chaining capable of dynamic provisioning/control of service by subscriber. The biggest benefit of service chaining is that it allows new services like video traffic optimization, caching, content filtering, etc. to be added fast and efficiently. This is not just a new technology, but a new service paradigm openned."
She continued, "The virtualized enterprise service platform, already commercialized, can be useful for operators to enhance their service competitiveness towards the enterprise customers."
She also said, "With the platform, operators can i) just keep SDN-based CPE with them and ii) move all other equipment including security equipment up to SP Cloud for simpler and easier IT operation. Then, operators can obtain any necessary IT resources and services instantly through catalog self-portals at any time."
About the company's strength in the next-generation technology field, Ms. Cho highlighted that "We support end-to-end solutions that cover SDN, NFV and Cloud, and also have a very clear understanding of what challenges operators are facing.
In that regard, we are very competitive compared to other IT solution developers." She added, "Our field experiences of achieving and maintaining 99.999% of reliability required in the communication network work as an important factor here."