Netmanias Interview with Kisan Telecom at MWC 2015: Kisan Telecom introduced Korea's Advanced Repeater Technologies in the World Market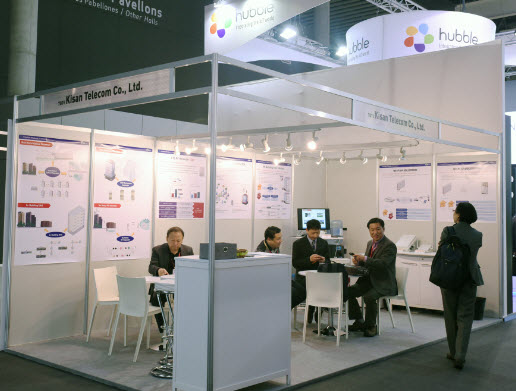 Despite the recent trend of capacity-driven network paradigm (such as small cell), repeater solutions, such as In-building DAS and RF/ICS repeater, have been continuously playing a large part in radio network infrastructure, from 2G/GSM to LTE.
Particularly, Korean telecom operators have preferred to deploy their radio network infrastructure with a large number of repeater systems across the nation, to win the coverage/service battle. And the fierce battle has apparently made Korean repeaters more competitive than those from other countries, in terms of product reliability and practical performance.
Kisan Telecom, one of the well-known repeater vendors in Korea, introduced its flagship solutions at MWC 2015: In-building DAS, RF Repeater, and WiFi products.
There are two types of In-building DAS solutions available from Kisan Telecom depending on antenna cabling types (RF coaxial or UTP cable): UTP-based and RF coaxial-based in-building systems.
The person who presented Kisan's solutions at the event noted that, of the two, the UTP-based in-building solution is more attractive because it can utilize inexpensive UTP cables and POE (Power over Ethernet) in connecting Antenna Units (AUs) with a built-in module, which are to be installed instead of conventional in-building antennas.
Kisan Telecom has supplied for Softbank Mobile (SBM) in Japan, and is currently contacting KDDI and NTT Docomo to expand its client base in Japan.
RF Repeater is another type of radio equipment. It repeats the radio signals received from external base stations, and delivers them to outdoor shadow areas around buildings or small in-building shadow areas.
The presenter explained that since RF repeater relays signals in the same frequency, it is very important to minimize the processing time (delay time) of RF repeater to eliminate chances of signal interference issues (ISI/ICI).
He also said that they made the repeater system more enhanced by minimizing processing time (reducing by nearly half), from 4.7us (reference value for LTE radio service) to 2.5us.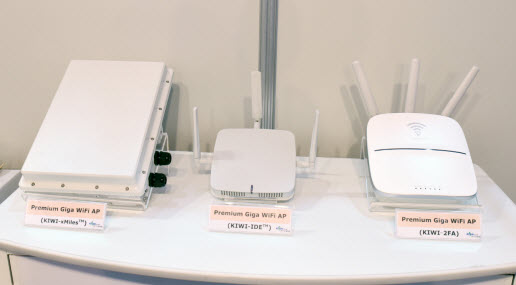 Kisan's WiFi products exhibited at MWC 2015 were an indoor Giga WiFi AP and long-range WiFi backhaul equipment, both complying with IEEE 802.11ac technology.
Unlike a typical WiFi AP, the indoor Giga WiFi AP supports three frequency bands - one 2.4GHz band and two 5GHz bands - and is used for traffic capacity upgrade in urban areas with high traffic. Kisan has been supplying this indoor Giga WiFi AP domestically and globally (e.g. Softbank Mobile (SBM) in Japan).
The outdoor WiFi backhaul solution is designed for a long-range backhaul connection, to serve remote areas that require low capacity, like islands. The company confirmed that the backhaul product operates as a couple between end-points, and it has been tested over 40km distance.