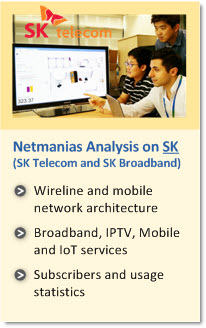 SK Telecom and Samsung Electronics have made partnership to lead the future Information and Communication Technology (ICT) and to discover businesses for future.

With such partnership, both companies have expanded their 5G mobile communication partnership to field that even covers next generation ICT.

SK Telecom and Samsung Electronics has exchanged memorandum of understanding on the 2nd for future ICT development and market creation related to five key ICT cooperation including next generation ·Internet of Things (IoT).

At the agreement ceremony on that day, SK Telecom Chairman Donghyun Jang, Samsung Electronics President Jongkyun Shin attended and SK Telecom MNO Executive Manage Hyunghee Lee and Samsung Electronics President Younggi Kim signed the memorandum.

The reason for their partnership is because of their commonality in fear of losing their number one spot in each domestic mobile communication service and global smartphone ranking in the future.

SK Telecom and Samsung Electronics have agreed to first work on developing next generation network and device technology.
5G technology service development, facility investment, and commercializing future LTE technology are few of their future list of development. They also plan to invest in development of future wearable devices.

SK Telecom and Samsung Electronics will not limit their development fields and expand to variety of differentiated and unique items and services.

Both companies will also invest in the rising IoT field development. They will mutually provide interworking standard and API to sync both companies' IoT platform, eventually leadinig to creating new IoT environment and discovery of new markets.
SK Telecom MNO Executive Manager Hyunghee Lee said, "SK Telecom and Samsung's partnership will be a stepping stone for South Korea's ICT industry development to the next level."

Samsung President Younggi Kim, "Partnership with SK Telecom will lead the 5 major fields including global ICT trend 5G and wearable device business. We promise to provide best service to our customers through both companies' synergy."