To secure new growth engines by promoting three Next-Generation Platforms: Lifestyle Enhancement Platform, Advanced Media Platform and IoT Service Platform
SK Telecom's President and CEO Jang Dong-Hyun held a press conference at SK Telecom headquarters in Seoul to announce the company's new growth strategy with the aim to sustain growth amid rapidly changing business environment.
The company's new growth strategy mainly focuses on three different Next-Generation Platforms. CEO Jang defined the Next-Generation Platform as "a new type of platform that creates an open ecosystem powered by SK Telecom's telecommunications assets and provides customers with innovative products and services by anticipating their needs." Under the new strategy, the company will look at things from the user's point of view and actively work with diverse partners, including venture companies, startups and SMEs, to achieve breakthrough performance. In addition, through the implementation of these Next-Generation Platforms, it is expected that SK Telecom and its subsidiaries will reach a combined total market value of KRW 100 trillion by 2018.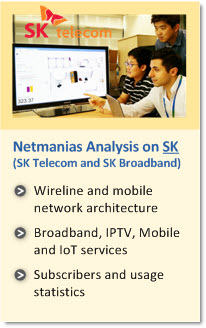 The three Next-Generation Platforms the company announced today include Lifestyle Enhancement Platform, Advanced Media Platform and IoT Service Platform.
SK Telecom plans to develop 'Lifestyle Enhancement Platform' that runs on a cycle of Content, Community and Commerce. To this end, the company has set up a new organization named 'T Valley' earlier this year to take charge of the development of new business models relevant to customers' lifestyle (e.g. shopping, home, security, finance, education, etc.) and preferences (e.g. entertainment, media, sports, fashion, etc.).
SK Telecom will also build 'Advanced Media Platform' by further strengthening the competitiveness of its existing media services and seeking new media services to proactively respond to the personalization trend occurring in the media industry. In this context, the company will realize narrowcasting optimized for each individual based on accurate and in-depth data analysis. Through the platform, the company aims to secure 15 million media service customers by 2018.
SK Telecom will nurture 'IoT Service Platform' to develop diverse new business models for both individual and enterprise customers.
In May 2015, the company plans to launch a Smart Home service, which enables users to control diverse home appliances, including dehumidifier, door lock and boiler, via smartphones. The service will run on Mobius, an innovative and open IoT platform that enables diverse players to provide value-added services by combining their ideas and technologies regardless of device. Smart Home will later be upgraded to a 'Total Home Care' service with the addition of other IoT features, including home security system provided by NSOK, a security and surveillance company acquired by SK Telecom last year.
SK Telecom also plans to expand its Lifeware* business by introducing new products that meet customers' varying needs. For instance, the company will strengthen its collaboration with iRiver, an audio equipment maker it acquired in 2014, to launch new types of Lifeware.
* Lifeware is a newly-coined word that combines 'life' and 'hardware/software', and refers to consumer-centric smart devices that add value to people's lives.
Furthermore, by promoting sophistication of IoT-related technologies, including video surveillance technology, sensor technology and LBS (location-based service), SK Telecom plans to secure differentiated competitiveness in IoT-based enterprise solutions in many areas including home, security, healthcare, agriculture and asset management.
Jang Dong-Hyun, President and CEO of SK Telecom said, "To overcome limitations facing the telecommunications industry, SK Telecom will actively promote the three Next-Generation Platforms to deliver unprecedented value to customers and build an enriched ICT ecosystem, while making constant efforts to strengthen our network operation capabilities."