Ericsson Radio Dot System supports SK Telecom to increase data speeds for indoor users and save device power consumption
Network measurements reveal improvements to app coverage and overall network performance
Ericsson has verified new in-building service solution Radio Dot System on SK Telecom LTE commercial networks in cooperation with SK Telecom.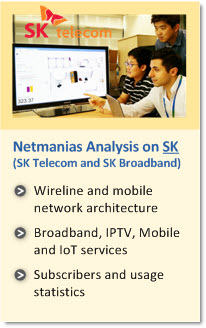 The deployment was used to study Ericsson Radio Dot System performance benefits on the SK Telecom commercial network from diverse perspectives, including indoor service quality improvement and ease of installation. The deployment showed the Radio Dot System improved the battery life time of the user's smartphones between 6 and 12 percent, a double benefit when combined with the increased speeds.

Jinhyo Park, Senior Vice President and Head of Network Technology R&D Center at SK Telecom, says: "We are happy with verification result that includes gains in network coverage and data speed through trial application of Ericsson's new in-building network solution. We will continue to provide our customer SK Telecom's differentiated service through ceaseless efforts to develop next generation in-building technology."

Martin Wiktorin, Head of Customer Unit Korea, Ericsson says: "Ericsson Radio Dot System is the industry-leading solution to significantly improve indoor coverage. The solution enables operators to consistently provide indoor users greatly improved service quality for both voice and data. As a strategic business partner of SK Telecom, we are committed to helping SK Telecom provide best user experience."

Unlike the legacy indoor solution of using coaxial cable the Ericsson Radio Dot System uses LAN cable supporting both 3G and LTE, including LTE-Advanced. It delivers faster installation time and superior service quality across the building for indoor users, through the innovative and aesthetic Radio Dot.