Offers innovative data-oriented price plans that offer the largest amount of data allowance in Korea; unlimited voice calling for both mobile-to-mobile and mobile-to-landline calls; and a long list of special services/programs
SK Telecom announced today that it will launch innovative new price plans called the "Band Data" plans on May 20, 2015 in response to the changing needs and usage patterns of its mobile subscribers.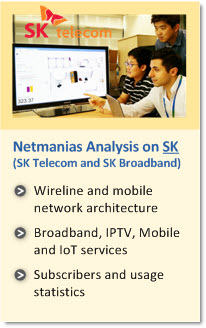 Band Data plans are offered in eight different tiers depending on the amount of data and additional services tailored to customers' varying needs, while alleviating their cost burden.
■ Unlimited voice calls for all
All subscribers of the Band Data plans - ranging from KRW 29,900/month to KRW 100,000/month - can enjoy unlimited voice calls. SK Telecom becomes the first mobile carrier in Korea to offer not only unlimited mobile-to-mobile calls, but also unlimited mobile-to-landline calls as well.
Made available for both LTE and 3G smartphone users, the Band Data plans are expected to allow a wide range of customers to make voice calls anywhere, anytime, without having to worry about additional costs.
■ Increased data allotments for all & Unlimited data for Band Data plans priced KRW 61,000 ('Band Data 61') or higher
With the rapidly rising consumption of large-volume multimedia contents, SK Telecom is set to enhance customers' benefits by providing a greater amount of data to all subscribers of the Band Data plans.
Band Data 36, 42, 47, 51 come with 1.2GB, 2.2GB, 3.5GB and 6.5GB of data, respectively, which is the largest amount of data allowance in Korea.
Moreover, the company will offer unlimited data for customers who sign up for Band Data plans priced KRW 61,000 or higher. Users of Band Data 61, 80 and 100 will be given 11GB, 20GB, 35GB of data per month, respectively; and once they exceed their monthly data cap, an additional 2GB of data will be provided every day. Data usage exceeding this limit will be offered at a speed of 3Mpbs.
■ Other Benefits
- More contents and mobile value-added services
SK Telecom plans to offer diverse multimedia contents to enhance customers' mobile experience.
All subscribers of the Band Data plans will be able to watch live video streaming of 'B TV Mobile' free of charge. In addition, subscribers of Band Data 51 or higher priced plans will be provided with eight different types of contents (TV, cartoon, game, sports, etc.) of 'T Freemium Plus.'
Band Data 80 and 100 are designed to offer a range of additional benefits: They come with a VIP membership, the entire package of T Freemium Plus, free mobile phone insurance, and up to 15,000 OK Cashbag points that can be used as cash to purchase items at many online and offline stores or to pay their mobile bills.
- Strengthened benefits for "Happy Family Plan" subscribers who join Band Data plans
Happy Family Plan users who sign up for Band Data 61, 80 or 100 will be given 4GB, 5GB, 5GB of additional data, respectively, as well as 100 additional minutes for value-added voice calls and video calls, all free of charge.
- Upgraded special data programs
SK Telecom has decided to expand the benefits of the data refill program for its Band Data plan subscribers. The program gives out coupons that can be exchanged for data equivalent to each subscriber's given data cap. Those who sign up for the new Band Data plans by November 19, 2015 will be eligible for this program even if they stayed with the carrier for less than two years. Previously, data refill coupon was only provided to customers who have stayed with the company for two years or longer.
SK Telecom will also provide a special data sharing program for its Band Data plan subscribers who own more than one smartphone. As an increasing number of smartphones are being used for work-related purposes, more and more customers are buying a second or even a third phone to separate their work and personal life.
At present, among SK Telecom's 1.7 million smartphone subscribers, 2 million own a second smartphone. Under the data sharing program, up to 2GB of data will be provided to the users of the Band Data plans to be shared across up to four different smartphones under his/her name.
Furthermore, Band Data plan subscribers can share their data cap with up to two data-only devices like tablet computers and modems registered under the same name.
"Band Data plans are designed to provide differentiated value and strengthened benefits for customers," said Yun Won-young, Executive Vice President and Head of Marketing Division. "SK Telecom will continue to introduce innovative price plans to increase customer benefits and steer the market towards a product/service-oriented competition."
News Source: SK Telecom
Web Site: http://www.sktelecom.com/