KT demoed Dual Connectivity - Data Transmission Speeds and Base Station Capacity boosted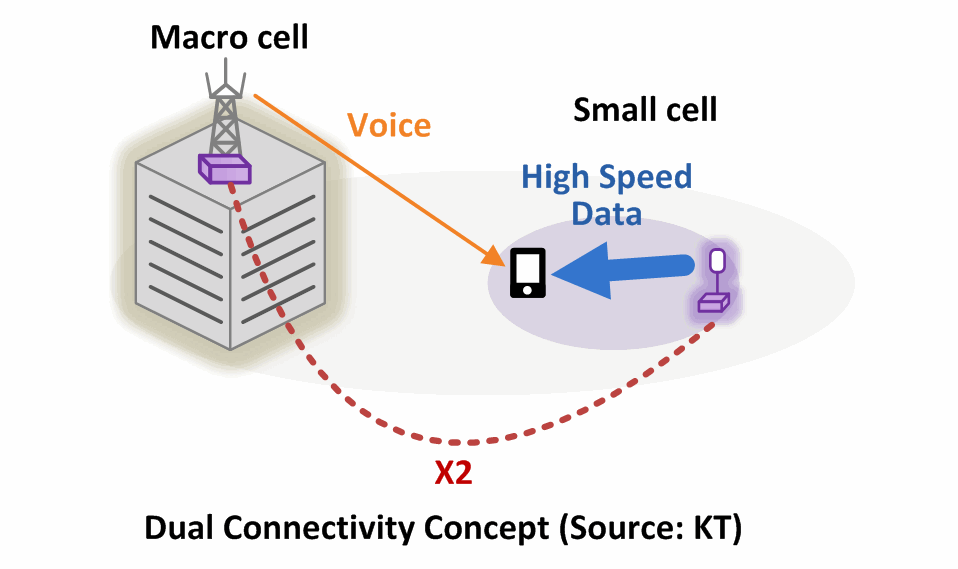 Now operators can boost both data transmission speeds and transmission reliability by having data transmitted from two LTE base stations at the same time.
KT announced on the 8th that it successfully demonstrated an interworking technology between base stations called Dual Connectivity in partnership with Ericsson. Previously, base stations could interwork with each other only in the ways originally configured.
Now the new technology lets an operator use the existent macro cell along with small cells simultaneously or alternatively, allowing more than one base station to communicate with a user at the same time. It is known to improve user-experieced speeds and base station capacity.
In the demonstration conducted at Ericsson's headquarters in Sweden, Dual Connectivity was proven to improve speeds by combining downlink data from the conventional base station (macro cell) and one from the small base station (small cell).
Once commercially applied, the new technology will drastically enhance data transmission speeds at cell edges and improve overall coverages by allowing voice and large volume data to be transmitted separately, from different base stations.
KT expected the demonstration would help it position itself as a strong leader in development of 'Multi-Connectivity' technology aiming to boost interworking between between 5G-5G and 5G-LTE HetNet base stations and also give the company a competitive advantage in development of key inter-base station interworking technologies.
Dr. Dongmyun Lee, Executive Vice President at KT's Institute of Convergence Technology, said "We succeeded in demonstration of Dual Connectivity which would play a key role in interworking and operation between LTE and 5G network" He also noted, "We established a steppingstone toward realization of enhanced LTE quality as well as 5G commercialization by 2020.