The Ministry of Science, ICT and Future Planning (MSIP) announced on the 22nd that Voice over LTE (VoLTE) service developed through interworking among the Korean big 3 operators will be fully commercialized on the 23rd. MSIP, jointly with the big 3, conducted a final testing for VoLTE commercialization on the 20th.
VoLTE is data-based voice call service offered via 4G LTE networks, and can support a wider range of codecs (WB-AMR) compared to 2G or 3G, allowing users to enjoy HD-quality voice call service. In addition, VoLTE features HD-class video calls, with resolution over 8 times better than what is currently offered, and various services like picture or video sharing during calls. It also gives faster call connection time of less than 3 seconds, compared to average 5 seconds in 2G and 3G calls.

HD-quality video call with 8+ times better resolution than 3G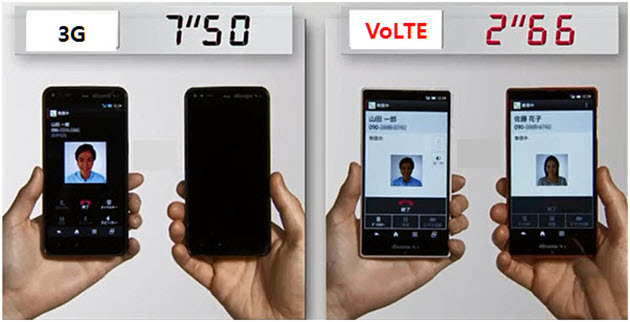 Faster call connection time than 3G
Because of disagreement on inter-operator connection fees and charging policies, little interworking has been achieved among the big 3 operators so far, and VoLTE has been available only within those who subscribe to the same operator. With the launch of the VoLTE service, Korea became the first nation which fully commercialized inter-operator VoLTE service.

As current voice call rates are to apply as is, there will be neither additional charges nor data consumption resulting from VoLTE service subscription. Phones released after July 2012 are all VoLTE-compatible. Users can activate the VoLTE feature by adjusting relevant settings (e.g., Settings > Call > VoLTE Call for Andriod phone users, or Settings > Cellular > Enable LTE > Voice & Data for iPhone users). The VoLTE feature comes standard with phones released after August 21, 2015.

Now, the big 3 are all busy developing or launching more VoLTE-based value-added services (VAS).

SK Telecom plans to launch a service tentatively called 'Smart Call Forwarding' by the end of the year. The service will let users make calls from devices without USIM like laptap, tablet, etc. by taking advantage of HD voice feature.

KT already introduced 'olleh Call and Share' service that allows users to share contents like picture, document, web page, etc., in real time, or even make some sketches on picture or document and share - all while still on the phone.

LG U+ also presented some innovative services tailored to VoLTE, like 'Photo-ring Service' and 'One Number Service'. With Photo-ring service, you can send not only texts, but also pictures and video clips. With One Number service, you can link your smart watch (with a designated number) with your smartphone to receive calls on either device at once. So, in case you don't have your smartphone with you, you can still get calls and texts on your smart watch.