As you can recall, SK Telecom commercialized virtualized EPC and IMS earlier this year - in August and September, respectively - in cooperation with Samsung Electronics.
Aug. 4, 2015: vEPC commercialized for IoT service

Sep. 20, 2015: vIMS commercialized
In addition to the effort for virtualization, SK Telecom has strived to develop SDN that can control virtualized network resources. Last month, the company launched commercialized T-SDN. And now it, jointly with Samsung, succeeded in development and demonstration of 'SDN-enabled EPC', as planned back in June. Once vEPC functions (e.g., user plane) are distributed towards mobile edges where DUs (in case of C-RAN) are pooled, they should be controllable by SDN as well.
Nov. 16, 2015: T-SDN commercialized

Dec. 7, 2015: SDN-enabled EPC demonstrated
SK Telecom, with its EPC virtualized already, is up for the next step - virtualization of base stations. As announced during the demonstration of commercialized T-SDN last month, a field test of vRAN is expected by the end of the year. See the following article for more details.
---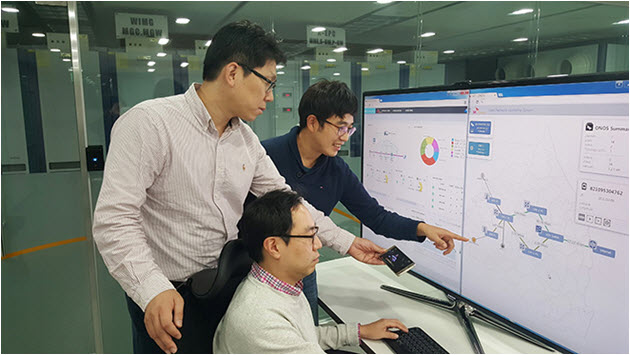 Samsung announced that it has successfully demonstrated the capabilities of Telco Software-Defined Networking (SDN) in a proof of concept (PoC) test deployment with SK Telecom.
The PoC demonstration was composed of Samsung technology, including a test-scale LTE network provided by Samsung, a virtualized EPC (vEPC) along with the addition of several SDN switches and an SDN controller to manage traffic flow. The test network simulated multiple transport routes within the network, and allowed for traffic to be dynamically anchored to optimal routes for an application or user. Even in simulated node overloads and failures, the SDN system showcased the ability to re-route traffic to maximize operating efficiency and prevent degradation in the quality of user experience.
Critically, the system also enabled separation of user and control planes, allowing more appropriate and direct routes for each. This will play a very important role in enabling dense Internet of Things (IoT) traffic, where rapid growth in device and sensor communications has the potential to overburden unprepared telecommunications networks. Multiple types of traffic were also simulated, including web and video data, in order to demonstrate the system's routing and data-plane separation capabilities.
"The results of this demonstration show exciting promise for the capabilities that SDN can bring to the mobile network, and we are looking forward to the next phase of this project slated for early next year." Said Seongyong Park, Vice President and Head of Next Generation R&D group, Network Business at Samsung Electronics. "With the help of partners such as SK Telecom, Samsung is delivering on its commitment to next-generation mobile technologies; together with our leadership in other areas, such as 5G radio and NFV, it shows the innovation potential that Samsung will bring to the mobile industry."
"Efficient transport of data traffic through the mobile network is a key area of interest as we strive to meet growing demand for mobile data and differentiated network services," said Jin-hyo Park, Senior Vice President and Head of Network Technology Center at SK Telecom. "This feasibility demonstration represents an important first step, and SK Telecom remains committed to taking a leadership position in the development of future generation mobile telecommunication technologies."
SDN, in parallel with Network Functions Virtualization (NFV), has been identified by Samsung and SK Telecom as a key technology for the enablement of 5G networks, and is expected to contribute significantly to improvements in network capacity, latency, flexibility and total cost of ownership. This demonstration closely follows on the heels of commercial deployments of Samsung's AdaptiV Core platform for SK Telecom, including its AdaptiV vEPC and AdaptiV vIMS solutions in August and September, respectively.