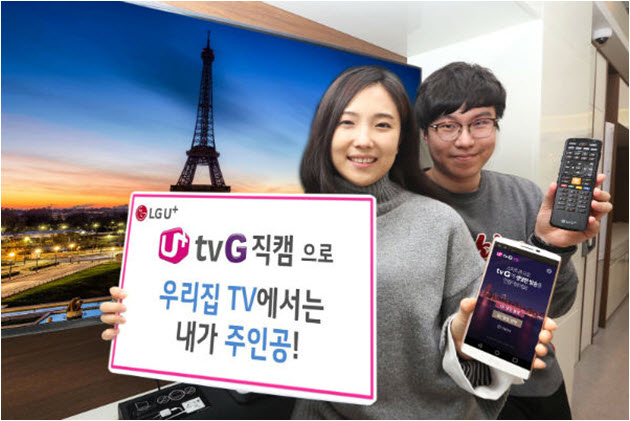 LG U+ announced on the 13th that it has rolled out the world's one and only user-created channel 'tv G JikCam' service, now with enhanced remote connection and add friends features.

'tv G JikCam' lets users transmit and broadcast video clips and pictures taken with their smartphone, through IPTV (tv G) in real time. Video and pictures transmitted are automatically played at channel 999 in IPTV, a dedicated channel for the user-created channel service. To broadcast live or transmit saved content to the set-top box, users need to download 'tv G JikCam' app on their smartphone, and enter a unique code to pair smartphone and TV.

Users can add up to 50 friends and family members to their 'user-created channel' to share content. For example, they can take pictures or video anytime, anywhere, at wedding, at any events, etc., and broadcast them through the channel in real time.

Content transmitted are automatically arranged by capture time, with the latest displayed first, and sorted by month for easier viewing or playing at any time.

LG U+ has recently employed uplink CA and 64 QAM for enhanced LTE data transmission rates, offering up to 112.5Mbps upload speeds, 225% faster than before. Thanks to the speed enhancement, users can upload and broadcast video content without interruption using 'tv G JikCam'.

'tvG JikCam' is supported by tv G4K UHD and tv Gwoofer.

Keonyoung Lee, Head of LG U+ IPTV Service, said, "The world's one and only user-created channel 'tv G JikCam' now features remote connection, which allows for instant pairing even without WiFi connection."