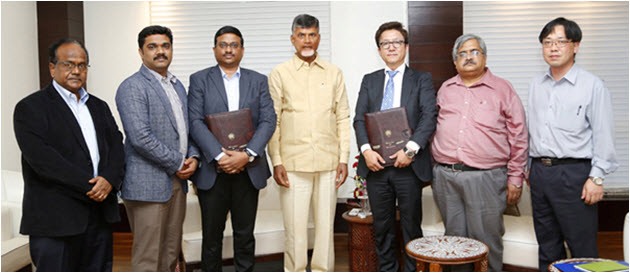 DASAN Network Solutions (CEO, ChoonYul Yoo), a global network solution provider and a subsidiary company of DASAN Networks (CEO, MinWoo Nam), lands a network infrastructure business in India, collaborating with APSFL(Andhra Pradesh State FiberNet Limited), a telecom operator in Andhra Pradesh(AP) state.
DASAN Network Solutions announced that it had signed an MOU(Memorandum of Understanding) with APSFL on the 23rd of June for building a network infrastructure in Andhra Pradesh(AP) state, India.
As a national policy 'Digital India', Indian government is investing USD 18 billion until 2019 in connecting the nationwide with ultra-fast Internet.
Recently, Andhra Pradesh(AP) state is being highlighted as a key spot for investment as it shows 2-digit growth for 4 consecutive years among the 29 states in India. AP state has chosen DASAN Network Solutions as a strategic partner for its extensive network infrastructure business plans.
Based on the agreement, DASAN and APSFL will establish a joint venture and a production facility for network equipment in AP state. DASAN Network Solutions plans to supply network equipment with its localization strategy to India's main areas including AP state, while the state expects the benefits from production technology transfer and job creation.
APSFL plans to raise the current 2% of Internet penetration rate among AP state's 60 million population up to 30%. It also aims to increase the current 2Mbps Internet speed up to 10Mbps.
DASAN Network Solutions has developed its Indian business since 2009 when it provided FTTH solution to BSNL, an Indian state-owned telecom operator, for ultra-fast network infrastructure business. DASAN also has been operating an R&D center in Bangalore in India since 2011.
Mr. Daniel Won, President in Global Business Division of DASAN Network Solutions, said "Today, India is considered as the land of opportunity as it became an arena for competition among global IT companies. Especially, the government-led infrastructure business is evaluated as the basis of economic growth in India. From our network infrastructure cooperation with AP state, we will actively drive our infrastructure business for ultra-fast Internet in India."