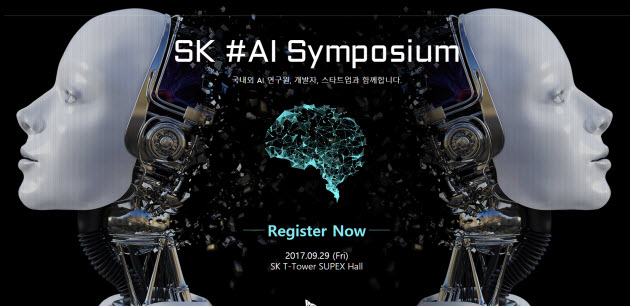 SK Telecom today announced that "SK #AI Symposium 2017" will be held on September 29 at SKT-Tower in Seoul, Korea, bringing together world-renowned researchers in artificial intelligence (AI).
The Symposium will feature guest lectures, presentations and opportunities for networking. Confirmed speakers for the event include Phillip Isola, a research scientist at OpenAI, a non-profit AI research firm, Armand Joulin, a research scientist at Facebook Artificial Intelligence Research (FAIR), Joseph Lim, a professor at University of Southern California (USC), and Xiaodi Hou, co-founder and CTO of TuSimple.
At the symposium, SK Telecom will present its recent achievements in AI. In particular, Moonsu Cha and Jung Kwon Lee from T-Brain, SK Telecom's AI research team, will each give a presentation on their recent research work and findings.
Speakers:
Armand Joulin (Facebook AI Research) - FastText
Phillip Isola (OpenAI) - Learning to See without a Teacher
Xiaodi Hou (Tusimple) - Autonomous Driving: from theory to product
Joseph Lim (USC) - Visual Cognition for Interaction
Moonsu Cha (SK Telecom) - DiscoGAN
Jung Kwon Lee (SK Telecom) - Continual Learning with Deep Generative Replay
T-Brain has recently received "Strong Accept" reviews for its research paper titled "DiscoGAN – Learning to Discover Cross-Domain Relations with Generative Adversarial Networks" at International Conference on Machine Learning (ICML), the leading international academic conference in machine learning. DiscoGAN is an algorithm based on generative adversarial networks that learns to discover relations between different domains and transfers style from one domain to another while preserving key image attributes.
Moreover, SK Telecom has also submitted its "Continual Learning with Deep Generative Replay" to Neural Information Processing Systems (NIPS) and is awaiting the final decision.
"Artificial intelligence is growing so fast and openness and sharing of ideas is no longer an option but a necessity," says Kim Hyun-soo, a research engineer at T-Brain of SK Telecom. "This symposium is designed to promote the advancement of AI technologies through the sharing of knowledge, networking and collaborating regardless of expertise and affiliation."
Meanwhile, SK Telecom has been receiving recognitions for its contribution to the development of AI technologies in Korea. The company has received two awards from the Ministry of Science and ICT and Korea Intelligent Information System Society (KIISS) at Smart Connected World 2017 hosted by ICEC and KIISS in August 2017.
Registration for SK #AI Symposium will be opened from September 1 to 15.
For more information: www.sk-symposium.com