SK Telecom, Hyundai Motor Company, Hanwha Asset Management, and Element AI to form joint investment fund for AI and smart mobility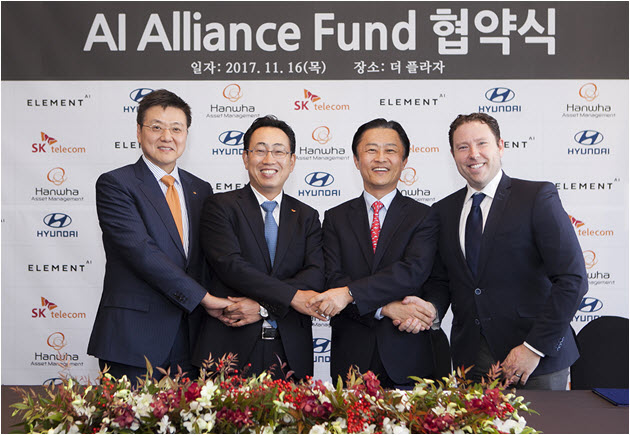 SK Telecom announced on November 16 that it will join forces with Hyundai Motor Company, Hanwha Asset Management and Element AI to form the AI Alliance Fund that will invest in startups with innovative technology and ideas throughout the world.
With initial investment of USD 45 million (approx. KRW 50 billion) from the three companies, the fund will be established in the first quarter of next year. It will invest in startups specialized in artificial intelligence, smart mobility and fintech in Europe, Israel and the United States.
In analyzing investment opportunities in the aspects of technical capabilities, market values and growth potentials, it will leverage the research capabilities and the global network of Element AI, an AI solutions provider founded by Yoshua Bengio, a professor of the University of Montreal, who is one of the world's leading AI researchers.
The companies expect that they will be able to benefit from the fund's strong synergy created from their respective expertise in artificial intelligence, automotive and financial networks.
In addition to the profitability of investments in promising businesses, the enhancements of long-term technical capabilities in leading the latest developments of ICT innovations and building the global network of collaborations and know-hows will drive the collaboration among the companies.
The fund will focus on equity investment in emerging startups with the next generation technology and innovative business models, which will ultimately give inspiration for business improvement to the companies.
SK Telecom has played a leading role in the AI business in Korea by launching the nation's first AI service NUGU and extending the AI capability to its automotive navigation system application T-map. Also, it has developed smart mobility capabilities, that have been already proven in the world's first successful demonstration of a 5G connected car last year and will be supported by the Around Alliance, a new alliance of businesses, academics and researchers for the development of smart mobility technology, organized by the carrier last month.
Hyundai Motor Company opened the CRADLE, an innovation hub, in Silicon Valley to seek opportunities for investment in future technology, analysis of new business and technology model and collaboration with new partners. Also, it keeps its effort to study the next generation technology and identify new business opportunities by forming the HTK Consortium with Technion-Israel Institute of Technology and KAIST.
Hanwha Asset Management has been exploring potential investment opportunities in the convergence of industrial technology. The company plans to create synergies of joint investment, accumulate investment experience in global start-ups, evaluate new technologies and explore new investment opportunities, to commercialize new foreign assets and enhance operation capacity. In addition, based on fintech, it seeks to introduce new financial technologies to upgrade its internal capacity and utilize them as its new growth engine.
Element AI will take part in the fund as a leading AI advisor. It has nearly 60 researchers specialized in AI with a global network of collaboration for AI research. "Infusing robotics with artificial intelligence capabilities is the future of global industrialization," said Element AI CEO Jean-François Gagné. "Our position in the marketplace gives us extraordinary access to the most cutting-edge technologies being developed today -- all we need are partners and capital commitment to seed the future and that's what we're achieving today with this announcement."