Updated on February 28 - SK Telecom will show what the upcoming future would look like at the 2018 MWC, which lasts four days beginning Feb. 26 in Barcelona, Spain.
In the 5G era, everything in the real-world will be digitized and brought into the realm of 5G network. This means the safety and stability of 5G network is vital.
Under the theme of "Perfect 5G," SK Telecom will set up an exclusive exhibition booth at the Hall 3 of the 2018 MWC to showcase its advanced 5G technologies.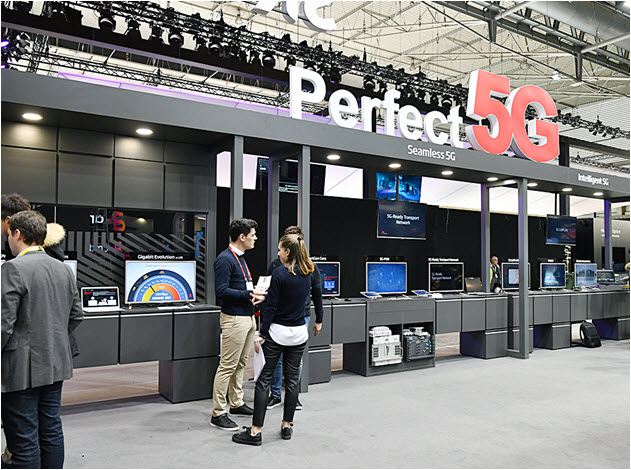 ■ 360° 5G video call," "Holobox" and "Social VR,"
360° 5G video call - At this year's Mobile World Congress, SK Telecom will demonstrate 360° 5G video calls from a 5G base station set up at the venue. The 5G call will allow visitors to make 3D calls while watching the surrounding area of the one on the other side of the device through the screen.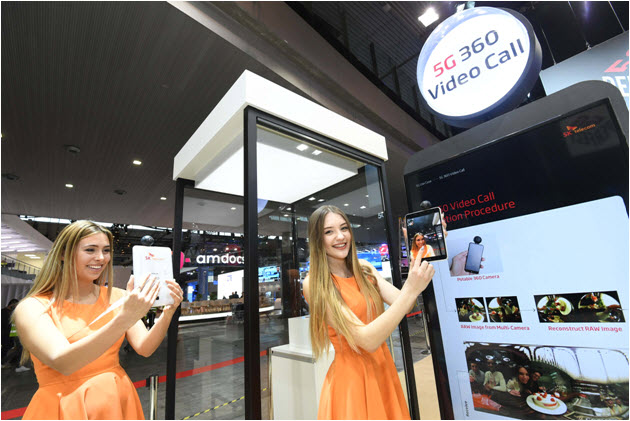 Holobox - SK Telecom's tangible media will allow users to communicate with virtual avatars via "Holobox," the 3D display system that creates the illusion of a hologram. "NUGU," the company's artificial intelligence (AI) voice recognition speaker, is mounted on the system.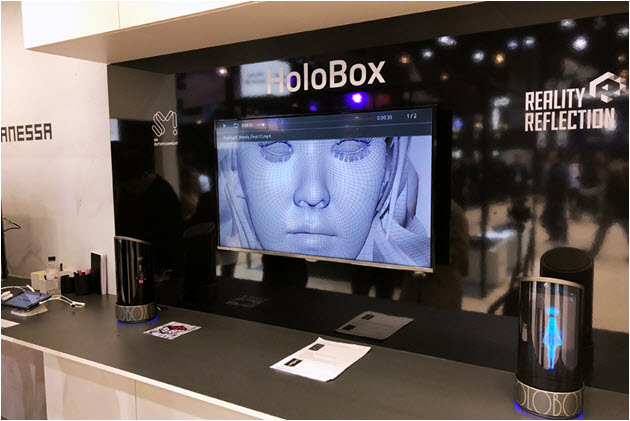 Social VR - "Social VR" will take users to a virtual space as avatar characters and talk to people across the world while watching video contents via "oksusu," SK Telecom's mobile media platform.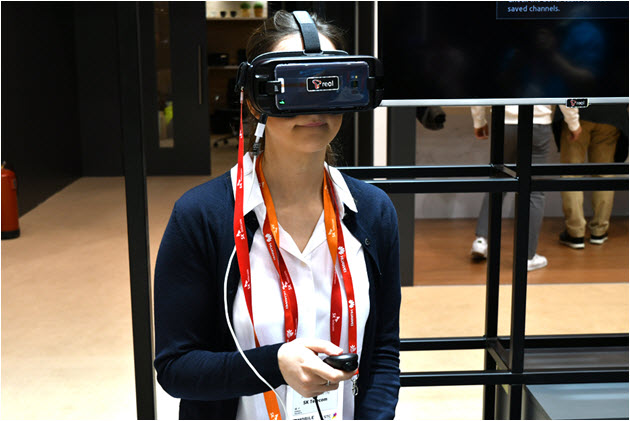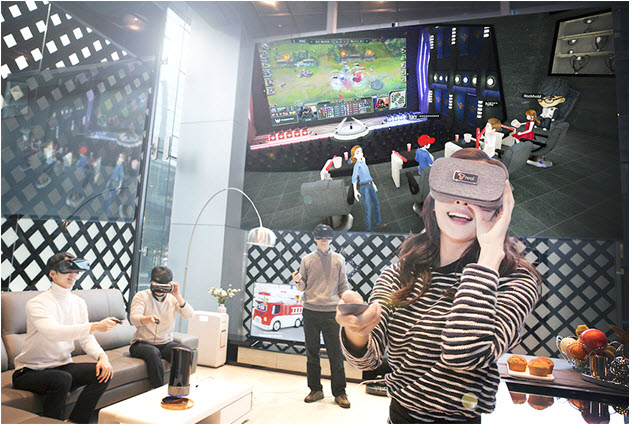 Other network technologies also showcased at the venue include:
World's first NSA (Non-Standalone) standard-5G technology defined by 3GPP
'TANGO,' AI-based network management system
'5G-PON (Passive Optical Net-work),' which delivers LTE, Ultra- High-Speed Internet, 5G communications via a single network.
■ In 5G era, everything is stably connected: K-City's self-driving car & "Cat.M1,"
SK Telecom's self-driving technology is armed with ultra-high-speed, ultra-connectivity, ultra-low-latency communications. In early February, it successfully demonstrated its self-driving cars in K-City, a pilot city for self-driving. At the MWC 2018, the company will play the video of its self-driving car and show off its Vehicle to Everything (V2X) communication technology.
SK Telecom's self-driving car
Cat.M1 - "Cat.M1," the low-power wireless network for IoT, also goes on display. Compared to LoRa and NB-IoT, Cat.M1 has higher data transmission speed and supports VoLTE, which means it can deliver photos and videos at low-power. This makes the network especially useful for real-time data transmission in remote areas.
A test version of HD T-map which the company has been co-developing with HERE Technologies through a partnership made at CES (Consumer Electronics Show) 2018 will be exhibited. Visitors will get a glimpse of Seoul's main roads presented on the 3D high-precision map.
Visitors can also try out various IoT services in advance at the 2018 MWC including
"IoT Black Box," which sends photos and audio data by recording conditions of the surrounding areas
"Blood glucose monitoring device" that measures people's blood sugar level and sends to a personal health platform.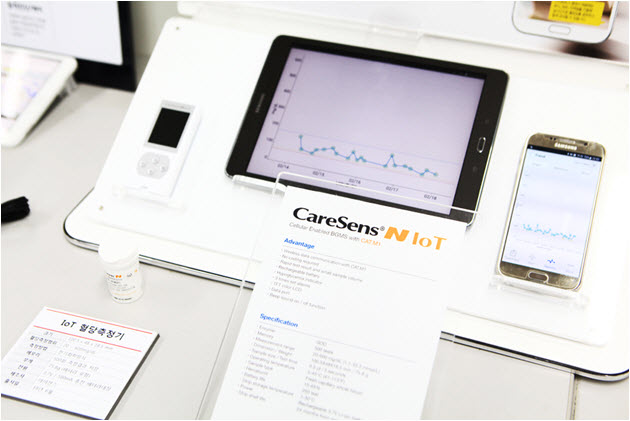 Blood glucose monitoring device
■ 5G technology realizes a safe society: "Quantum cryptography communication" & "Device to Device (D2D)" technology
Quantum Cryptography Communications - SK Telecom will also present its quantum cryptography communications technology and the world's smallest (5x5mm) quantum random number generator chip that it developed in 2017 Quantum cryptography has emerged as an essential solution for the 5G era as it encrypts transmitted data using special quantum keys, which are impossible to intercept or steal.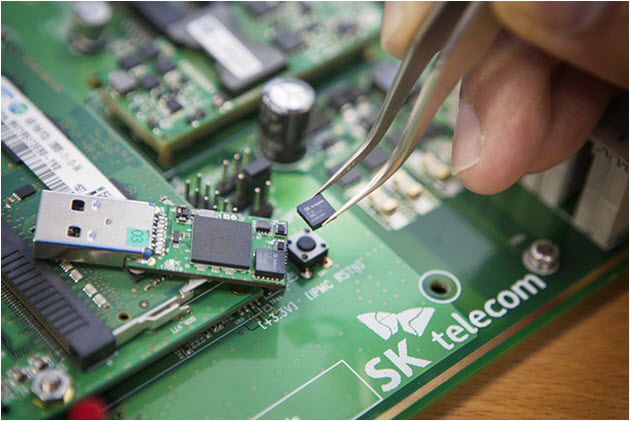 Quantum random number generator chip
Public Safety - At the "Public Safety" booth, "Device to Device (D2D)" technology will be introduced alongside various public safety solutions such as bodycam, drone, and T live caster.
T live caster is an ultra-small video broadcasting device that can be mounted onto a drone for disaster scene management. D2D allows people to make phone calls even in a communication blind spot. Using the Digital Mobile Radio (DMR) chip inside the mobile device, communications within 1Km is possible.
"Through the 2018 MWC, SK Telecom will work harder to evolve into a mobile carrier that provides the most stable and safest 5G network to our customers," SK Telecom said.

source of the pictures: SK Telecom