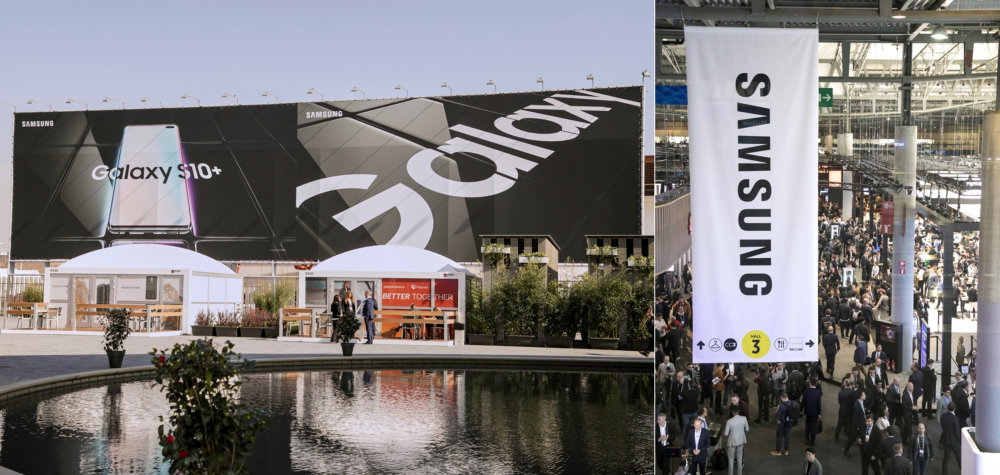 MWC19 is officially underway and attendees have been flocking to see the very latest offerings Samsung Electronics has on show. This year's iteration of the world's largest mobile industry exhibition is themed 'Intelligent Connectivity', and in the exhibition's 4-day span, over 100,000 visitors are expected to attend.
Right at the center of Barcelona's cutting-edge Fira Gran Via exhibition center, Samsung has installed two dynamic booths showcasing the company's latest innovations in mobile technology. This year, visitors have been amazed not only by the chance to get a first, hands-on look at the newest mobile devices such as Galaxy S10 5G and Galaxy Fold, but also by Samsung's groundbreaking advancements in 5G connectivity, which the company has been working on bringing to life over the past decade.
If you're not able to stop by the Fira Gran Via to learn more about 'Everything 5G' this year, here is a rundown of the five biggest topics underlying Samsung's presence at MWC this year.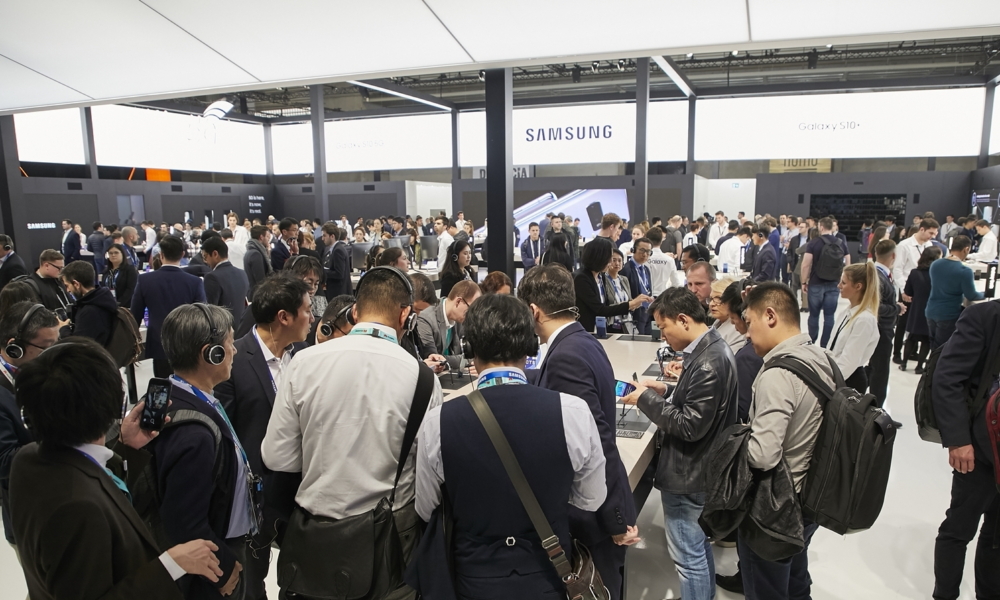 Samsung Electronics' MWC19 booth is packed with attendees eager to take a closer look at the company's latest innovations.
#1 Introducing Samsung's First 5G Smartphone, Galaxy S10 5G
At Samsung's MWC Mobile booth, visitors have been able to get up close and experience the full range of Samsung's latest mobile innovations. The company's interactive Mobile booth features the latest additions to flagship range, the Galaxy S10 series, with its latest innovations in display, camera and performance. At the center of Samsung's MWC Mobile Booth is the Galaxy S10 5G, the company's first 5G smartphone.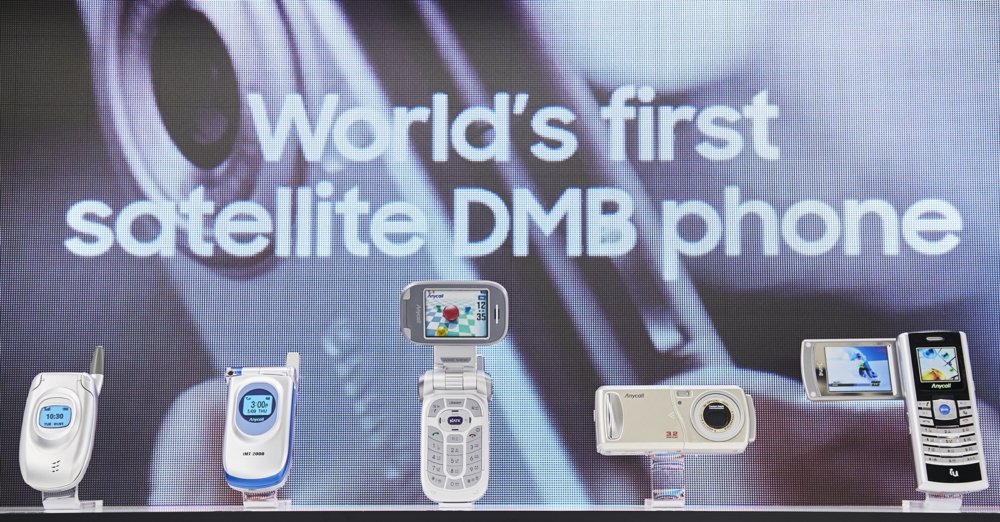 The booth showcased Samsung's latest mobile offerings – the release of which marks a decade of Galaxy innovation – as well as network solutions that draw from the company's decades-long expertise in this area.
The Galaxy S10 5G delivers the power of 5G straight to consumers, providing increased network speeds around 20 times faster than 4G and super-low 1ms latency. Users can, with the Galaxy S10 5G, harness the power of 5G to download their favorite HD TV shows and load apps in the blink of an eye, stream their favorite content interruption-free, and break through high-traffic networks at crowded events thanks to its bandwidth capabilities. Visitors to the Samsung booth are also learning how the Galaxy S10 5G allows high-quality, real-time video calling, dynamic maps and AR experiences.

Visitors to the booth enjoy an up-close look at the new Galaxy S10 5G.
Other devices on display for attendees include the Galaxy Fold, Samsung's first foldable smartphone, Galaxy A30 and Galaxy A50, the upgraded Galaxy A Series starting from the mid-tier portfolio, the new Galaxy Tab S5e, the first tablet to feature Bixby 2.0, the latest additions to Samsung's wearable mobile ecosystem, the Galaxy Watch Active and Galaxy Buds.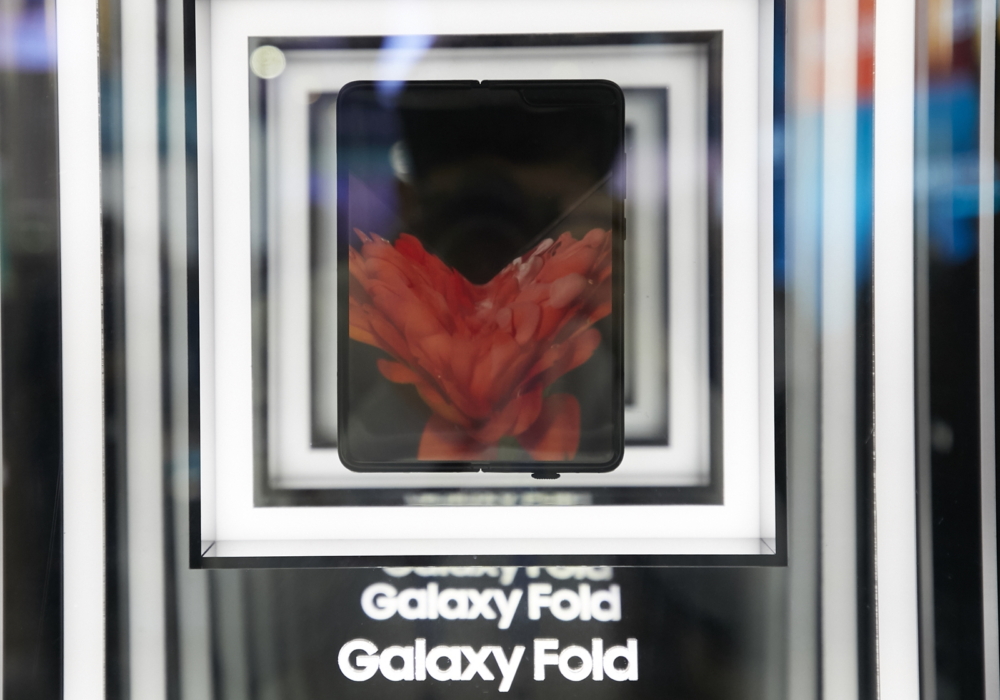 The new Galaxy Fold was on display for the first time to the public at MWC19.
#2 The 5G Era Is Here – And With It Are Brand-New, Super-Fast Experiences
At MWC 2019, Samsung is not only continuing to establish its leadership in 5G connectivity, but also showcasing real-world usage experiences through innovative live demonstrations. Along with providing visitors with a hands-on experience with the Galaxy S10 5G at its MWC Mobile Booth, Samsung has a dedicated Network booth at which visitors are learning about the breadth of the company's 5G developments firsthand.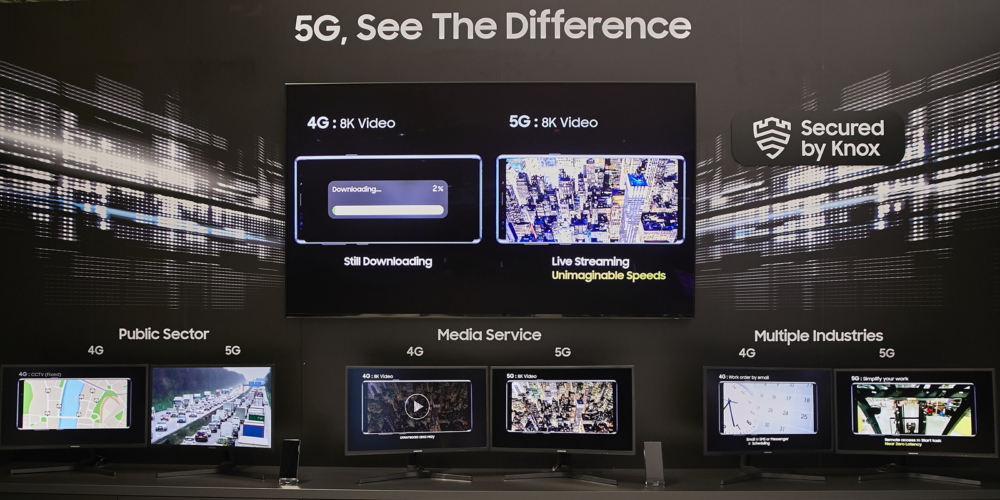 Samsung showcased a variety of real-world 5G usage experiences at the event. Here we see side-by-side comparisons – spanning various sectors – of 8K video streaming on 5G and 4G networks.
Global development of 5G networks has seen countries develop 5G solution for frequency spectrums both below 6GHz or above 6GHz, and at the Networks booth, visitors are witnessing how Samsung is paving the way as one of few companies to have commercialized network solutions suitable for both these spectrums including 3.5GHz and 28GHz. Attendees have also been stopping by to see Samsung demonstrate live data communications between its 5G smartphones and 5G radio base stations, with interoperability demonstrations showcasing super-fast speeds of over 1 Gbps.
Furthermore, to the booth are also learning more about Samsung's pioneering developments in the field of connected products, 5G Vertical – from public safety and Vehicles-to-Everything (V2X) to Smart Factories.
Situated around the Fira Gran Via venue as well as throughout select hotels around Barcelona, Samsung is demonstrating its 5G network solutions by live broadcasting the official media channel of MWC19, 'Mobile World Live TV'.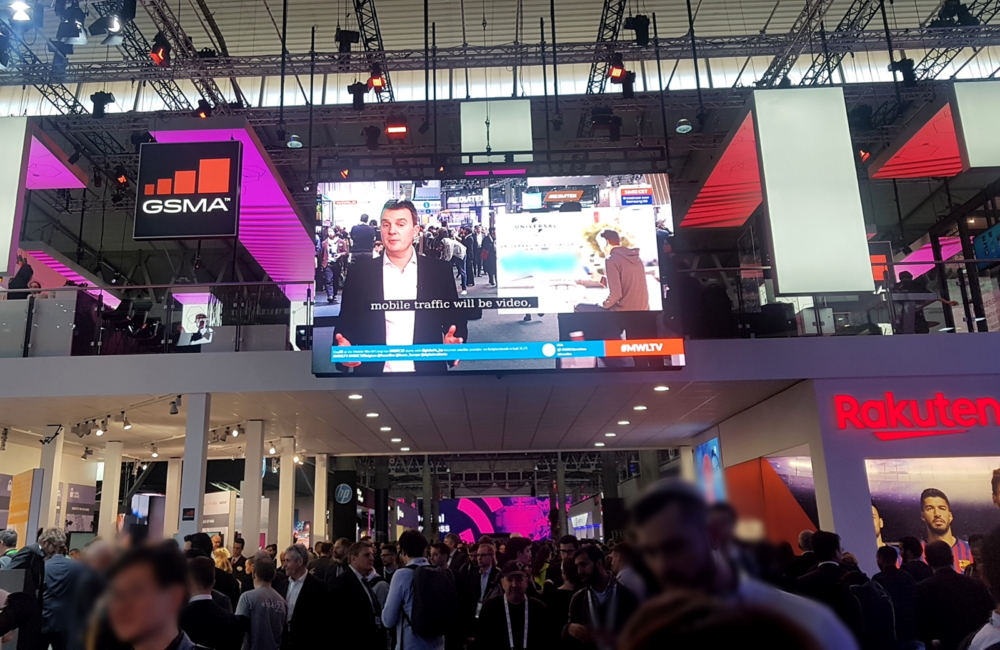 Samsung utilized its 5G network solutions to live broadcast MWC19's official media channel, 'Mobile World Live TV,' on screens throughout the venue, and at select hotels across Barcelona.
#3 Industry Transformation: Blending AI and 5G
At this year's event, Samsung is demonstrating not only the latest in connected living with its 5G solutions, but also in intelligent lifestyle. At the Samsung Mobile booth, a dedicated exhibit is showcasing the latest in the Galaxy Smart Home ecosystem featuring Bixby – connectivity powered by intelligence.
Nearby the Fira Gran Via, Samsung is hosting a Bixby Experience Studio until March 3, where visitors are being provided with an experiential look at Samsung's seamlessly connected home ecosystem powered by the intelligent Bixby feature inside an interactive smart home environment.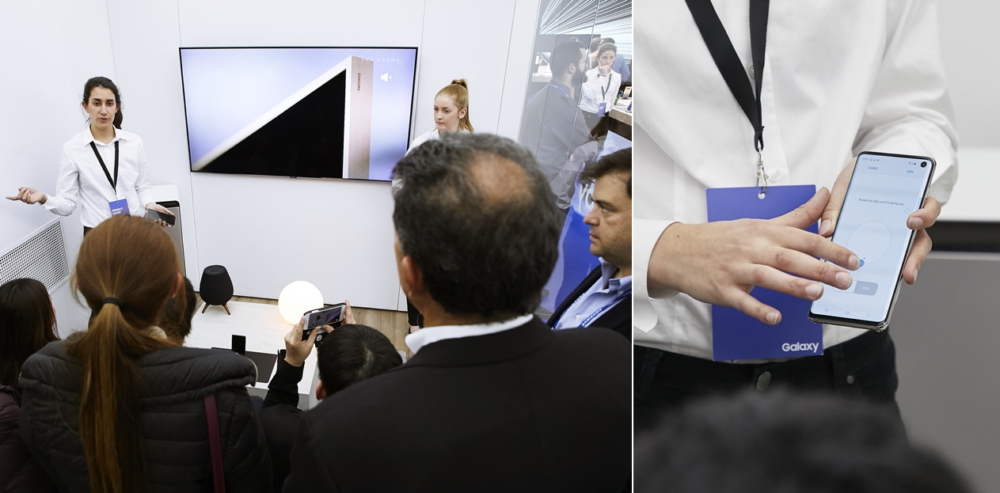 Visitors to Samsung's booth observe a demonstration of Bixby's AI-based intelligent home solutions.
Following a full acquisition of Zhilabs in October 2018, Samsung has been developing its artificial intelligence (AI)-based 5G network management solutions; attendees are seeing how, through AI-based deep learning, this system helps to intuitively monitor and analyze 5G network performance.
The adoption of 5G is set to usher in the next wave of technological innovation by accelerating new breakthroughs. MWC attendees can see for themselves brand new use cases of this at partner exhibitor Orange's booth, which features drones and industrial robot powered by Samsung's 5G solutions.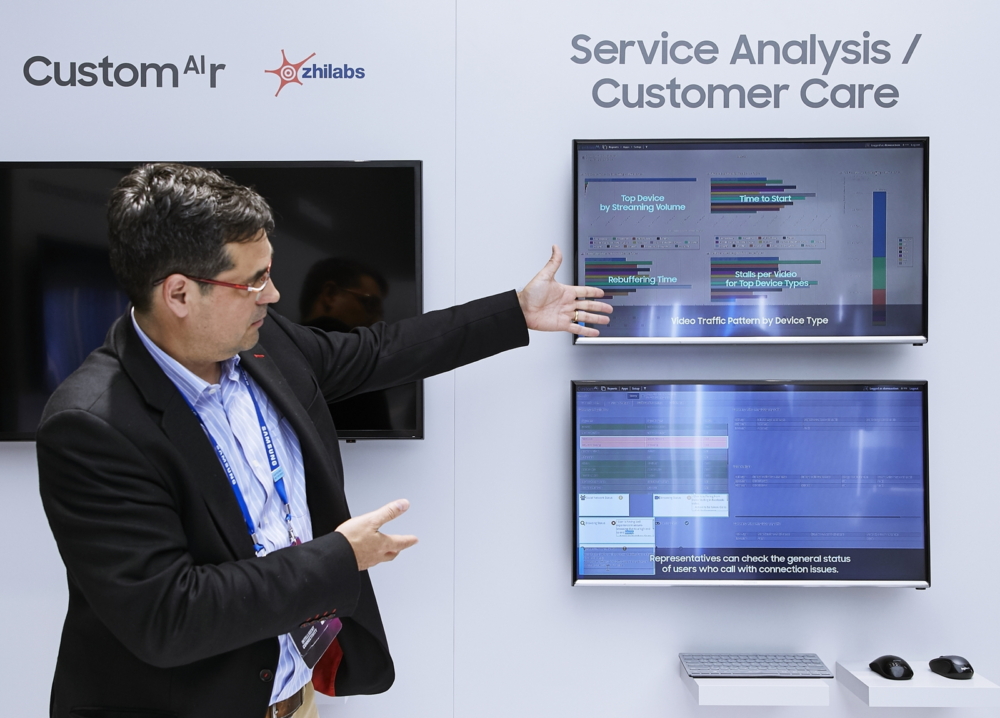 A representative demonstrates how, through AI-based deep learning, Zhilabs' solution helps monitor and analyze 5G network performance.
#4 5G Industry Leadership

Samsung's end-to-end 5G solutions have taken center stage at this year's MWC.
Also the attendees are learning about how Samsung's 5G R&D breakthroughs have been driving wider 5G commercial services around the world. This 5G network leadership has been the key driving forces behind early 5G commercial services in the U.S and Korea since 2018.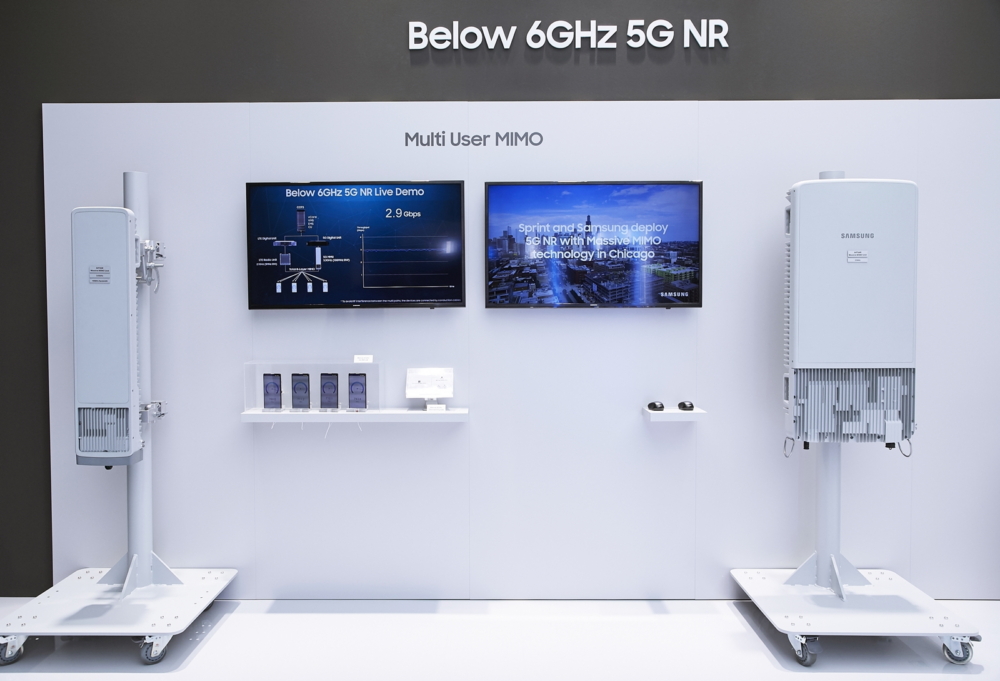 Samsung's latest end-to-end 5G network solutions were on full display at MWC19.
On February 25, the U.S. partner Sprint announced that the company is using Samsung's 5G New Radio (NR) solutions to prepare the launch of its 5G services, saying in a statement that they were looking forward to giving Sprint customers even greater experiences with 5G. Samsung's 5G NR solution will be in the commercial network for one of Sprint's first 5G cities, Chicago, IL.
In addition, Samsung showcased its new next generation 5G Radio Frequency (RF) chipsets, supporting 28GHz and 39GHz. With new RF chipsets, Samsung 5G base stations will be approximately 25 percent smaller, lighter and less power consuming compared to previous iterations. Furthermore, as of February 2019, Samsung has shipped over 36,000 base stations to mobile carriers worldwide.
#5 5G Partnership, on a Global Scale

Taking center stage not only at Samsung's own Mobile booth, the Galaxy S10 5G is also a feature of various leading partner booths. Visitors to the booths of Vodafone, Orange, Telefonica, Deutsche Telekom and KT among others are able to experience the future of mobile content streaming, gaming and video calling on the brand-new Galaxy S10 5G.
The Galaxy S10 5G is also being showcased at American partner Qualcomm's booth. On February 25, the Qualcomm 5G Press Conference saw Samsung Electronics Senior Vice President June Hee Lee present Samsung's future 5G mission and the importance of a connected global ecosystem of partnerships with those who share the 5G vision.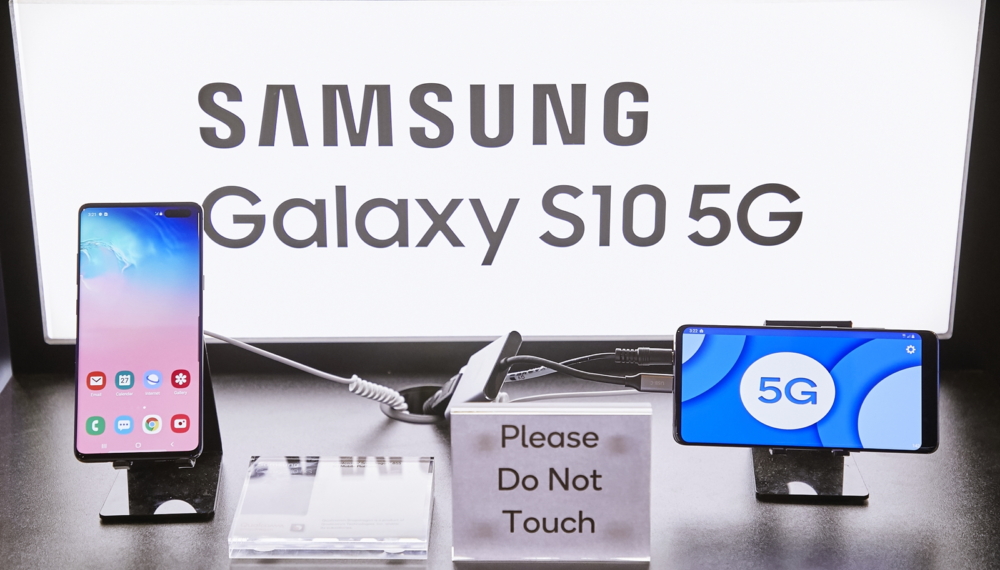 The Galaxy S10 5G was also showcased at Qualcomm's MWC19 booth.
On day two of MWC, at the GTI Summit 2019, DJ Koh, President and CEO of IT & Mobile Communications Division, announced Samsung's 5G strategy in the Chinese market in collaboration with China Mobile, which looks to bring the 5G era to China by launching field trials with the Galaxy S10 5G with an end to providing full commercial 5G availability.
Samsung has also unveiled several exciting new carrier partnerships. Having begun early February and running for a five-month period, Samsung and Fastweb announced that they are conducting Italy's first 5G Fixed Wireless Access (FWA) trial on a commercial spectrum in Milan. This month also saw Telefonica Deutschland and Samsung conclude a successful fixed wireless access pilot with 5G in Hamburg, Germany. Both are a testament to Samsung's dedication to collaborating with partners who share the Samsung vision of technology that puts people first.