KT CEO Hwang Chang-Gyu, the only CEO in the Asia Region, gives Keynote Speech at the MWC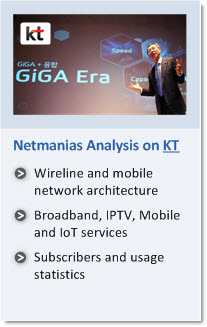 ▲ KT confirms Tech of KT leadership in "The Road to 5G" session with its keynote speech.
Through his keynote speech on 5G network services, KT CEO Hwang Chang-Gyu showed a wonderful glimpse of the future at the Mobile World Congress (MWC) 2015, held in Barcelona, Spain.
As the primary speaker for "The Road to 5G" session, CEO Hwang stated, "In the era of the Internet of Things (IoT), where all devices are connected through a network, an ultra large 5G network with real-time hyper speed is a must." He went on to state, "The upcoming era of IoT that is 5G can be realized sooner with cooperation from global operators."
CEO Hwang's keynote speech during the 5G session at the MWC 2015, the industry's largest annual gathering, can be viewed as confirmation that KT's technological skill is being recognized on a global level.
Since the days as CEO of Samsung Electronics, CEO Hwang has been the lead in the mobile revolution with the innovation of semiconductors that is now known as "Hwang's Law." Shortly after his chairmanship, CEO Hwang received global attention for his vision of a "GiGAtopia."
In CEO Hwang's keynote speech titled, "5G and Beyond, Accelerating the Future," CEO Hwang presented a video of a self-driving car that aroused excitement from the participants.
In the video, the year is 2020 and CEO Hwang gets into his self-driving vehicle and speaks the words, "Office," upon which afterwards, the self-driving vehicle calculates the most optimal route using a 5G network and begins to move. While the vehicle is driving itself, CEO Hwang has a video conference meeting with executives in the United States, China and Spain. During the video conference meeting, all documents and verbal communication is interpreted and translated in real-time. The video ends with CEO Hwang watching his granddaughter's hologram play the violin.
When the video concludes, CEO Hwang states that in the future, we will no longer need a driver's license and our vehicle will turn into our office.
CEO Hwang went on to explain that one self-driving vehicle will need the capability to process 1 GB of information per second. He continued by stating that billions of self-driving vehicles operating simultaneously while sending and receiving information is simply impossible with the current LTE network. Additionally, he stated that a new 5G network will be needed to handle the massive data traffic that will be a reality in the future.
▲ 5G is not just about speed, connectivity and capacity is also important.
Speed was the focus of progress for communication networks since analog (1G) all the way to 4G (LTE). If IoT is to be realized, 5G must be more than just speed, it must also be about connectivity and capacity.
CEO Hwang Chang-Gyu explained that in order for vast amounts of data to be exchanged, a networks capacity must be increased a thousand times over with guaranteed constant connectivity. He went on to predict that a 5G network capable of high speeds along with connectivity and capacity will be an exciting innovation.
CEO Hwang continued by using Korea's LTE network as an example that a new network would not only be beneficial to the public but also would be a paradigm shift for companies as well. Moreover, he stated that 5G will be an infrastructure for innovation that proliferates various devices as well as become a place of opportunity for start-up ventures. Additionally he stated that 5G will be a core technology for the creative economy.
CEO Hwang went on to emphasize that for large numbers of devices to exchange vast amounts of data back and forth, high-integration (Massive) antennae, utilization of Ultra-Wide Band frequency, and innovative technology surpassing the limitations of 4G LTE are things that will be required.
He stated that because of this, KT together with Samsung Electronics collectively developed "Massive" antenna technology that uses 800MHz bandwidth at 28GHz millimeter frequency, and have reached speeds of 7.5Gbps. In this year's MWC, KT did not simply demonstrate speed but rather the technology that could take advantage of that speed, such as holograms, ultra-high definition videos and related services, as well as other differentiated areas that ultimately stirred high interests among the participants.
Additionally, the announcement was made that KT in collaboration with Ericsson developed the world's first ever technology which establishes Small Cells called "HetNet CA." Through HetNet CA, KT is leading the competition with top class 5G core technology. Also, KT has finalized cooperation with Samsung Electronics and Qualcomm in developing Device to Device (D2D) technology and is in preparation for utilization of the service.
CEO Hwang said that KT is constantly upgrading its 4G network to provide 5G equivalent services, and also that with KT's powerful wired GiGA infrastructure, KT has commercialized GiGA LTE and GiGA WiFi. He went on to state that more GiGA services are on the way and that KT will not be stopping there.
▲ In the IoT era, network standardization, interlocking platforms, and convergence services will be needed.
To lead in a true IoT era, network standardization, interlocking platforms, and related convergence services must be prepared closely together.
KT together with Nokia demonstrated LTE-M (Machine) technology at Nokia's booth during the MWC 2015. To develop an IoT standardization, LTE-M technology was the world's first demonstrated specialized network technology by KT and Nokia. Demonstration of LTE-M technology is planned for later on this year in Korea, and with it comes a step closer to making IoT standardization a reality.
To prepare for an IoT era with 5G as the foundation, network technology, together with big data, cloud services, and convergence services must be integrated and nurtured. Through the clear vision that is "the realization of GiGAtopia," KT is systematically establishing GiGA infrastructure and future convergence services.
Additionally, KT together with Telefonica has made a proposal to the GSMA for the IDE (IoT Data Ecosystem) project and has agreed to push ahead together.
IDE (IoT Data Ecosystem) is a project proposed by CEO Hwang Chang-Gyu in the MAE (Mobile Asia Expo) 2014 in Shanghai, China. The project was to possibly progress the IoT Data Sharing Hub by easily exchanging and utilizing data from the various IoT platforms of businesses. This would be accomplished by globally standardizing data protocol and inter-connectivity.
With the agreement with Telefonica, this project will soon be initiated as a pilot program under GSMA's "GSMA Vision 2020 Connected Living Program" so as to accomplish specific achievements.
Meanwhile, KT has for the first time ever created Eco-friendly services through the combination of IoT and Big data. In cooperation with the eco-friendly company Coway, and with the combination of IoT and Big data, KT has shown the launching of Smart Air Care Service at this year's MWC. For the first time ever, KT's IoT platform and Big data analysis technology has been applied to an eco-friendly IoT convergence service.
1,300 indoor air quality (IAQ) sensors were installed in homes for two months as a pilot test. The shocking results were that the amount of fine dust present in a home while dinner is being cooked were equivalent to that of a bus terminal. The conclusion was that close proximity amongst people coupled with the cooking of food multiplied and increased the level of fine dust in homes. Smart Air Care offers the service of comparing air quality of other homes, as well as the outside through the use of smartphone apps, and gives the user the option to purify the air in the home, or to aerate the home in real time.
CEO Hwang said, "5G will continue to increase in assisting us with the ever increasing issues concerning the environment and energy problems."
In his keynote speech, CEO Hwang introduced KT's micro energy grid named "KT-MEG". This technology was developed through KT's telecommunication infrastructure. KT-MEG is the world's first total energy management solution from electricity to heating, natural gas, water and even wind. KT-MEG is currently managing energy with smart technology in the U.S., Finland, as well as 10 other major organizations.
CEO Hwang asked that other mobile providers proactively take initiative for the progress of IoT.
Six months ago, at the MAE 2014 in Shanghai, China, CEO Hwang Chang-Gyu emphasized global standardization in IoT services so that early vitalization of IoT industry could be made possible. In this year's MWC, CEO Hwang is expanding on forging concrete relationships with global telecommunication companies for the progression of IoT standardization.