DAVOLINK introduces Enterprise WLAN Controller and 802.11ac AP at 2015 CeBIT in Hanover
Davolink has introduced the its smart 802.11ac-based WLAN Controller and Access Point at the 2015 CeBIT under the brand name of SmartAirTM.

As society enters the BYOD era, more and more individuals are using three or more mobile devices, including mobile phones, smart pads and notebooks, which has significantly increased the number of terminals accessing one AP from 10 terminals in the past to currently approximately 40~50 terminals.

Within the KOTRA Korean booth in CeBIT, Davolink installed the company's SC-400 Controller and three units of DVW-4038 APs to receive great reviews by providing high-speed WiFi service free-of-charge to the 34 participating companies (150 participants).
The company achieved a significant PR effect by stably providing WiFi services equipped with the company's exclusive technologies, AP load balancing and airtime fairness, especially when considering the difficulties that existed in providing WiFi during the 2014 CeBIT due to signal interference between APs and increased traffic amongst users.

In addition, Davolink showcases the performance of its 802-11.ac based Giga WiFi product at this year's CeBIT. Despite interference caused by various APs within the expo, Davolink was able to achieve download speeds of over 900Mbps on a notebook and received great reviews from audiences.

Davolink system technology team assistant general manager Kang, Chang Sik, who attended the conference, explained the advantages of the product by saying that "within large expos like CeBIT, stable WiFi is difficult due to the cross signal interference caused by the numerous APs installed by the event sponsors and participating companies.
Even within such a wireless environment, APs equipped with Davolink's exclusive SmartAir wireless management feature were able to provide stable WiFi service at speeds of 700~900Mbps.

During the expo, Davolink also showcased a system management feature that allows real-time remote monitoring of operational conditions (number of terminals, wireless interference level, AP malfunction level) of WiFi sites in Korea within the CeBIT site using the company's Smart Tunnel technology.

With regards to business references and marketing, assistant manager Kang, Chang Sik displayed strong confidence by stating that "as of March 2015, our company has over 50 controller-based wireless solution references in Korea as well as a customer who has developed a system utilizing more than 1100 APs. In the future, we will use Italy as our base to aggressively market to new European customers while cultivating new markets in over 30 countries globally."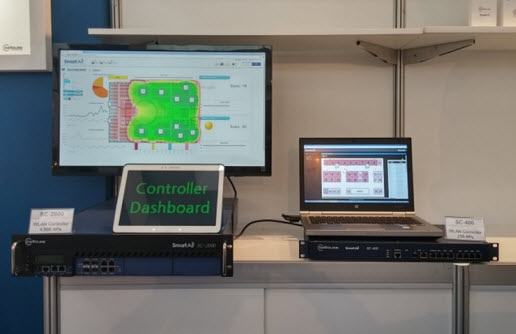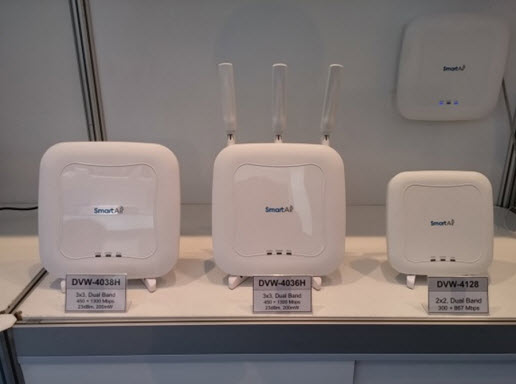 DAVOLINK's 802.11ac APs and Controllers