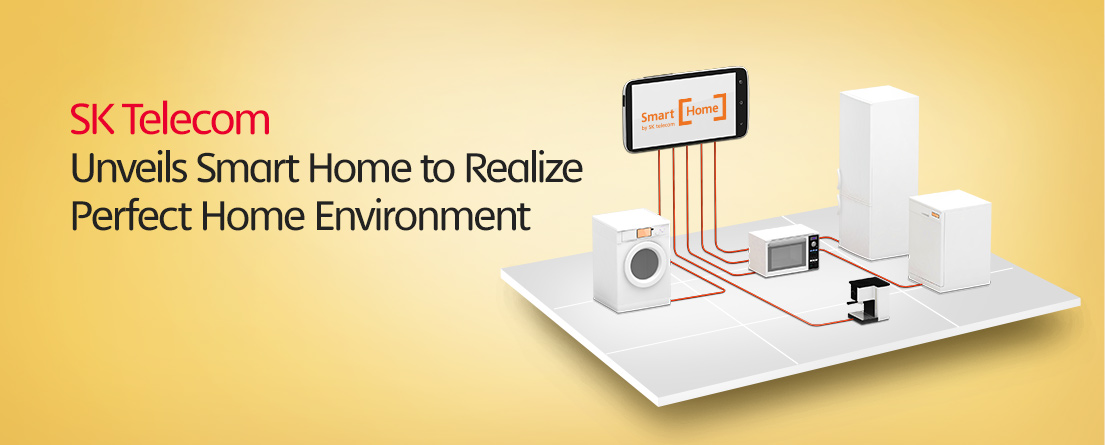 Launches Smart Home service along with four compatible products, including boiler and door lock, to realize a safe, convenient and energy-efficient home environment for customers; and plans to add more than 10 compatible products within this year
Managed through a single mobile application, Smart Home suggests the easiest way to control many different household appliances in an integrated manner
Built on an open IoT platform, Smart Home is expected to create a mutually-beneficial ecosystem for partners
SK Telecom today launched Smart Home, a service built on an open IoT platform to realize a safe, convenient and energy-efficient home environment for consumers.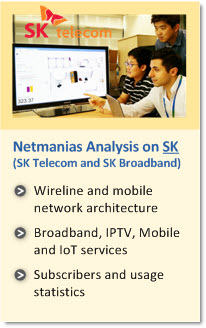 The company held an event at its Seoul headquarters to commemorate the launch of the Smart Home service. Together with diverse partners including iRevo, Winix, KyungDong Navien and Time Valve, SK Telecom introduced four different Smart Home-compatible products - dehumidifier, boiler, door lock and gas valve lock.

SK Telecom stressed that users can conveniently control these home appliances through a single mobile application on user's smartphone - in a Wi-Fi connected environment* - instead of having to install a mobile application for each and every connected device/appliance. Customers, regardless of their mobile carrier, can use SK Telecom's Smart Home service by purchasing a SK Telecom Smart Home-compatible device.
*Battery-powered products like door lock and gas valve lock may require a Z-Wave bridge to reduce battery consumption

More importantly, users can also set these connected products to work in an integrated manner according to the user's situations – e.g. waking-up, leaving home, returning home, going to bed etc. For instance, when activated, the 'Away Mode' will automatically lock the door and gas valve, and turn off the boiler and dehumidifier. Also, users can activate the 'Coming Home Mode' on their way home from work to turn on the boiler and dehumidifier to create a pleasant home environment just in time for their arrival. SK Telecom expects these features to not only enhance customer safety and convenience, but also result in saving energy costs.

The ultimate vision of SK Telecom's Smart Home is to create an ideal home environment for customers by not just providing connectivity for a comprehensive range of household products(including both electronic and non-electronic devices/appliances like furniture), but also enabling these products to work flawlessly in harmony to maximize customer experience and value.

The company is currently working actively with a long list of market-leading companies - including Ace Bed, Altoen Daewoo, Banditongsin, Carrier, Daesung Celtic, DS Tek, GE Lighting, Haatz, KyungDong Navien, Kumho Electric, Kyowon L&C, iRevo, MCT, Powervoice, Rinnai, Time Valve, Tongyang Magic, Winia, Winix, Wizit, YPP and Yujin Robot - to set up a more enriched smart home environment. It plans to add air purifier, lighting, smart plug and smart switch to its service platform in the third quarter of this year; water purifier in the fourth quarter; and even connect furniture next year.

Moreover, SK Telecom will set itself further apart from other players by adding intelligent features to Smart Home. For instance, the company is planning to link Smart Home to its location-based service platform, weather service platform, big data/personalization platform and dispatch security service platform to provide features tailored to each customer.

The company's long-term plan includes collaboration with companies in other industries, including energy and construction, to develop new business models. To this end, the company has built the Smart Home service on an open IoT platform. It also announced plans to open related APIs (Application Programming Interfaces) within this year to encourage further innovations from developers and household appliance manufacturers, thus creating a mutually-beneficial ecosystem.

"SK Telecom's Smart Home is the first service ambitiously built as part of our IoT Service Platform, one of the three Next-Generation Platforms chosen as the company's new growth engine in April," said Cho Young-hoon, Senior Vice President and Head of Smart Home Task Force. "Smart Home will go beyond simply connecting products to become a truly intelligent service that provides features customized to each user's situation and needs. At the same time, it will boost the creation of a virtuous ecosystem that brings benefits to all stakeholders.
News Source: SK Telecom
Web Site: http://www.sktelecom.com/