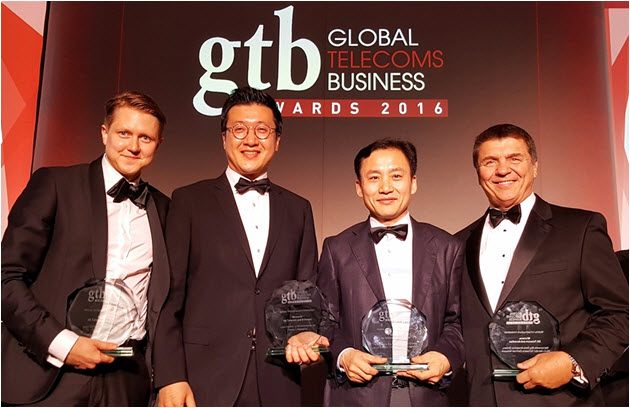 SK Telecom today announced that it has received two awards both in the category of 'Wireless Infrastructure Innovation' at the GTB Innovation Awards 2016 held in London on May 25.

Launched in 2007 by Global Telecoms Business, the GTB Innovation Awards are designed to honor innovative projects involving telecoms operators and service providers around the world working in association with their vendors and suppliers.

SK Telecom and Ericsson have jointly received the award with 'Lean Carrier,' a technology that enables a better user data experience and greater spectral efficiency by minimizing signal interference between cells by turning on/off Cell-specific Reference Signals (CRS) depending on data traffic. The two companies successfully applied the Lean Carrier concept to SK Telecom's commercial LTE network in October 2015.

"SK Telecom is honored to receive this award with Ericsson as it recognizes our efforts to develop advanced LTE network technologies," said Park Jin-hyo, Senior Vice President and Head of Network Technology R&D Center. "SK Telecom will continue to focus on developing and introducing innovative network technologies to achieve early commercialization of the LTE-A Pro and 5G network, while providing our customers with the best quality service."

Per Narvinger, Head of LTE, Ericsson, says "Drawing on our experience from high-performance networks and projecting forward to what will be possible with 5G, we were able to innovate a solution that optimizes signaling levels in today's 4G LTE network. Networks that employ the Ericsson Lean Carrier software upgrade will provide a better user experience. And with the shift to small cell architectures in 5G, addressing signaling interference now puts us firmly on the path to meet 2020 requirements."

Moreover, SK Telecom and Accedian have been also named the winner of the 'Wireless Infrastructure Innovation' category with their 'Virtualized Network Monitoring Solution.' The solution measures and analyzes real-time performance of the end-to-end network – i.e., from base station to core network - to identify and resolve network errors/traffic congestion in a prompt manner, as opposed to the existing solutions that provide traffic quality statistics in five minute intervals at best, making it difficult to recognize instantaneous traffic surges and traffic bottlenecks.

"SK Telecom is delighted to receive this award as it is a meaningful outcome achieved by combining our strength in LTE technologies with Accedian's sophisticated solutions," said Shim, Sang-su, Head of Network Business Group of SK Telecom. "Going forward, we will continue to develop innovative technologies and solutions, and share it with our global partners so as to contribute to the enhancement of the quality of LTE services across the globe."

"This award underlines the positive results achievable when innovative operators and vendors work together with a common goal in mind," said Accedian founder and CEO Patrick Ostiguy. "By integrating virtualized network performance instrumentation with network management and SDN control, SK Telecom and Accedian are delivering a better customer experience while elevating the operator's competitive differentiation and revenue opportunities. The solution developed has far-reaching potential globally as operators move toward the automated orchestration that will underpin 5G networks of the future."

Meanwhile, the two companies' Virtualized Network Monitoring Solution has also received an award in the category of 'Best Mobile Technology Enabler' at the 2016 GSMA GLOMO Awards held in February this year.