SK Telecom announced on 29th that it has received two awards at the GSMA Asia Mobile (AMO) Awards 2017 in the categories of 'Best Innovation for LTE to 5G Evolution' and 'Best Mobile App for Connected Living.'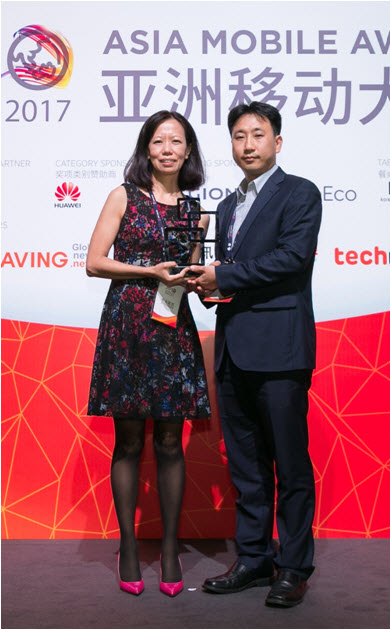 The 'Best Innovation for LTE to 5G Evolution' award highlights the next wave of innovation and visions for new mobile applications, products and services, use cases, new business models and new opportunities that advance the value of mobile technology, moving beyond simple connectivity, pushing the boundaries of what might be possible with mobile in the near future.
SK Telecom and Ericsson have jointly received this award thanks to their industry-leading efforts to develop 5G technologies. The two companies have jointly built a 5G trial infrastructure – i.e. 28GHz 5G New Radio Access Technology (RAT) with advanced 5G features such as 3D beamforming and beamtracking, and network slicing-enabled core network – to cover a 2.6-kilometer close circuit track inside the BMW driving center located in Korea to demonstrate the world's first 5G connected car, T5, along with various 5G use cases in November 2016. Then in February 2017, at the same location, the two companies have reached a data transfer speed of 3.6Gbps on connected cars running at 170 kilometers per hour, the world's highest speed for a 28GHz-based 5G trial network, through the application of advanced beamforming and beamtracking technologies.
The 'Best Mobile App for Connected Living' award recognizes a wide range of transformative, innovative mobile apps that enhance or bring new benefits to everyday life, including health, fitness and well-being, travelling, transport and leisure.
SK Telecom has been chosen as the winner of this award for developing/offering Smart Home, an innovative mobile application that controls, manages, and monitors various home automation services. Since launching the service in May 2015, the company has been actively expanding Smart Home-compatible devices by joining hands with diverse consumer electronics companies. As of early June, 2017, SK Telecom is offering 282 different home appliance models under cooperation with 65 electronics companies including Samsung Electronics and LG Electronics. Built on SK Telecom's machine-learning platform, Smart Home evolves as it learns and accumulates user's behavior. It is also designed to work with NUGU, the company's voice-controlled AI platform, to enable users to control Smart Home devices via voice command.
"SK Telecom is honored to receive these prestigious awards as they recognize our strenuous efforts to develop cutting-edge technologies and services to maximize customer experience and value," said Park Jin-hyo, Senior Vice President and Head of Network R&D Center of SK Telecom. "We will continue to develop innovative technologies to sustain our leadership into the 5G era."