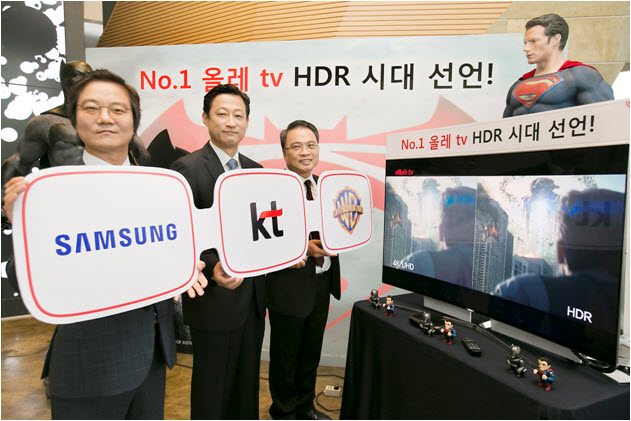 High Dynamic Range (HDR), a technology that provides a higher level of contrast between light and dark images on the screen to create a much more realistic image, is to be used in IPTV.
KT held a press conference at the KT Square in Gwanghwamun, Seoul, on the 12th, announcing the commercialization of the world's first HDR IPTV service, along with Samsung Electronics and Warner Bros. Home Entertainment Inc. (Warner Bros.) The conference was attended by Yoo Hee-kwan, head of the Media Business Division at KT, Youngchan Kim, managing director of the Service Business Division at Samsung Electronics, and Clarence Lo, VP - APAC at Warner Bros.
At the conference, KT said that it developed a set-top box specifically designed for HDR technology. The company, in cooperation with many content providers, including Warner Bros., plans to provide 65 HDR contents like "Batman vs Superman: Dawn of Justice", "Mad Max: Fury Road" and more as IPTV services by the end of the year.
HDR reproduces a greater range of luminosity to present natural images as captured on the retina of the eye. While TV services so far have mostly focused on merely offering higher resolution and more pixels, HDR is aimed to provide a much more realistic image.
While typical UHD with poor color gamut can achieve only up to 100 nits, HDR can improve it up to 1,000 nits, raising the contrast by 10 times. HDR makes it possible for viewers to see the exact shade of green on a highway and the exact gleam off the surface of a lake on a TV. For this reason, HDR is expected to be a key technology in UHD TV soon.
Global leading TV makers and content providers have long expressed their keen interests in HDR. However, not much effort has been made by platform providers. Now, with the HDR commercialization, KT hopes to promote the formation of a HDR ecosystem and relevant markets through close cooperation with the two partners and more platform, device and content providers.
Anyone who are now subscribing to 'GiGA UHD tv' service can enjoy HDR service at no extra charge. New subscribers can use the HDR service immediately. Current 'GiGA UHD tv' subscribers can begin HDR experience after firmware upgrade, without set-top box replacement.
Youngchan Kim, managing director at Samsung Electronics, noted, "We highly recognize KT's effort and achievement to bring the world's first HDR to realize the best video experience." "We will make our best effort to supply high performance HDR TVs for the new service."
Clarence Lo, VP - APAC at Warner Bros. said, "We are pleased to have this great opportunity to introduce our HDR TV content to Korean viewers." She added, "We believe the KT's HDR service launch will help Korea become a leader in HDR TV."
Yoo Hee-kwan, head of the media business division at KT, noted, "HDR will become a new norm in IPTV sector." "We will continue to stay committed to provide our customers with differentiating services and experiences."
Currently, KT's olleh tv has five UHD channels, the most among paid-in TV service providers in the nation, and about 1,400 UHD titles. It has been offering UHD channels and content through the nation's widest bandwidth since April. In July, it will begin all-channel full HD service (no SD) – for the first time in IPTV and paid-in TV sectors.