Sprint and Samsung take Three-Channel Carrier Aggregation into the Field with Live Demonstration in Chicago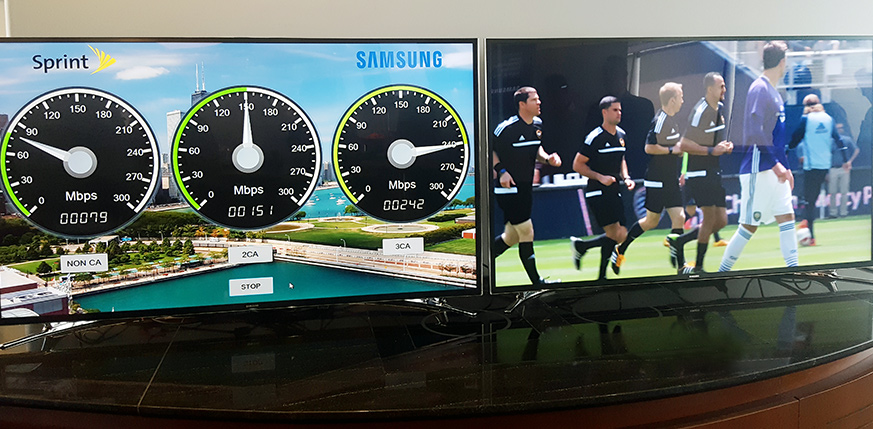 Today at Soldier Field in Chicago, Sprint (NYSE:S) and Samsung Electronics America, Inc. provided a look at what's next for the Sprint LTE Plus Network with the first live U.S. demonstration of three-channel carrier aggregation on Sprint's network. The demonstration reached peak download speeds of more than 230 Mbps running on Samsung's latest network infrastructure technology and hottest new devices including the Samsung Galaxy Note7, Galaxy S7, and Galaxy S7 edge.
Carrier aggregation is an LTE-Advanced feature that bonds together bands of spectrum to create wider channels, produce greater capacity and deliver faster speeds on capable devices. Essentially it creates a wider lane that allows more data traffic to travel at higher rates.
Today Sprint has deployed three-channel carrier aggregation on more than 500 cell sites in Chicago.
Today's three-channel carrier demonstration at Soldier Field utilized Sprint's 2.5 GHz spectrum to deliver peak download speeds of more than 230 Mbps. It also showcased live streaming of ultra-high definition 4K video and the blazing fast, high-bandwidth capability of Sprint's LTE Plus Network. Participants were also able to experience a low-latency, high-speed, virtual reality system.
"Ten months ago Chicago was our first LTE Plus market receiving two-channel carrier aggregation and we're excited to take a leadership role as the first carrier in the U.S. to publicly demonstrate three-channel carrier aggregation live in the field," said Günther Ottendorfer, Sprint COO, Technology. "4K video and immersive virtual reality systems are gaining momentum and Sprint is ready with more spectrum and capacity than any other carrier to support our customers' demands for data now and well into the future."
Behind the scenes, today's demonstration utilized Samsung's three-channel carrier aggregation technology delivered via software upgrade on Sprint's current LTE Plus network. In optimal RF conditions, three-channel carrier aggregation can increase throughput by 50 percent over the current two-channel carrier network, providing higher speeds and an enhanced user experience. For instance, users can reduce download time of a 1GB video by approximately one-third in a typical environment, when compared to using two-channel carrier aggregation.
At today's demonstration, Samsung successfully showcased the LTE-Advanced network solution, as well as its devices supporting three-channel carrier aggregation including the Samsung Galaxy S7, Galaxy S7 edge and recently launched Galaxy Note7.
"Samsung is excited to bring Chicago on air with this new three-channel aggregation capability in Sprint's network, and to facilitate today's demonstration," said Mark Louison, SVP and General Manager of Samsung Networks. "We continue to invest in LTE Advanced technologies, and drive commercialization of new three-channel aggregation features with carriers such as Sprint through both our Network infrastructure and device products. This will ensure customers will receive the best possible wireless service experience."
Today, Sprint uses two-channel carrier aggregation to deliver peak speeds of more than 100 Mbps in 237 LTE Plus markets across the country using 40 MHz of 2.5 GHz spectrum on the company's LTE Plus cell sites. With three-channel carrier aggregation Sprint will utilize 60 MHz of spectrum in the 2.5 GHz band to provide peak download speeds of more than 200 Mbps on compatible devices. Sprint holds more than 160 MHz of 2.5 GHz spectrum in the top 100 U.S. markets. Sprint also uses 800 MHz and 1.9 GHz spectrum to provide strong coverage and reliability across its LTE Plus network.
Sprint offers 22 devices that actively support two-channel carrier aggregation on its super-fast LTE Plus Network. Six devices currently offered by Sprint are three-channel carrier aggregation capable and Sprint's portfolio of devices is expected to grow. Three-channel carrier aggregation is slated for enablement on devices via an automatic software update following network deployment.
A Reliable, Capacity-Rich Network
Sprint LTE coverage reaches approximately 300 million people – more than 90 percent of the U.S. population. And Sprint's highly reliable network is better than ever. In fact, Sprint's analysis of drive test data from Nielsen – covering the top 106 metropolitan markets in the U.S. – shows that Sprint's reliability now beats T-Mobile's and performs within 1% of AT&T and Verizon.
With Sprint's deep spectrum holdings and a reliable, capacity-rich network that's built for data, Sprint is proud to now offer Unlimited Freedom with unlimited talk, text, and mobile optimized streaming videos, gaming and music. And for customers that prefer a higher resolution video streaming experience, Sprint offers Unlimited Freedom Premium.