KT and Samsung Succeed in World's First 5G Connection through End-to-End 5G Networks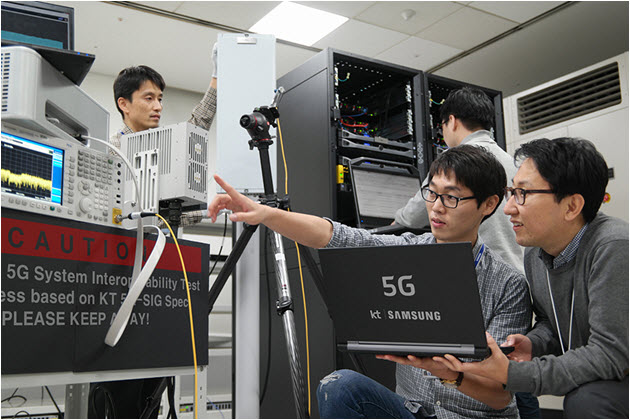 KT and Samsung Electronics today announced joint success in establishing and demonstrating the world's first 5G connection through a network built from end-to-end 5G technologies. The test took place in Suwon, South Korea at Samsung Electronics' Digital City Campus.
Unlike other demonstrations of connectivity between prototype base stations and devices using proprietary specifications, the proof of concept by KT and Samsung makes use of the PyeongChang 5G Special Interest Group (SIG) common specification – a joint effort backed by a global group of operators and vendors. This group is defining the key technological requirements for 5G mobile services and is also working to deliver the world's first mobile 5G trial service in early 2018.
"Today's success is based on a common specification built through the collaboration of multiple industry leaders that will help facilitate the world's first mobile 5G trial service at the PyeongChang 2018 Winter Olympic Games," said Sungmok Oh, Head of Network Division at KT. "KT will continue its efforts to test 5G interoperability between multiple vendors through 2016, while working towards deployment of a test network for in-depth verification in 2017."
"We're very pleased with our success on the world's first end-to-end 5G connection only a few months after the PyeongChang 5G SIG common specifications were finalized," said Paul Kyungwhoon Cheun, Executive Vice President and Head of Next Generation Communications Team at Samsung Electronics. "Samsung is enthusiastic to continue its collaboration with industry leaders across the globe as we work to achieve future key next-generation milestones and draw 5G closer to our everyday communications."
During today's test, which made use of 28 GHz spectrum, KT and Samsung showcased full synchronization of wireless links, assignment of IP addresses to devices, implementation of security protocols and internet access delivered devices via a 5G virtualized core network. The success of the test demonstrates the value of industry collaboration, as well as the state of readiness of 5G technologies as the industry pushes towards deploying the first commercial 5G networks before 2020.