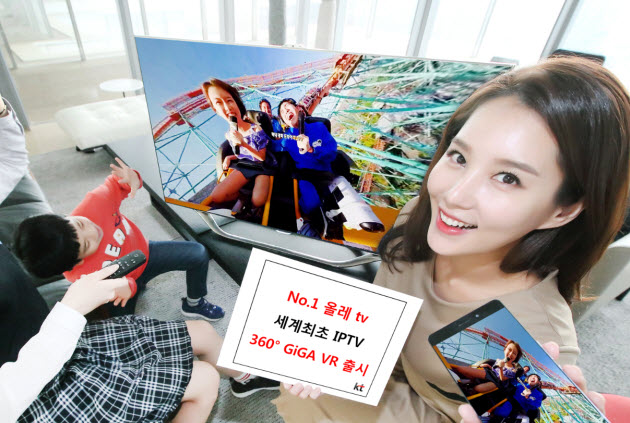 [KT's demonstration, the world's first VR on IPTV, through Olleh tv]
KT presented the world's first IPTV VR service
'Olleh TV 360 GiGA VR', the world's first IPTV VR service unveiled on Nov. 8th
Viewers can enjoy VR content at home using a remote control. No expensive VR-dedicated device is needed.
To promote VR content development through 'Be a GiGA VR producer' academy
KT announced that on the 8th that Olleh TV, its IPTV service, will be presenting 'Olleh TV 360 GiGA VR' service, the world's first VR on IPTV service that can be controlled using a TV remote.

The new service will offer VR-dedicated, full HD quality videos on demand (VOD) that are highly controllable (360 degree rotation and zoom in/out) using a TV remote.

Viewers can watch VR content on the same TV that they have without having to purchasing expensive VR-dedicated devices like headset. So even people who are not quite familiar with VR service can effortlessly enjoy VR content. Also, unlike conventional VR services which require viewers wear VR devices to watch VR content, KT's new service enables everyone to watch VR content on a big screen TV with their families and friends without feeling sickness or tiredness from wearing VR devices.

Popular VR content exclusively supplied by KT include shows by MBC: 'Infinite Challenge's recent episode 'Trip to the USA', 'Shopping King Louis film making', 'Mask singer special', etc. The 'Trip to the USA' was exclusively offered through Olleh TV Mobile, KT's mobile TV service. The new IPTV VR service is expected to bring VR home allowing everyone in the family to watch the world's scariest roller coaster riding right on their TV.

The service will become available to 'Olleh GiGA UHD TV' service subscribers over time by the end of the year. Then the subscribers can use the service at no extra charge through '360 degree GiGA VR' menu. Those who want more realistic experience can wear VR devices and watch the same VR content through 'Olleh TV Mobile'.


Vice President Hee-kwan Yoo at KT's Media Business Unit noted "KT presented 360 degree VR service through Olleh tv Mobile in January for the first time in the nation, and other innovative services like 'GiGA VR Mobile baseball game live-broadcasting', 'The VR' (an open shared platform) later on. For the past one year, it has been aggressively positioning itself as the No. 1 network operator in the nation." "Now with the launch of the world's first IPTV VR service, we will continue to remain committed to help our customers enjoy VR content with ease, and to promote a thriving VR ecosystem to make VR more popular."