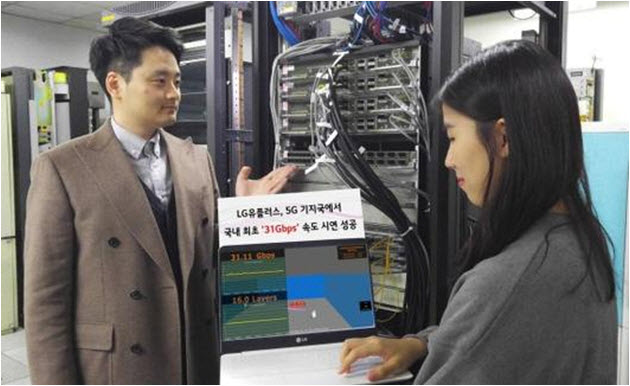 LG U+ announced on the 13th that it, by leveraging a 5G trial base station, succeeded in achieving the downloading speed of up to 31Gbps, which is more than 100 times faster than the current 3-band LTE-A technology, for the first time in the nation.
Once the operator's 5G base station is commercialized, a 2GB HD movie can be downloaded in just 0.5 seconds.
The demonstration could be successful because Massive MIMO, one of the core technologies of 5G network, could run on a Huawei 5G base station which can support ultra-wide bandwidth (up to 1GHz) at mmWave band.
Massive MIMO is a solution that transmits data to multiple users simultaneously by increasing the number of antennas connected to a single base station, from two or three to more than 100.
Massive MIMO applied on to ultra broadband-supporting equipment will empower operators to offer 5G service to all users at a high speed with no speed degradation even when more than one user is connected to a base station, helping to bring ultra-high speed streaming services like VR, AR, UHD closer to us.
LG U+ explained that the demonstration had a special significance in 5G in that it was carried out using 5G test base station and test terminals, and also 28GHz band, a prime candidate for 5G in the nation.
LG U+ has been diligent in testing the service quality and coverage of 5G networks in outdoors as well as in Labs to kick off 5G network commercialization faster as soon as 5G frequency is secured.
The operator has been actively engaged in early commercialization of 5G base stations in cooperation with global equipment manufacturers to secure its leadership in 5G network by aggressively introducing next-generation network technologies while finding ways to better accommodate surging data traffic.
Jeongho Kang of the Network Technology Department of LG U+ said, "Previously, Ericsson demonstrated speeds of up to 26Gbps through 5G test base stations, but we achieved much faster speeds using 5G technology-based base stations and equipment." He added "We expect this will make significant contribution to introduction of more enhanced, higher-quality services such as 4K, 8K UHD and VR in the future."