SK Telecom and Global IT Leaders Gathered for TIP Meeting to Discuss Partnership in 5G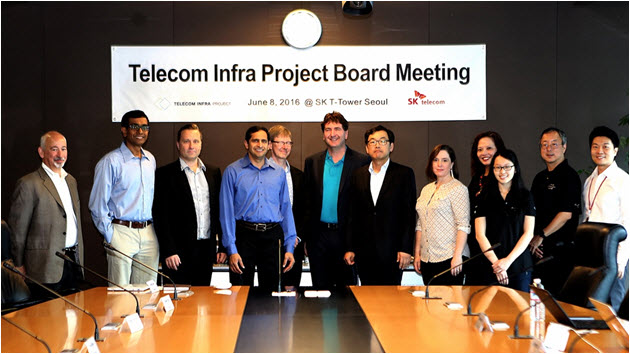 SK Telecom is hosting the first Telco Infra Project (TIP) conference, where more than 40 global IT leaders including Facebook, Nokia, Intel, Vodafone, Deutsche Telekom AG, are presented, at SK Telecom T Tower in Seoul for two days (8th and 9th).
A board of directors meeting was held and attended by key members of TIP such as Facebook, Intel, Deutsche Telekom, and future vision, goals, management plans of TIP as well as 5G network joint research plan were discussed.
SK Telecom and Nokia shared their plan for partnership to make 4G and 5G technologies more simplified, flexible and efficient, as one of the 7 specific initiatives planned by TIP. They also discussed how to provide more innovative, cost effective communications infra. in areas where investment is not an option, like remote mountain and island areas or under-developed countries.
Also, TIP Community Lab, founded by Facebook with the hope of deploying high-quality communication infra. fast, shared its plan to enhance 4G's function and performance at low cost and expand it into 5G technology. The details of its partnership with SK Telecom were presented as key cases.
SK Telecom, the TIP chairman elected in recognition of its dedicated leadership in 5G technology, will be in charge of opening a hot line with major carriers of TIP, coordinating other manufacturers in different fields to help reach agreements among members, etc.
The TIP is a global initiative launched in February 2016 by Mark Zuckerberg, CEO of Facebook, with 30 global leading companies in the IT industry, including operators like SK Telecom, Deutsche Telekom AG, EE, Nokia, Intel, and other players in the IT industry like Facebook, Nokia, Intel, and more. The organization is aiming to bring innovation and efficiency to the entire IT infra through close partnership. With more members including UK-based Vodafone, Spain-based Telefonica, etc. joining, the organization now has 43 members.
Alex Jinsung Choi, CTO of SK Telecom and the first TIP chairman, said "We will lead global 5G evolution through a steady cooperation with global ICT leaders".
Last October, SK Telecom launched the nation's first '5G Global Innovation Center' to facilitate R&D activities for 5G technology and service, in conjunction with global IT companies like Samsung Electronics, Nokia, Ericsson, etc. Also in March, with Samsung Electronics, the company verified the outdoor performance of 5G system by conducting tests near its Bundang building using its own specification, successfully making itself ready for the world's first 5G pilot service launch in 2017.