SK Telecom to invest $9.2 billion over the next three years - $4.2 billion for new ICT ecosystem and $5.0 billion for futuristic network (5G, 2.6 GHz, etc.)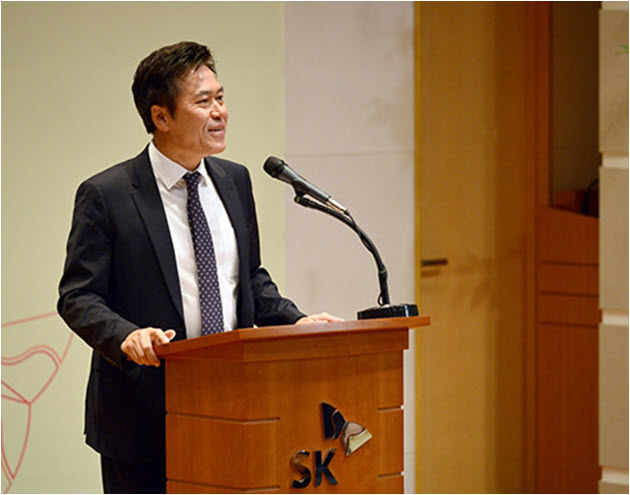 On the 11th, SK Telecom broked the news that it will invest a total of $9.2 billion, specifically $4.2 billion in building a new ICT ecosystem and $5.0 billion in deploying future network (5G, 2.6 GHz, etc.) over the next three years, in partnership with global leading companies like Samsung and Nvidia, and startups.
The proposed investments, intended to foster a new ICT ecosystem, will be made primiarily in artificial intelligence (AI), autonomous driving and IoT areas where the impacts on convergence among industries are expected to be greatest. SK Telecom's subsidiaries, SK Broadband and SK Planet, are also known to join the initiative. SK Telecom spokesman said, "Should the 5 trillion won ($4.2 billion) investment be executed for the new ecosystem as planned, it will lead to new growth-related industries," and added an optimistic projection that the effects include 9 trillion won ($7.6 billion) in production and the creation of some 60,000 new jobs.
At the CES 2017, Park Jung-ho, CEO at SK Telecom, visited booths offered by global ICT players like Samsung, Nvidia, Intel, etc., discussing possible cooperation in development of new IoT technologies like AI, autonomous driving, and fostering the new ecosystem.
■ Expanded partnership through $4.2 billion investment in building and fostering new ICT ecosystem
The telco defines the new ICT ecosystem as 'a fully open system that creates new values through converging innovative technologies like AI, bid data and IoT, and services'. It aims to focus on establishing the new ecosystem for AI, autonomous driving/connected car, IoT (smart home, more efficient energy management, etc.) and closely cooperate with players in the market, global or local, big or small, and even with its competitors if needed.
New ICT ecosystem designed by SK Telecom
SK Telecom will also team up with its affiliates in the ICT sector like SK Holdings C&C and SK Hynix. Specifically, in order to generate synergy effects utilizing AI and cloud technologies they have, the telco and SK Holdings C&C plan to upgrade 'T Map' navigation service, and expand to the autonomous driving sector through mutual cooperation.
■ Roadmap to new ICT ecosystem
Host an IoT open house - full supports required throughout the entire process of launching a new service, including IoT training and service planning, hardware development, network interworking tests, etc. will be provided to developers and startups with ideas and potentials.
TIP ecosystem acceleartion center

- The Telco Infra Project (TIP) co-organized by SK Telecom, Facebook, Nokia, Intel, etc. will open an acceleration center in Seoul in the first half of 2017. Through the center, the telco will help to local startups to grow and successfully enter the global market.
T developers - Added support for T developers, a channel for supporting developers, to facilitate technical infra support and API sharing and promote the developer community.
Cowork and partnership between industry and academia will be promoted, for example, through internship opportunities for college students
Fostering and nurturing new ICT ecosystem
■ Investment in next-generation networks - 5G and 2.6 GHz networks
SK Telecom has set strategies to further strengthen its competetiveness in network quality by investing $5.0 billion in futuristic networks like 5G and 2.6 GHz networks by 2019.
Wireless communication
Further improve the quality of wireless communication through investment in 2.6 GHz network
Launch 5G trial service in the second half of 2017 and commercial 5G service in 2020 through standardization of 5G global standards and investment in prerequisite technologies
Wired communication
Expand Giga Internet and UHD coverage
Develop streaming distribution technology for media service
CEO Park said "SK Telecom will foster a new ICT ecosystem. We will not do it alone. We will do it through sharing and cooperating with others." He added "I hope the new ICT ecosystem will serve as a new engine to drive economic growth in the country just like semi-conductors have been so far."