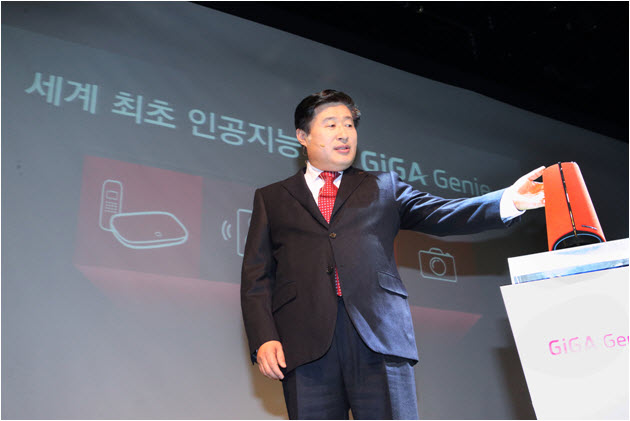 Heon-moon Lim, the President of KT's Mass general business division, introducing GiGA Genie
KT unveiled GiGA Genie, the world's first artificial intelligence (AI) TV set-top box (and also service) at a press conference held on the 17th. The company said the new device/service, developed based on network technologies grafted onto AI know-how it has long accumulated, will bring a new paradigm to consumer services.
The service will be available for sign up on the 17th with the actual service scheduled to begin by the end of January.
GiGA Genie is the world's first IPTV service featuring AI, and will provide Home Assistant service through TV, the center of our everyday life today. The GiGA Genie service, named from Genie of the lamp and GiGA, the company's brand, refers to a new IPTV set-top box and also an AI-based home assistant service.
Unlike most 'audio-centric' AI speakers so far that have primarily focused on voice recognition, GiGA Genie comes with a built-in camera that interworks with TV, offering 'audio/video-centric' AI service.
Effortless installation process makes it more appealing to customers. All users have to do to enjoy the new home AI service is to replace an existing set-top box connected to the TV with a GiGA Genie set-top box. When the TV is turned on, the home page will appear displaying options like Olleh TV, music, voice calls, home cameras, calendar, traffic, life and so on. As a user speaks, the set-top box will listen and follow the commands that the user gives. Because this process is viewed on the TV monitor, users have a more intuitive way to monitor the process.
To ensure GiGA Genie offers the best voice recognition performance, distant speech recognition as well as the world best Korean recognition technology was applied. With the Korea's first interactive TV with voice recognition feature and natural language processing technology, GiGA Genie can have AI conversations with users. Also, its deep-learning platform helps voice recognition and conversation technologies evolve even further.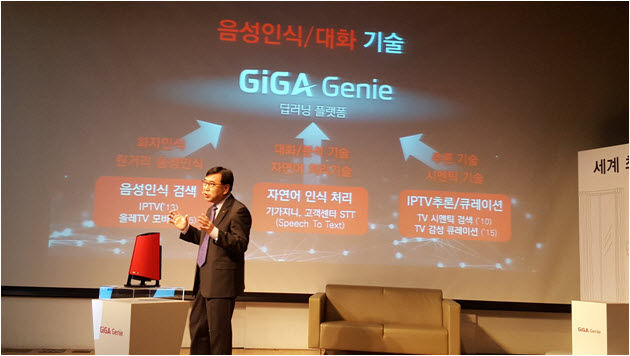 Gyu-tae Baek, head of the service research center at KT, explaining the underlying technology of GiGA Genie
The GiGA Genie device was developed in partnership with one of the leading global audio equipment providers 'Harman Kardon'. It features spaceship-motif, sleek design and high-power (35W) performance, and comes in three colors – black, red and white.
The device can collect data from customer information and usage history that users provide and also through built-in cameras. It also features useful and interesting user interfaces displayed in different LED colors and with different characters on the TV home page based on conversations between the user and Genie. It responds to 'GiGA Genie', 'Hey Genie!', 'Hey friend' or 'Honey' as a user chooses.
'GiGA Genie' device
■ Services offered
GiGA Genie offers services in the following four categories:
'Media service' in cooperation with olleh TV, genie (music), etc.
'AI home assistant service' to help users organize their schedules and life
'Home IoT hub service' to help control home IoT devices
'Communication service' for voice and video calls
Media Service
Examples: olleh TV (IPTV), genie (music streaming), etc.
GiGA Genie enables users to effortlessly enjoy rich contents provided by olleh TV as well as live TV channels by simply saying what they want, for example, "Genie! Show me *** channel!". They can watch whatever olleh TV channel through VOD. Or they can simply say "Show me a sports channel" to move to a sport channel.
Music service from 'Genie' is one word away too. Users can listen to any song they want, from dance and jazz to classic and pop, by saying the name of a song and artist.
AI Home Assistant Service
Examples: food delivery, calling taxi, etc.
The AI home assistant service available from GiGA Genie is designed to help make users' everyday life easier through features like scheduling and food delivery.
- Food delivery: When a user says "Genie! I want to eat ***", the GiGA Genie will display a list of restaurants near the user that deliver ***, and call a place that he/she chooses to order delivery.
- Bus or subway information: Before leaving home, users can check the bus or subway stops and schedule information and even get a map. Users can check how many minutes later the bus is arriving at their stop by saying "Genie! When is the bus arriving?"
- Calling Taxis: Saying "Genie! Call a taxi to go to the city hall!" will connect to Kakao Taxi to get a taxi.
- Other services: Other convenient services like search on Wikipedia, weather or exchange rates check, setting alarms, etc.
Home IoT Hub Service
Examples: IoT control for Doorlock, home cam, indoor air control, gas valve, etc.
GiGA Genie can control IoT devices at home all at once as it is compatible with 11 home IoT devices including doorlock, home cam, air doctor and gas valve control. For example, users can unlock the door by saying "Genie! Unlock the door!". And when they leave, they can check whether the gas valve is shut off or not, and shut it off by saying "Genie! Shut off the gas valve!"
Communication Service
Examples: voice calls and video calls
Internet phone-based voice call feature lets a user answer the call by saying "Genie! Answer the phone!" After finishing the call, the user can go back to the TV or music channel he/she was enjoying.
GiGA Genie uses the world's first anchor shot technology and built-in full HD camera (6 million pixels) to offer excellent video call quality. Anchor shot is a technology designed to track the face of a person who is right in front of the camera, and video-tape him/her by tracking his/her face. Video calls can be made between GiGA Genie users, and with other smartphone users as well.
■ Prices of plans and devices
Current olleh TV subscribers can simply replace their set-top box in use with a GiGA Genie set-top box. The new set-top box is available for lease at KRW6,600 per month with three years commitment, which is KRW2,200 more expensive than olleh TV UHD set-top box. Users subscribing to olleh TV 12 or higher plan can use the service at KRW4,400 per month.
Non-olleh TV subscribers can purchase a GiGA Genie set-top box at KRW299,000.
■ Leadership in helping AI platform and ecosystem grow
KT set a goal to make the new set-top box an essential platform at home by taking advantage of its 1.2 million IPTV subscribers per year. Then it aims to introduce specialized data service upgraded with advanced technologies like speech recognition and emotionally personalized conversation.
KT will also expand the GiGA Genie platform to various sectors like energy and automobiles, and lead initiatives to build an AI ecosystem utilizing its well-established 5G and IoT Alliances along with key ICT technologies it has gained like intelligent network infra and big data.
Starting from January 17th, an exhibition will be held in Gwanghwamun KT Square, offering visitors opportunities to experience GiGA Genie.
Heon-moon Lim, the President at KT's Mass general business division said, "We are certain that this technology-intensive GiGA Genie, developed on the foundation of AI and big data technologies that we have accumulated for almost 20 years using our wired/wireless network infra, will bring innovation at our home." He added "With the launch of GiGA Genie, we will continue to remain committed to provide better, differentiated AI service to our customers"