SK Telecom and CAT Telecom Sign Contract for IoT Network and Services in Thailand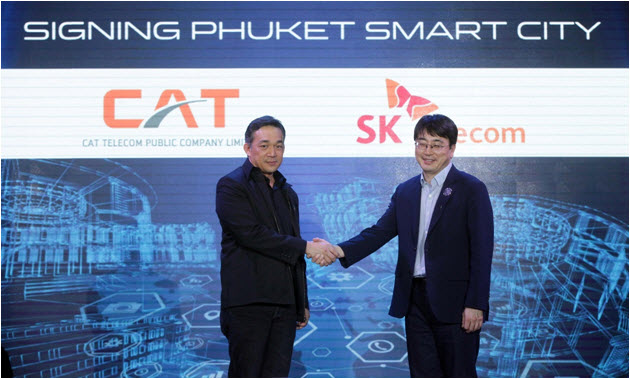 SK Telecom today announced that it signed a contract with CAT Telecom (or CAT Telecom Public Company Ltd.), a state-owned telecommunications service provider in Thailand, for the deployment of IoT networks and provision of technology consulting.
Under the contract, SK Telecom and CAT will deploy LoRa-based IoT networks in central areas of Bangkok and the entire Phuket Province, and provide Thai residents and visitors with diverse innovative IoT services from April 2017.
In Phuket, SK Telecom and CAT Telecom will first launch LoRa-based vehicle location tracking service, and roll out more IoT services including smart metering and smart street lighting services going forward. At present, as part of its digital economy policy, the Thai Government is focusing on Phuket as its first smart city project, making aggressive efforts to transform the island into an innovation-driven smart city.
The companies will also roll out LoRaWAN in central areas of Bangkok including the Grand Palace, and offer an IoT-based location tracking service for tourists. In particular, the service is expected to prevent people especially children and the elderly from going missing near the Grand Palace, where a large number of mourners are visiting to pay their respects to the late King Bhumibol Adulyadej.
The contract signing ceremony took place at CAT Telecom's headquarters located in Bangkok, Thailand, and was attended by senior executives of both companies, including Cha In-hyok, Executive Vice President and Head of IoT Business Division, Sanpachai Huvanandana, CEO of CAT Telecom, and Thawip Netniyom, Chairman of the Board at CAT Telecom, as well as government officials including Pichet Durongkaveroj, Thailand's Minister of Science and Technology.
"Through collaboration with SK Telecom, a global leading player in the field of IoT, CAT Telecom will be able to successfully carry out the government project," said Sanpachai Huvanandana, CEO of CAT Telecom. "CAT Telecom will work with SK Telecom to deliver the first IoT service in Thailand so as to realize a true Smart Life."
"SK Telecom will contribute to the growth of the ICT industry in Thailand by working together with CAT Telecom in the area of IoT, while nurturing a new ICT ecosystem by cooperating with many related companies," said Cha In-hyok, Executive Vice President and Head of IoT Business Division of SK Telecom. "Going forward, SK Telecom will collaborate with CAT Telecom in more areas to create more success stories in Thailand and other Southeast Asian markets."
■ Tree Pay rolls out its first payment gateway service
Meanwhile, SK Telecom, CAT Telecom and NHN KCP, a Korea-based company mainly engaged in the payment gateway business, also announced that Tree Pay, a joint venture established by the three companies, has launched its first payment gateway service in Thailand.
Armed with a differentiated payment service, which has been developed by combining the strength of the three companies, Tree Pay is expected to become popular in the rapidly growing Thai e-commerce market.
In particular, SK Telecom and NHN KCP will build an innovative payment gateway platform by utilizing their advanced technologies related to online, offline and mobile payment, while CAT Telecom plays an active role in developing valuable business opportunities by working with the Thai Government.
"As the first joint venture formed with overseas companies, Tree Pay offers differentiated services by combining the strength of the three companies," said Suvicha Nalita, CEO of Tree Pay. "I am confident that Tree Pay will become a leading player in the Thai e-payment market, which is growing at a remarkable pace today."