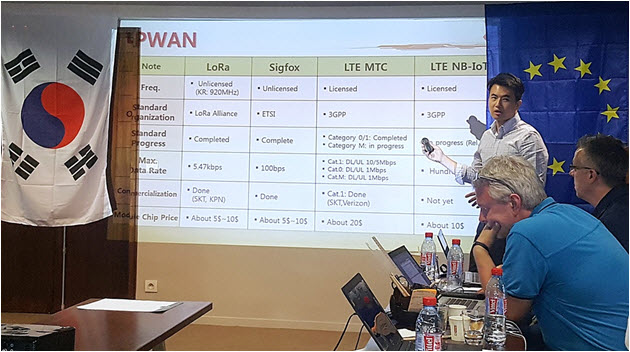 You will no longer need to worry about lost or missing baggage. Once global roaming service leveraging an IoT network is launched, you can locate your baggage at least in Europe – if an IoT-based location tracker is attached.

SK Telecom attended 'South Korea and EU IoT Partnership Conference', held in Nice, France on 12th through 14th, and proposed the cooperation between the two regions to develop a LoRa network roaming system.
The proposed system will lead to introduction of various services that can promote security and convenience for travellers, including location tracking service for international baggage, and more.
At the conference, SK Telecom proposed European firms, like Telefonica (Spain), EGM* and CEA* (both from France), to co-develop a roaming system based on LoRa, a low power IoT technology.
* EGM∙CEA: Top 2 SI providers in France
EGM and CEA, who are currently operating a pilot LoRa network in EU themselves, welcomed the proposal, and agreed to define specifications for roaming interworking through close cooperation.
The company will have a meeting with LoRa Alliance, a LoRa standardization association, in German next week, proposing standards for LoRa roaming interworking. It plans to have development of LoRa roaming devices and network servers completed by the end of the year.

In June, SK Telecom, as a co-research institution, participated in 'Sejong University (South Korea) – EGM (EU)' consortium** for IoT, which is one of the fields covered by a national research project called 'South Korea – EU Co-Research R&D Project'. The conference in Nice was held as a follow-up meeting of the consortium.
** 'Sejong University – EGM Consortium was attended by SK Telecom, Sejong University, Samsung SDS, Korea Electronics Technology Institute (KETI), KAIST, EGM (hosting company, France), Telefonica (Spain), TSP (France), NEC (UK) CEA (France), etc.
Earlier on the 4th, the company already announced its plan to deploy a LoRa network nationwide, and to connect more than 4 million IoT devices by 2017.
Jin-hyo Park, Senior VP of Network Technology R&D center at SK Telecom, shared his plan saying "We will stay dedicated to create a sound international IoT ecosystem by sharing the technical knowledge that we obtained in the course of deploying a LoRa network.