Samsung Electronics will demonstrate three key network technologies at Mobile World Congress 2015 in Barcelona, which will pave the way for 5G mobile communications. Each technology focuses on important aspects of the Radio Access Network (RAN) and involves networking innovations that will have a dramatic impact on the capabilities of commercial mobile networks.
"We consider 5G to be a transformation of how networks are constructed and how radio resources are used," said Chang Yeong Kim, Head of DMC R&D Center at Samsung Electronics.
"To support 100 times greater throughputs at a fraction of the latency, we need to consider more than just a single network component; we need to look at how everything works together. At the same time, the evolution toward 5G must be an incremental process, introducing new technologies in the short- and mid-term that can be tried, tested and proven on commercial networks."
mmWave Wireless Backhaul

< mmWave Wireless Backhaul Concept >
Utilizing a 60 GHz spectrum, Samsung is rapidly nearing commercialization of a wireless backhaul solution that promises to support speeds of multi-Gbps—faster than legacy wireless backhaul solutions.

Samsung's unique approach combines active and passive radio steering techniques to increase the effective range of a radio without exceeding the power output limits that exist in unlicensed bands throughout the world.
An active antenna array enables a beamformed radio signal to be directed at a passive lens antenna, which further focuses the radio signal toward a fixed point—similar to a contact lens focusing light into the retina of the eye.
By actively focusing the radio signal into a precise and highly accurate beam, the solution overcomes many of the environmental issues that affect communications in the 60GHz band.
The technology is initially intended to target flexible small-cell deployments, where wireline backhaul may be expensive or impractical to implement.
Additionally, the technology is designed to be easy to deploy and maintain, taking advantage of a small, lightweight and modular design with separate radio, antenna and processing modules in each unit.
Meanwhile, the use of active beamforming reduces the need to regularly calibrate the antenna orientation, further reducing maintenance requirements.
With small cell deployments expected to be a significant focus in 2015, this technology will be a solid enabler for high capacity and better coverage with lower CAPEX and OPEX.
Full Dimension Multiple Input Multiple Output (FD-MIMO)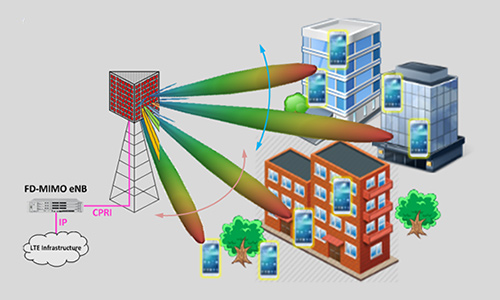 < FD-MIMO Concept >
With today's MIMO solutions, antennas are configured to form beams in one direction—horizontally. In this way, multiple users can each receive a "unique" signal from the antenna, effectively allowing a cell's capacity to increase since users in the cell no longer compete with each other for the same radio resources.
However, with only one-dimensional beamforming capability, users who are at the same horizontal angle from the antenna (even at different vertical angles) still receive the same signal and thus continue to share radio resources.
With the introduction of FD-MIMO and 2D-array antenna technology, wireless signals can be adaptively beamformed to specific users in both horizontal and vertical domains.
Additionally, with the adoption of advanced digital signal processing schemes, an FD-MIMO antenna system can support higher-order multi-user MIMO (MU-MIMO) which delivers a multi-fold improvement in system performance compared to conventional MIMO systems.
The technology is ultimately designed to deliver a unique, targeted radio signal to more than eight users in a cell at a time.
The innovative capabilities provided by FD-MIMO systems will also enable support for new deployment and operational scenarios, such as high-rise building support and multiple user services in crowded malls and stadiums.
Samsung is leading the standardization of 3GPP FD-MIMO in the upcoming Release 13 and exhibit this item at MWC 2015 includes an LTE Rel.13 pre-release eNodeB. It is characterized by its compact footprint with the 2D-array antenna, RF components, and baseband board being fully integrated.
mmWave Mobile Radio Access


< Samsung's 5G Test Result in October 2014 >
Samsung has made several critical steps toward demonstrating the viability and suitability of millimeter waves for the next generation of radio access technologies. The technology is expected to play an important role in delivering cost-effective gigabit data rates to users throughout an operator's mobile network.
In October 2014, Samsung announced the "world's first successful test" of mobile millimeter wave radio technology, establishing a throughput of 1.2 Gbps at 100 km/h, and establishing a new record for stationary communications of 7.5 Gbps.
The test utilized a licensed 28 GHz band and introduced Samsung's Hybrid Adaptive Array antenna technology. Samsung believes that research into technologies such as this represents one of several critical milestones toward meeting the goals of 5G technology, including peak throughputs that are 100 times faster than those of LTE, and latencies one tenth of those we experience today.
News Source: Samsung Electronics
Web Site: http://www.samsung.com/

Related Netmanias ONE-SHOT