---
Companies will collaboratively develop and verify 5G device prototypes as well as key 5G technologies including 'Anchor-Booster Cell' and 'Massive MIMO'
SK Telecom's CTO to speak on the company's 5G vision at GTI Summit and GSMA Conference held during MWC Shanghai 2015
---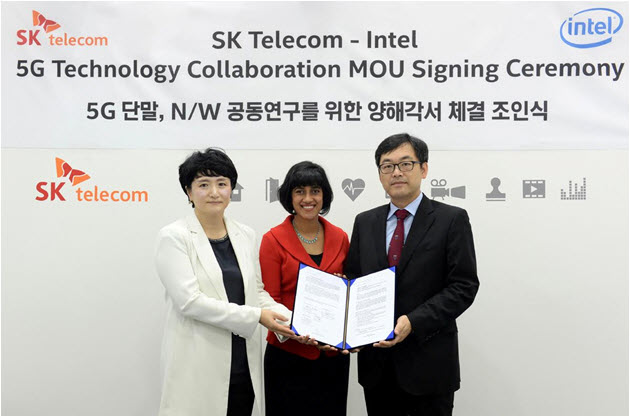 SK Telecom today announced that it extended its strategic collaboration with Intel to cooperate on the development and performance verification of 5G technologies. The signing ceremony took place during MWC Shanghai 2015, Asia's largest mobile event being held from July 15 to 17, and was attended by senior executives of both companies. Specifically, SK Telecom and Intel will jointly develop 5G chipset and device prototypes, as well as Anchor-Booster Cell and Massive MIMO technology.

To demonstrate early 5G capabilities and ultimately pave a path to 5G commercialization, it is essential to develop a modem device that supports not only 5G, but also the existing 3G and LTE networks and ensures seamless interworking among multiple RAT(Radio Access Techonology)s. To this end, the two companies will work together to develop and verify5G devices that are similar size to the existing LTE devices for frequency bands that are highly likely to be used for pre-5G demonstrations and 5G commercialization.

SK Telecom and Intel will also further their efforts on Anchor-Booster Cell, one of the core 5G technologies that enables seamless transmission of massive amounts of data via a combination of an LTE network and next-generation wireless LAN called WiGig*.
*WiGig (Wireless Gigabit Alliance), also implemented in IEEE 802.11ad, enables multi-gigabit speed wireless communications over the unlicensed 60 GHz frequency band.
The WiGig specification not only allows devices to communicate at multi-gigabit speeds, but also consumes much less power to prolong battery life. WiGig is expected to support about 10 times faster speeds than Wi-Fi, allowing users to download a full HD movie (4-10GB) in just one to two seconds.

The two companies will apply Mobile Edge Computing technology on the Anchor-Booster cell to further enhance 5G by improving QoE(Quality of Experience), and developing new business models for enterprises and key verticals.

SK Telecom and Intel also agreed to develop and verify 'Massive MIMO (Multiple-Input Multiple-Output),' a multiple antenna technology that dramatically increases base station capacity for both transmission and reception of data.

In addition, within this year, SK Telecom will establish a 5G test bed at its Bundang Building, where the corporate R&D Center is located, to research and develop core 5G technologies with Intel.

"This new MOU deepens the cooperation between SK Telecom and Intel to develop and secure key enabling technologies for 5G," said Alex Jinsung Choi, the Chief Technology Officer of SK Telecom. "We will continue to make efforts to provide customers with unprecedented value through innovative 5G services."

"We believe 5G will deliver dramatically better device connectivity and enable new and better user experiences to support a variety of connected devices in the future," said Asha Keddy, vice president, Platform Engineering Group and the general manager, Next Generation and Standards, Intel Corporation. "Intel and SK Telecom share a commitment to the success of 5G networks and have the experience and resources needed to solve the technology challenges involved with advancing 5G networks to commercial deployments."

Meanwhile, SK Telecom's Chief Technology Officer Alex Jinsung Choi has been invited to speak at GTI Summit Shanghai 2015 and GSMA Conference held during MWC Shanghai 2015. At the GTI Summit, Choi will give a keynote speech on the 5G network architecture as well as the company's 4G network operational knowhow. He will also share his expertise and insight in the session, '5G Leadership in the Asia Pacific Region,' during the MWC Conference.