---
SK Telecom and Verizon will drive 5G standardization with co-developed 5G technical specifications and conduct joint studies to identify innovative 5G use cases
The two companies aim to lead the next-generation network ecosystem through strengthened R&D cooperation at the OCP and M-CORD project
---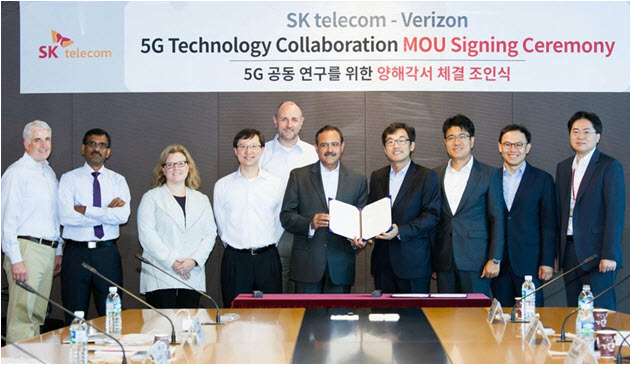 SK Telecom today announced that it has entered into a MOU with Verizon, the largest wireless telecommunications provider in the United States, to drive standardization and to conduct joint studies in the field of 5G.
The MOU signing ceremony took place at SK Telecom's headquarters in Seoul, Korea, with the participation of Alex Jinsung Choi, Chief Technology Officer and Head of Corporate R&D Center of SK Telecom, and Roger Gurnani, Executive Vice President and Chief Information and Technology Architect of Verizon.
Under the MOU, SK Telecom and Verizon will work together to turn co-developed 5G technical specifications into global standards. The two companies will also conduct joint studies to identify innovative 5G use cases and applications.
Following the MOU signing ceremony, the two companies held a technical coordination/cooperation meeting to share their technological progress in areas including 5G, Internet of Things (IoT), LTE and infrastructure virtualization. At the meeting, they agreed to strengthen their cooperation in the Open Compute Project (OCP)* and the Mobile Central Office Rearchitected as a Datacenter(M-CORD)** project.
* The Open Compute Project is a collaborative community focused on redesigning hardware technology to efficiently support the growing demands on compute infrastructure.
** Built on top of the ONOS open source project and Central Office Rearchitected as a Datacenter (CORD), M-CORD combines data center economies and the cloud agility of CORD infrastructure with the benefits of mobile edge computing and disaggregation and virtualization of mobile infrastructure components. M-CORD takes a significant step towards bringing economies of scale and cloud agility to the central office, by integrating SDN, NFV, and cloud principles with the best of mobile architecture.
SK Telecom and Verizon have been discussing requirements, technical specifications and plans for 5G since October 2015. Also, in February 2016, they formed a new global initiative called the 5G Open Trial Specification Alliance to discuss 5G trial specifications and lead standardization of 5G technologies.
"This MOU will further strengthen and deepen our collaboration with Verizon," said Alex Jinsung Choi, Chief Technology Officer and Head of Corporate R&D Center of S K Telecom. "Through joint studies and researches, SK Telecom and Verizon will develop 5G
technical specifications and innovative use cases to move up the commercialization of/usher in the new era of/lead the era of 5G."
"Verizon continues to collaborate with SK Telecom to develop 5G technologies," said Roger Gurnani, Executive Vice President and Chief Information and Technology Architect of Verizon. "The signing of this MOU reflects our combined effort to advance the 5G ecosystem and drive technical development towards global commercialization of 5G technologies."