2015 Communication Service Quality Evaluation in Korea - Average LTE Speed, 117 Mbps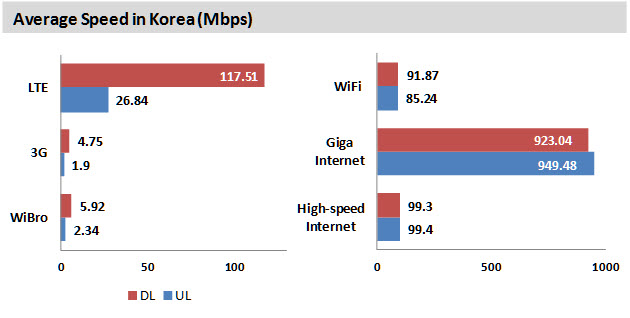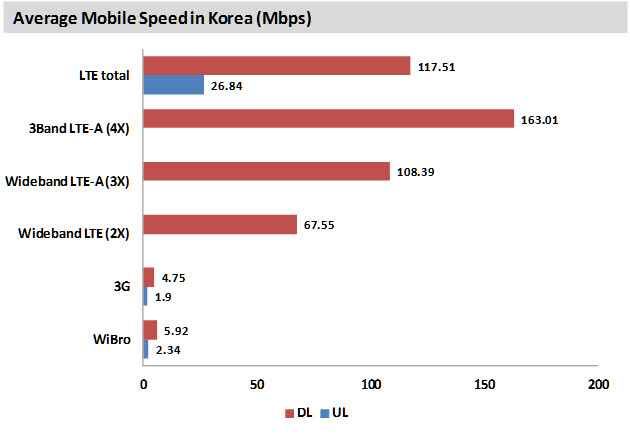 The Ministry of Science, ICT and Future Planning (MSIP) of South Korea released on the 30th the results of '2015 communication service quality evaluation'. The nation's average LTE speeds were recorded at 117.51 Mbps, up from the last year's Broadband LTE-A (3X LTE) speeds of 114.4 Mbps, thanks to 3Band LTE-A (4X LTE) service launched earlier this year. Of the Korea's big 3 operators, SK Telecom was found to provide the fastest average speeds of both Broadband LTE-A (3X LTE) and Broadband LTE (2X LTE).
This year, 3Band LTE-A (with claimed DL maximum speeds of 300 Mbps) and wired giga Internet services were assessed for the first time. Also, evaluation of 2G voice service was resumed in order to attract more investment in areas with poor service quality.
The nation's average LTE service speeds, of most interest to all, were assessed at 117.51 Mbps, which was incomparably faster than North America at 40.03 Mbps, Europe at 30.51 Mbps, and Asia at 33.77 Mbps. It was also faster than wired ultra speed Internet service (100 Mbps).
3Band LTE-A recorded 163.01 Mbps at average, 1.5 times faster than Broadband LTE-A (108.39 Mbps). As the service was still in the process of expanding nationwide, only the average of the big 3 was disclosed. This year, Broadband LTE-A service became slower than last year due to increased LTE subscription in the nation - 5.7 million more as of November 2015.
Broadband LTE-A speeds (DL) of the big 3 are also compared. Of the 3, SK Telecom was the fastest, at 115.54 Mbps, followed by KT (106.68 Mbps) and LG U+ (106.32 Mbps). The speed difference between SK Telecom and the runner-ups was about 9 Mbps this year, up from just 3.7 Mbps a year ago.
The operators have different views on what caused the increased speed difference. SK Telecom argued that it was the fruits of its constant investment in the network despite its relatively insufficient frequency per subscriber, and also that it is leading investment in 3Band LTE-A network as well.
KT and LG U+ claimed that SK Telecom's acquisition of additional spectrum in 2.1 GHz has contributed to such difference. Although SK Telecom alleged it is using the spectrum for traffic distribution only, having additional spectrum itself can certainly serve as an average speed booster, argued the two companies.
3G service download speeds were measured at 4.75 Mbps while WiBro (Mobile WiMAX) was at 5.92 Mbps. WiFi speeds were metered at 91.87 Mbps, 3.4 times faster than a year ago. Of the 3, KT was found to be the fastest WiFi speed at 112.31 Mbps in. Giga Internet download speeds were 923.04 Mbps, a little below 1 Gbps, while high-speed Internet (100 Mbps) was assessed at 99.3 Mbps.