2. Cloud-based datacenter
KT also plans to build a Clould-based datacenter to provide more efficient and reliable mobile service. The datacenter, to be built in May 2016, will be accommodating IT solutions for operating the official Olympics website as well as the games. Thanks to the excellent scalability during traffic spikes, the datacenter will ensure the event goes reliably.
3. How far until completion?
The deployment of a mobile communication network has been completed over 30% as of February 2016, and will be completed 100% by the end of the year. Once completed, the company will begin fully-fledged operation of the network in 2017.
II. KT, ready for the world's first 5G Olympics?
Since the announcement of the 5G trials by Chairman Chang-kyu Hwang at MWC 2015 a year ago, KT has been leading 5G development efforts, together with global vendors through, for example, commercializing GiGA LTE, a pre-5G solution, launching a 5G R&D center, participating in activities of 5G international standardization organizations, and more.
Also last month, KT finalized the detailed features of 5G service it will be launching in 2018: maximum speeds of 20 Gbps, less than 1 ms latency, and over 1 million device connections per 1 km2. The company will finalize further details about the sepcifications of 5G system and device by June, and complete development and verification of the system (hardware) accordingly by December.
III. Demonstration of 'Realistic (make it feel so real)' 5G trial service
To show the world the technology and infra developed so far, KT presented a live showcase of 'Realistic (make it feel so real)' 5G trial services like Sync View, 360° VR, Hologram Live, 5G Safety, etc., all to be launched at the upcoming sporting event, by connecting Bokwang Snow Park, the testing site, and Kwanghwamoon.
1. Sync View
Sync View, realized via Active Antenna 5G-based technology, transmits ultra-high quality video in real time through an ultra-small camera featuring mobile communication module. Because it can synchronize different videos, viewers can choose to watch from athletes' point of view feeling as if they were present at the events, or in regular broadcasting view. The picture below shows a helmet with a built-in ultra-small camera as an example.

Sync View Watching from different points of view (athlete, referee, etc)
2. 360° VR
360° VR is another realistic service that transmits 360 degree display in real time into multiple live channels through 5G mmWave Access. So, viewers can watch the game at any direction and degree they want, feeling as if they were spectators at the stadium or arena.

360º VR Provides 360º display for supremely realistic experience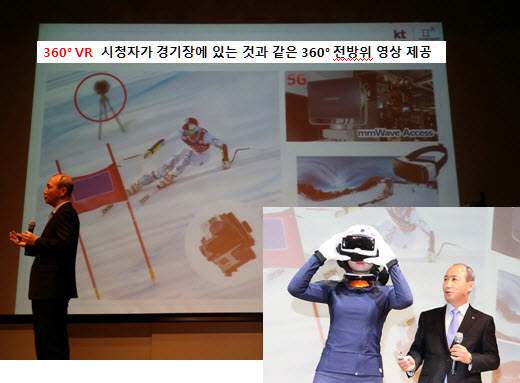 3. Hologram Live
Hologram Live is an ultra-high quality remote hologram service that uses 5G mmWave backhaul technology for transmission. During the demonstration, KT's VP Sung-mok Oh interviewed Ho-young Cheon, a skier at PyeongChang stadium, by projecting the skier in 3D, although as small as the hologram monitor, but realistic enough to make him look real, at the demo site.
Hologram Live Live hologram powered by 5G-based real-time streaming technology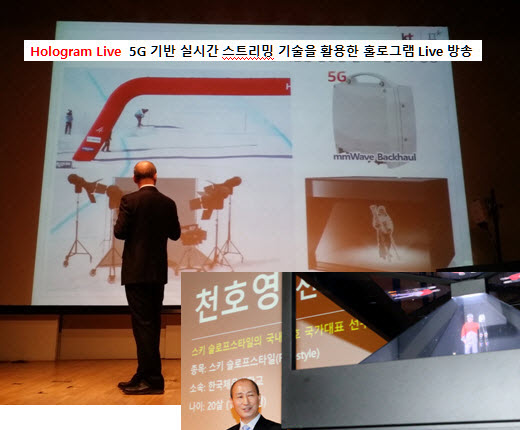 4. 5G Safety
5G Safety is a security service featuring facial recognition solution that combines drone and AI system. Drones will send images to security staff and the control center in real time via Fiber To The Antenna (FTTA), allowing them instantly respond to any unexpected, suspicious signs or activities detected.
5G Safety 5G-based integrated security service for added security at the Olympics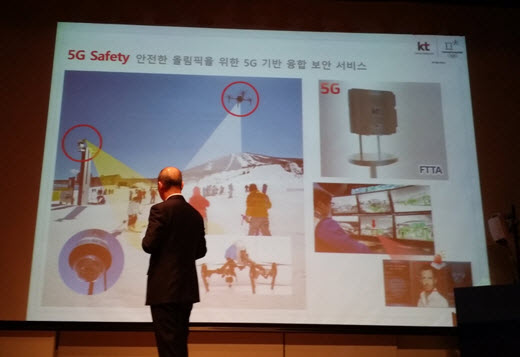 In addition, Time Slice service which can be useful in instant video replays was demonstrated.
IV. Communication technologies
Technologies used in the 5G trial service demonstration include Active antenna, FTTA (Fiber to the Antenna), mmWave Backhaul and mmWave Access.
After the demonstration, VP Sung-mok Oh said, "We are certain that viewers all around the world will be able to enjoy safer and livelier Olympics thanks to 5G network and service that we are about to present."
KT, in cooperation with global mobile operators, finalized detailed specifications of 5G PHY system last month, and plans to finalize specifications of 5G system and device by June for system development.

Initiating key standards of 5G services for the Olympics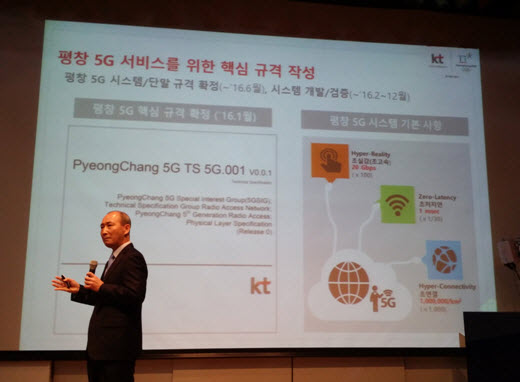 3GPP 5G specifications are known to be released after the Olympics. KT plans to maintain close relationship with global mobile operators, and stay active in activities by major global technology organizations to have its 5G technologies released during the Olympics included in the global standards.