KT will showcase its cutting-edge 5G technologies and integrated services under the theme of 'Global 5G Leader' in the Mobile World Congress to be held from February 22nd through 25th.
The company will open a GSMA exhibition hall named 'Innovation City', jointly with other global companies like AT&T, GSMA, Sierra and Jasper.
KT's exhibition hall consists of '5G Zone' where demonstration of the world's first 5G network technologie,s including 20Gbps speeds and 5G service, will be conducted, and 'Start-up Zone' where cutting-edge integrated services by promising start-ups are presented.
3-D perspective view of KT exhibition hall
■ 5G Zone
5G Zone will be specifically focusing on 5G technologies and services to be presented during the 2018 Pyeongchang Winter Olympics.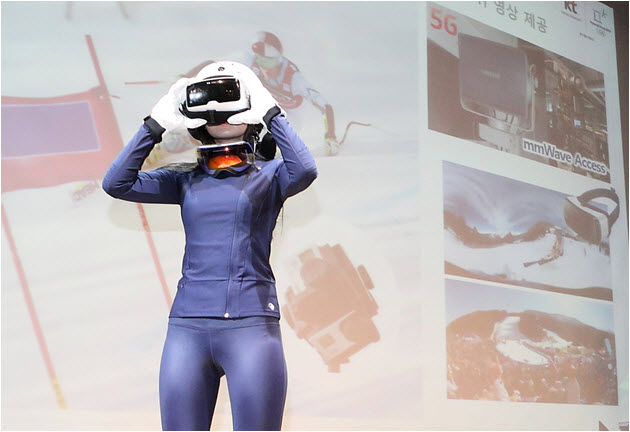 • 360º VR (Virtual Reality)
Visitors, using a VR goggle, can try watching live streaming video being videotaped by a 360º VR camera at the exhibition hall. Also, at a staged ski jump hill, they can try using a helmet with a built-in camera which will transmit video to TV screen in real time allowing viewers to watch from a skier's point of view.
• Wiz Stick, a portable security platform
Released in September 2015, Wiz Stick is expected to fundamentally solve hacking problems, like farming, on a network level.
• Emergency network
KT will present a network that can cover land, sea, air and even space by integrating 'Drone LTE', 'Backpack LTE', 'LTE-Maritime', and 'Satellite LTE' introduced last November for quick deployment of a communication network during disasters.
■ Start-Up Zone
A variety of innovative intergrated services by start-ups including Ulala Lab will be exhibited.
• Ulala Lab
A smart factory IoT platform named 'WIM Factory' that supports efficient production line management features, such as real-time detection and monitoring of production lines at manufaturing facilities by using Beacon will be showcased.
• 247: Smartphone case with a high voltage stun gun inside the case
• Amadas: Smart digital doorlock
• 12CM: Smart stamp and authentication solution for smartphones