---
Deployed world's largest mmWave 5G trial network with Ericsson at BMW driving center located in Incheon, Korea to demonstrate 'T5', the world's first 5G connected car
Supported by Gbps throughput and ultra-low latency of 5G, T5 provides enhanced safety features to improve driving experience and safety by enabling 5G-based V2X communications
---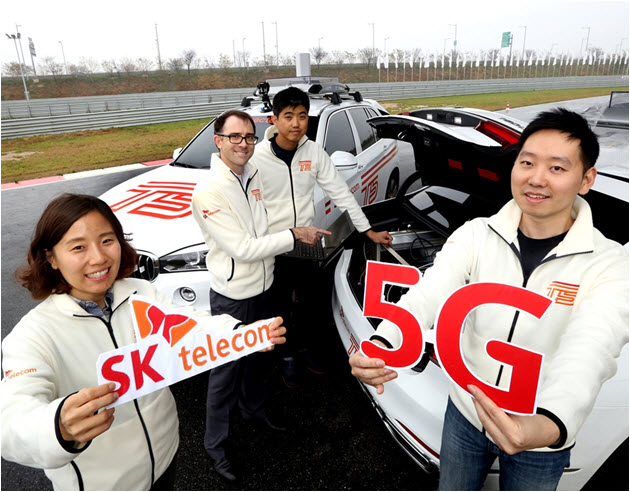 SK Telecom today announced that it deployed the world largest mmWave 5G trial network using the 28GHz band at BMW driving center located in Yeongjong Island, Incheon, and demonstrated the world's first 5G-based connected car, named 'T5.'
The 5G trial network covers all driving tracks inside the driving center which spans across an area of 240,000 square meters and supports more than 20Gbps peak data rates with sub-millisecond latency. SK Telecom and Ericsson have jointly developed and deployed the 5G radio and core network infrastructure to cover the whole driving center.
Based on the 5G trial network, SK Telecom has demonstrated the world's first 5G-based connected car named 'T5'. Realized through the powerful combination of 5G and Vehicle-to-Everything (V2X) technologies, T5 provides innovative features that dramatically improve road safety and driving experience by supporting ultra-low latency communication between vehicles or the vehicle and its environment. For the demonstration, SK Telecom worked with BMW Group Korea to install 5G terminals within two BMW vehicles.
SK Telecom has demonstrated T5's capability to observe road conditions enabled by state-of-the-art video recognition camera installed within the vehicle so as to provide notifications and assisted-driving to drivers. In addition, the company has transmitted, in real time over the 5G network from the device to the network (i.e., uplink), ultra-high-definition (UHD) video taken by 4K cameras and a 360-degree camera installed both inside and outside of the vehicle to the control center set up for the audience to enjoy the demonstration through large screen displays.
SK Telecom has also introduced a 5G-based virtual reality bus (named '5G Experience Bus'). Equipped with large screen displays, an audio system and state-of-the-art video cameras to provide augmented/virtual reality multimedia, 5G Experience Bus provides passengers with immersive media experience while on the move.
"5G will offer much more than just faster data speeds. It will serve as a true enabler for a whole new variety of powerful services that deliver unprecedented value to customers," said Alex Jinsung Choi, the CTO and Head of Corporate R&D Center of SK Telecom. "Today's demonstration of 5G-based connected car technologies marks the very first step towards achieving fully autonomous driving in the upcoming era of 5G."
"At present, global automakers are expanding partnerships and collaborations to gain an edge in the area of future mobility realized through 5G," said Kim Hyo-joon, the CEO of BMW Group Korea. "The cooperation between BMW and SK Telecom will lay the foundation for 5G-based connected car technologies, and inspire us to achieve more innovations."
Meanwhile, SK Telecom has also unveiled plans to deploy and operate 5G trial networks characterized by different scales and capabilities in Seoul and other select metropolitan area through cooperation with global telecommunications equipment manufacturers including Ericsson, Nokia and Samsung Electronics starting from early 2017. Moreover, based on these 5G trial networks, the company will develop and verify diverse futuristic 5G services such as connected car, artificial intelligence, robotics, and immersive media based on augmented reality and virtual reality technologies.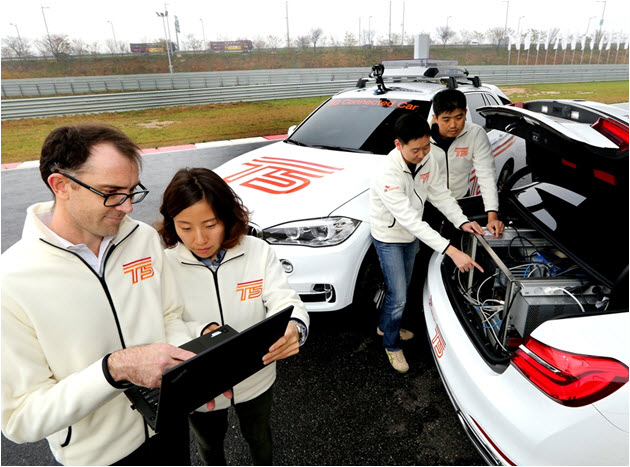 '5G Connected Car' test at the BMW Driving Center located on Yeongjong Island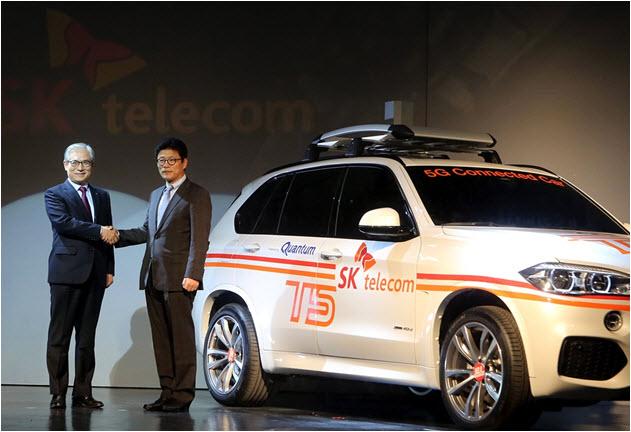 Kim Hyo-joon, the CEO of BMW Group Korea (left) and Hyunghee Lee, President of Mobile Network Business at SK Telecom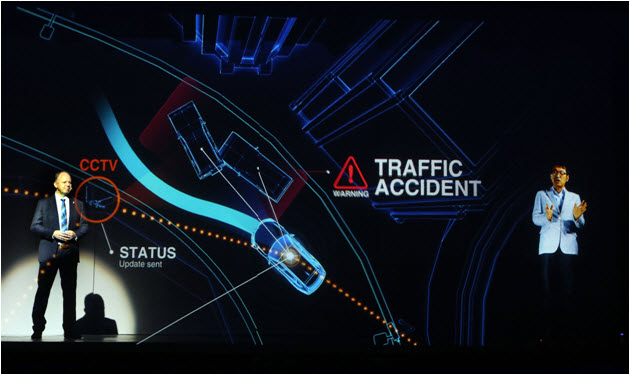 Martin Wöhrle, the Head of R&D Center at BMW Korea (left) and Alex Jinsung Choi, the CTO at SK Telecom