SK Telecom and Nokia implement World's First Software-Defined RAN (SDRAN) in a Commercial LTE Network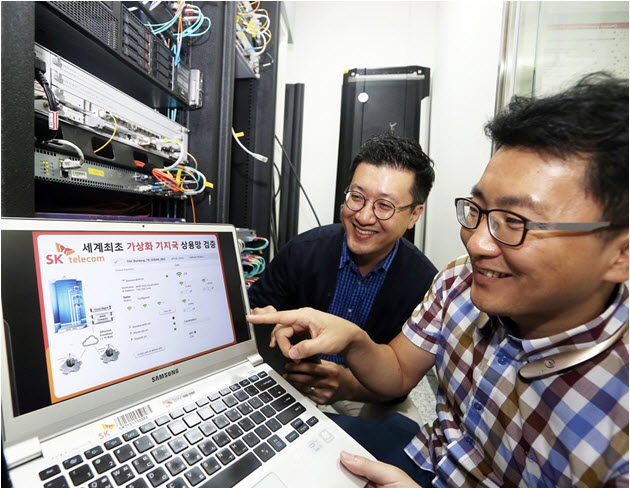 SK Telecom and Nokia Implement World's First Cloud-based Radio Access Network in a Commercial LTE Network
The two companies successfully implement the world's first next-generation, cloud-based, virtual base station
The new technology takes advantage of virtualized functions to deliver new network scalability and elasticity, enhancing quality of service and network stability with features such as functional split and automatic recovery of errors
Due to software-based configuration and open architecture, innovative network functions can be developed in partnership with SMEs.
The successful implementation of the virtualized core network and virtualized base station lays the foundation for an evolution towards a 5G network structure
SK Telecom today announced that together with Nokia, it has successfully implemented the world's first cloud-based SDRAN (Software-Defined RAN) - also known as Cloud RAN - in a commercial network.
SDRAN is a next-generation cloud-based radio access network and cloud base station equipped with various IT technologies based on open architecture. It is a new concept in technology in the sense that mobile communication functions are turned into Virtual Machines (VM) to be implemented on general-purpose servers, and integrated within the cloud.
SDRAN enables traditional base station functions to be implemented on a general-purpose IT server, and its distinctive features include functional split between real time and non-real time processing functions, Ethernet-based interface, and intelligent operation.
A functional split of the protocol in the baseband processing is the architecture of SDRAN, and this relegates parts of the DU (Digital Unit) functions to the RRU (Remote Radio Unit). By doing so, traffic can be scaled more effectively and multiple connectivity scenarios can be efficiently deployed without immediate additional investments in transport or baseband capacity.
Until now, a designated interface has been used for data transmission between the DU and the RRU, but with the new SDRAN, a more broadly used Ethernet-based DU-RU interface is optimized for the communication environment and used for more efficient network configuration. The interface also better handles signal delays, so that when a delay occurs, it adjusts the timing of data transmission and prevents a slowdown in transmission speed. Accordingly, customers benefit from better data quality.
By applying general IT technologies to an interface as well as base station processing, the new technology is expected to accelerate 5G network innovation that evolves beyond All IP toward All IT.
Particularly, VU functions are applied for intelligent operation, which are used in IT virtualization (e.g. data center). By doing so, a base station can self-detect systemic errors and automatically restore the VM. Also, it dynamically generates or deletes the virtual resources of a base station, depending on the number of current users and traffic loads, for more efficient resource allocation. And service quality is also likely to improve due to more stable network operation.
SDRAN will be able to offer a variety of third party edge services in connection with MEC (Mobile Edge Computing) that provide localized communication services. And, since the network is implemented by software, it is easier and quicker to add new network functions. This would significantly shorten the time for delivering new technologies to customers.
As network virtualization receives growing attention in the telecommunication industry, commercialization of SDRAN is seen as an excellent achievement to overcome the technical difficulty of virtualizing a base station that emphasizes high-speed data processing without delay. This would play an important role in an evolution toward next-generation communication network.
Since demonstrating the world's first virtualized RAN functions in 2013, SK Telecom has continued to work with Nokia to innovate using base station equipment by combining communication infrastructure and IT. Last year, the company completed a field test of SDRAN, and recently succeeded in applying the technology to the commercial network.
SK Telecom is leading global technological advancement through diversified efforts including a publication on development progress of virtual base station in last October for NFV Standardization meeting of ETSI. By commercializing the virtual core network and SDRAN, the company is now in an advantageous position in accomplishing the world's first virtualization of an entire LTE network as well as innovation of 5G network structure.
Frank Weyerich, head of Mobile Networks products at Nokia said, "This is a major milestone for Nokia; together with SK Telecom, we have for the first time implemented our AirScale Cloud RAN technology in a commercial network. We are paving the way towards 5G, and cloud-based radio networks delivering the scalability and flexibility required to allow operators such as SK Telecom to meet the future data demands of customers, enabling new levels of user experience at minimal cost and maximum operational efficiency"
"Network innovation through convergence of telecommunication and IT is an urgent task to deal with explosive growth of data traffic. SK Telecom will continue to develop innovative technologies like SDRAN to lead the evolution toward next-generation network," said Park Jin-hyo, Senior Vice President and Head of Network R&D Center at SK Telecom.
---
Related Netmanias' Content
Tech-Blog: SK Telecom taking a big leap forward for 5G through SDRAN (Software-Define RAN) field implementation
One-Shot Gallery: Nokia's D-RAN/C-RAN Evolution Architecture Click below image to download pdf file