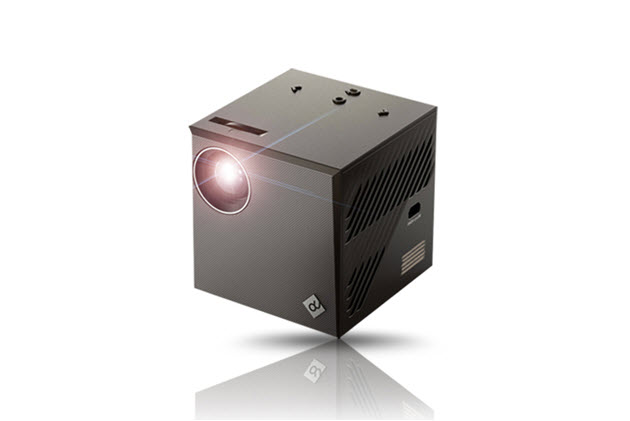 SK Telecom today announced that its UO Smart Beam Laser NX has been named 2017 CES Innovation Awards Honorees in two different categories of 'Home Audio/Video Components and Accessories' and 'Portable Media Players and Accessories'.
The CES Innovation Awards is an annual competition honoring outstanding design and engineering in consumer technology products. Since 1976, this prestigious competition has honored today's ground breaking technology. The awards span 28 product categories and cover the most influential and innovative fields in the industry, from smart home to wearable technologies. Entries are evaluated on their engineering and design qualities: aesthetics, functionality and uniqueness. The expert panel of judges consists of an independent designer, independent engineer and a member of the trade press.
UO Smart Beam Laser NX is the world's first pico projector that incorporates a hybrid light source comprised of LEDs and lasers. By combining the strength of the two light sources, SK Telecom was able to create an ultra-small pico projector that allows users to experience rich vibrant colors and a stunning resolution anywhere, anytime. UO Smart Beam Laser NX offers a brightness of 200 lumens, and native resolution of 1280 X 720.
It marks the first UO Smart Beam projector to operate as a standalone device. Built with a micro SD slot, the projector can project diverse video files stored in a micro SD card, requiring no connection to smart devices unlike its predecessors. Moreover, it is applied with Android Lollipop operating system to provide users with a greater convenience and wider range of choice via direct access to a vast amount of content at online websites/apps.
Since introducing the world's first ultra-mini cube-shaped pico projector in 2012, SK Telecom has always kept its design identity by launching diverse models in cube shapes. The cube-shaped projector clearly differentiates itself from other flat, rectangular-shaped projectors not just because it looks more chic and stylish, but also because it can be freely positioned to project image contents onto any wall or ceiling.
The actual product will be available at major online shopping malls in January 2017.
"SK Telecom is proud to be a CES Innovation Awards Honoree again this year. The award continuously recognizes our efforts to go beyond the telecommunications to create greater value for our customers," Kim Sung-han, Senior Vice President and Head of Device Planning Office at SK Telecom. "We will continue to develop innovative products that can further enhance convenience, health, and safety of our customers."
Meanwhile, SK Telecom introduced a special limited edition of UO Smart Beam Laser NX (named UO Smart Beam Laser NX BIGBANG 10 Edition) in the global market in August 2016 through collaboration with BIGBANG, a globally popular K-pop boy band. While keeping the basic characteristics of its predecessors, BIGBANG 10 Edition was applied with a special logo to commemorate the 10th anniversary of BIGBANG as well as five horizontal lines that symbolize BIGBANG's five members.