KT held a Briefing Session on 5G Commercial System RFP for selecting 5G System Development Partners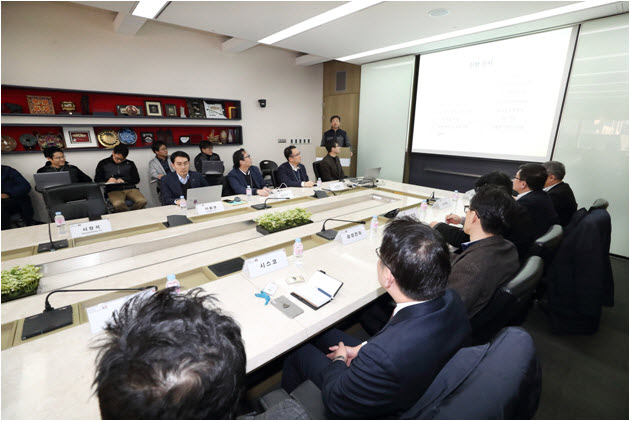 KT announced its 5G commercial system RFP on 29th and held a briefing session with six global 5G system manufacturers attending.

KT held a briefing session on 5G RFP for selecting 5G commercial system development partner company at KT Gwanghwamun West building on the 29th. The meeting was held to explain KT's 5G commercialization direction and key technology requirements for the six global manufacturers (Nokia, Samsung, Cisco, etc.) attending.
This 5G proposal includes 5G commercial system requirements based on 3GPP standards that reflect KT's 5G commercial network deployment plan. Through the briefing, KT presented the major technology requirements for 5G business and 5G commercialization based on know-how accumulated during the process of preparing 5G service for Pyeongchang Winter Olympics.
In addition, KT explained future-oriented cloud communication architecture, 5G control system using artificial intelligence technology, the win-win relationship with SMEs through standardization of 5G Multi-Vendor Interoperability (MVI).
The proposal includes KT's plans to develop 5G MVI specifications through technical cooperation with NTT DoCoMo and global manufacturers.
When the development of the 5G MVI specification is completed, the multi-vendor equipments can be mixed to build KT's 5G network.
In particular, KT will continue to make efforts to expand the global 5G ecosystem by developing early 5G MVI standards and strengthening standardization activities so that 5G MVI standards can be reflected in global standards.
In addition, through the MVI standard, the company will focus on win-win by laying the foundations for technology sharing among incumbent 5G system suppliers and small and medium-sized companies.
| | | | | |
| --- | --- | --- | --- | --- |
| | KT 5G RFP key iterms | | Description | |
| | Future-oriented cloud communication architecture | | KT will provide optimal 5G service quality to its customers by building a 5G commercial network using cloud communication architecture that leverages existing its network infrastructure competitiveness. | |
| | 5G control system using artificial intelligence technology | | The introduction of the 5G AI control system, which applies deep learning based artificial intelligence technology to the 5G commercial network, will commercialize the first large-scale intelligent network as a solution that automates all processes such as inspection and optimization of 5G system and failover. | |
| | 5G Multi-Vendor Interoperability(MVI) Standardization | | KT will develop the 5G Multi-Vendor Interoperability (MVI) standard through technological cooperation with NTT DoCoMo and expand the base of participation in 5G market of SMEs | |