HFR, a Korean specialist in Optical and Radio Networking technologies, presented its newest In-building DAS, C-RAN Fronthaul and Carrier Ethernet solutions at Mobile World Conference (MWC) 2015.

1. In-building DAS
HFR unveiled uRadioTM (DRS product), an upgraded version of its precedent In-building DAS at MWC, generating a lot of interests among network operators who attended the event.
In-building DAS is a system designed to evenly distribute and deliver radio signals from base stations to shadowed areas in large complexes like tall buildings, shopping malls, subway, etc.

In a conventional in-building DAS system, units are connected in order of and eNB (or RRH), MU, HU, antenna and UE. eNB (or RRH) and MU can be located in an MDF room in buildings. HUs are usually mounted onto the walls on every or every few floors of a building while antennas are mounted onto the ceilings of rooms, conference rooms inside a building (see the figure above). For connection between eNB/RRH and MU, and between MU and HU, fiber cables are used while RF coaxial cables are used for connection between HU and antenna.

In a conventional DAS system, radio signals from eNB (or RRH) are delivered through fiber and RF coaxial cables to the antenna in a building near UE, but are radiated over the air from the antenna to UE. That is, instead of going a very long way directly from eNB (or RRH) to UE, signals travel securely through wired cables up to the antenna - the last point possible on wire, and the closest point to UE - but over the air from the antenna to UE. This minimizes the over-the-air travel distance of the signals, consequently resulting in better signal quality. And this way, the entire building can work as a cell itself, offering excellent signal quality (like there is no wall or ceiling that blocks signals).

Unfortunately, however, there is a critical issue with this system. It costs too much and takes too long to install, build and maintain indoor cablings, wireless infra (especially antennas), etc. To compensate for these issues, HFR introduced uRadioTM.


HFR's Sales VP Peter Cho explained, "New Remote Antenna Units (RAUs) that replace the existing antennas in DAS system come with built-in antennas and useful features that support radio network optimization-related functions (e.g. remote signal measurement and control function). And this eliminates the need to work manually and individually when building and maintaining an in-building wireless infra, drastically reducing costs and time required."

He also added, "Other benefits of uRadio would be that, because it uses UTP-type data cables which are relatively cheaper than conventional RF coaxial cables, cabling costs can be reduced. Plus, because the new solution alone can accommodate not only LTE but also the existent WCDMA, it can further lower costs of building and maintaining a wireless infra."

The uRadio solution has been run in some network sites of a Korean operator, SK Telecom, since its adoption in 2014. The company is currently working hard on global marketing, targeting markets in the US and Europe.

2. C-RAN Fronthaul
To handle soaring LTE data traffic, operators have been making macro cells smaller, and this has apparently left the operators with more cells to build and operate. To save costs in building and operating cell sites, a new architecture called Cloud RAN (C-RAN), was introduced.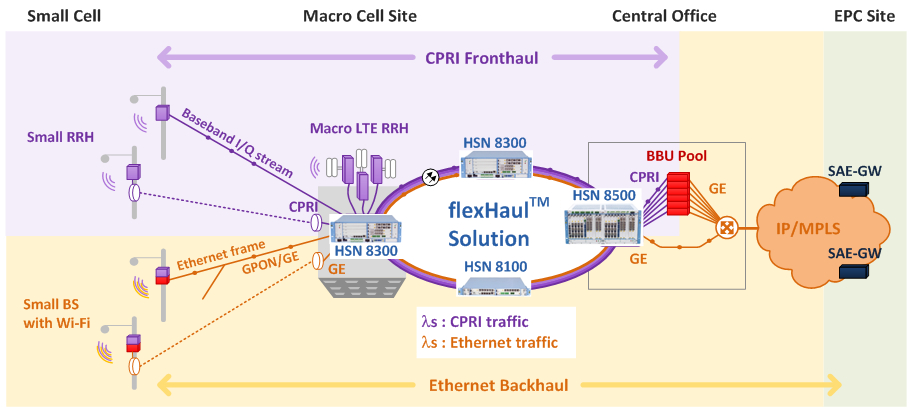 In C-RAN, BBUs and RRHs, located in different places separated from each other, are connected using fiber-based "Fronthaul" network such as "Dark Fiber". But, the problem with the dark fiber is that it would only work for those who already have plenty of fiber cables, and others including most operators would need a higher CAPEX/OPEX for leasing them.

HFR's Fronthaul WDM solution (flexHaulTM) is capable of aggregating (fronthauling) CPRI traffic from LTE BBUs and RRHs, and aggregating (backhauling) GPON/GE backhaul traffic from legacy base station, compact base station (pico), and Wi-Fi traffic APs to a single aggregation network. In addition, the solution helps operators to build a more-efficient and flexible mobile network, and also to keep their CAPEX and OPEX low.

When asked to name actual cases of deploying their solutions, Mr. Cho answered, "We have been supplying Fronthaul solutions to SK Telecom for large deployment, and also to Chunghwa Telecom, a Taiwanese operator, who is expected to have growing demand for large-scale commercial network soon. Especially, Chunghwa recognized the technological excellence and high reliability of our solutions, and so we were selected as its sole vendor. Currently, we are aggressively carrying out overseas sales activities in Europe, the Americas, Asia, and so on."

3. Carrier Ethernet
Carrier Ethernet, another key product suite of HFR, is an Ethernet-based network solution designed to work in computer networks with massive and high-speed traffic for services like Cloud service (e.g. government or enterprise network). As 4G mobile service grows, recently this solution has been serving as a wireless backhaul solution as well.

The company has achieved certification of CE 2.0 compliance of its HA-800 series (Carrier Ethernet switch). This switch is a small form factor that supports 10Gbps Ethernet speeds, and also gives the high scalability to allow users to economically respond to the soaring data traffic of these days.

Last year, Telecom Malaysia selected HFR as a supplyer of Carrier Ethernet solution for its mobile backhaul network.
HFR unveiled uRadioTM (DRS product), an upgraded version of its precedent In-building DAS at MWC.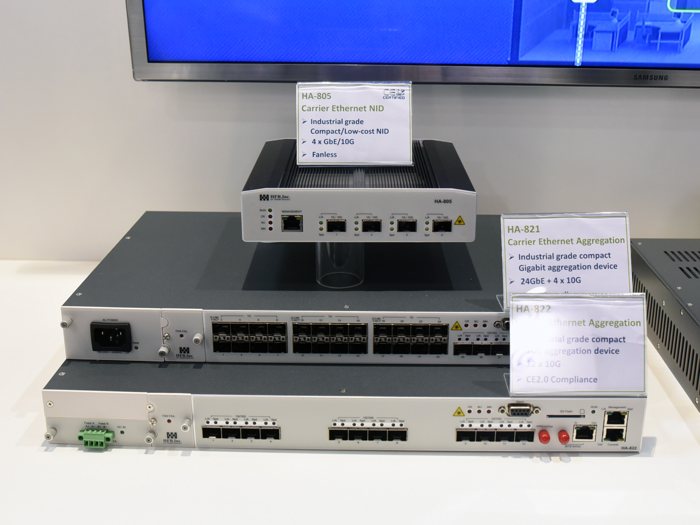 HFR's Carrier Ethernet siwtch (HA-800 series) was deployed in the mobile backhaul network of Telecom Malaysia last year.