Samsung Successfully Showcases World's First 3GPP Based Public Safety LTE Solution Prior to the Official Launch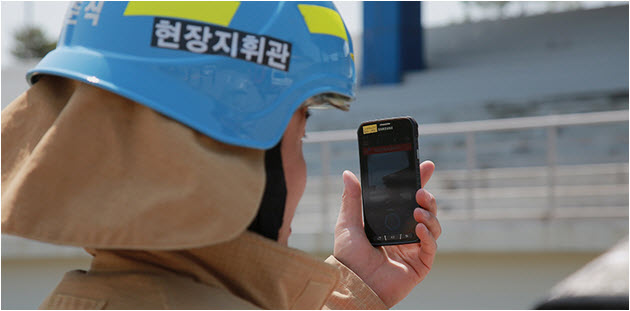 Samsung Electronics today announced that it successfully demonstrated the usability and reliability of its Public Safety LTE (PS-LTE) solutions during comprehensive testing in Pyeongchang, Korea. The solution is an advanced means of communication for emergency situations.

Today's test is part of the Korean government's official verification process for the first phase of a PS-LTE network project. During the test, 20 departments from eight fields, including medical, police, fire protection, military and government services, used the same PS-LTE network deployed by Samsung and responded in accordance with the Standard Operating Procedure (SOP).

"Through the successful demonstration, we showed our PS-LTE end-to-end innovation and stability by using the actual PS-LTE network, soon to serve public safety in live situations." said Dong Soo Park, Executive Vice President and Head of Global Sales & Marketing, Networks business at Samsung Electronics. "We're thrilled to see that Samsung's technical leadership can contribute to ensuring people's safety in Korea," he added.

"Today's comprehensive verification test indicates a significant milestone where a number of government agencies and business entities were able to rehearsal effective measures to overcome any challenging moment in emergency that are directly connected to people's safety in the country," said Mr. JinHong Shim, the Director of Ministry of Public Safety and Security (MPSS). "We could see today our efforts toward perfection by assuring both network performance and SOP and we hope to contribute to nation's safety through world's first 3GPP Standard-based PS-LTE project in first four cities by this month and nationwide by the end of next year."

During the test, various PS-LTE communications were demonstrated, such as instant messaging in emergency situations, voice calling by multiple groups, voice/video Push-To-Talk (PTT) communication and video conferencing between field and command center utilizing the PS-LTE network deployed in the area.

For example, during the virtual simulation, a situation was created to test the response to a fire, explosion or building collapse at an international event. Based on the steps of SOP, a volunteer called 911, and a responsible organization then reported the situation to all relevant groups instantly. The first responders arriving at the site delivered the message regarding the real-time situation through video-calling or HD group-calling, after which every organization would perform their own rescue operations organically based on the steps taken above.
Samsung was selected as a sole provider of the PS-LTE end-to-end solutions by the Korean government in January 2016. For this event, Samsung provided 700 MHz base stations, a virtualized core solution including key PS-LTE features, such as IMS and PTT, as well as rugged-type smartphones.

Following today's event, the Korean government's PS-LTE network will be launched in four cities beginning this month. The government will continue expanding the coverage until it provides a nationwide PS-LTE service.