SK Telecom and Nokia Complete Development of Mission Critical LTE system for First Responders
---
Unveils the most innovative portable all-in-one PS-LTE system fully equipped with base station, core network and PTT solutions
First solution to fit core network and PTT solutions into a portable server through the application of NFV technologies
Provides invaluable communications system to for wide use of in disaster relief and emergency operations by instantly setting up an independent LTE network
---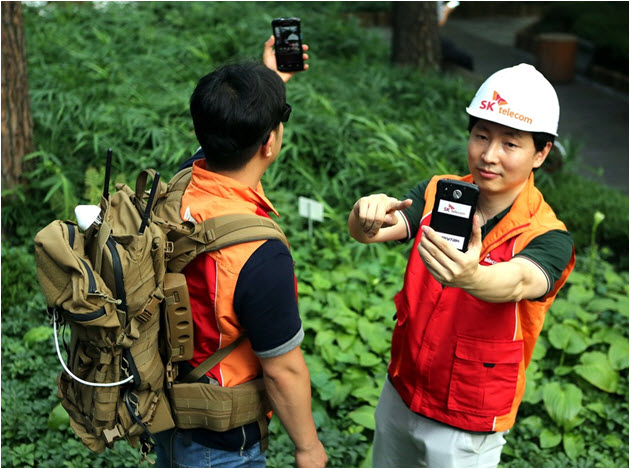 SK Telecom and Nokia today announced that they have successfully developed a mission-critical LTE System for first responders, a portable all-in-one Public Safety-LTE (PS-LTE)* network system.
*A public safety network is a wireless communications network used by emergency services organizations, such as police, fire and emergency medical services, to prevent or respond to incidents that harm or endanger persons or property. The PS-LTE network refers to an advanced public safety network based on the LTE network.
Although compact enough to fit into a backpack, the system is equipped with all elements required for mobile telecommunications, including a base station (eNB), switching system (core network: Evolved Packet Core, Home Subscriber Server, Policy and Charging Rules Function, etc.) and Push To Talk (PTT) technologies – to instantly create an independent communications network to be used by public safety workers/emergency services.
SK Telecom and Nokia were able to realize the world's first portable all-in-one PS-LTE network by applying Network Functions Virtualization (NFV) technologies to the core network elements and PTT solutions to fit them into a small rectangular shaped server. The existing portable LTE systems were only composed of a base station, and thus still needed to be connected to a backhaul network to enable communications.
Moreover, the system offers scalability as it can add other communication solutions (e.g. user management program, group messaging, etc.) needed by public service agencies. With the portable all-in-one PS-LTE system, first responders at the site of emergencies can communicate with each other over the instantly created LTE network. The network deployed with the system provides coverage of five kilometers and accommodates up to 400 users, and has a set-up time of less than three minutes.
Since signing an agreement for joint development of disaster communication technologies in October 2015, SK Telecom and Nokia have been working closely to develop diverse disaster communication technologies, including portable LTE system and real-time Group Communication System Enabler (GCSE) based on mobile evolved Multimedia Broadcast Multicast Service (eMBMS)*.
*evolved Multimedia Broadcast Multicast Service (eMBMS) is capable of simultaneously transmitting heavy multimedia content to massive users
SK Telecom plans to conduct a trial for the portable LTE system within this year, and to actively utilize the system to expand the national disaster safety wireless network as well as the 'LTE for Maritime Wireless Communications (LTE-Maritime)' project in 2017.
"The portable all-in-one PS-LTE system is a ground-breaking solution that enables communication among first responders by setting up an independent LTE network when regular communication networks are disrupted by disasters," said Lee Jong-bong, Executive Vice President and Head of Infra Division of SK Telecom. "SK Telecom will not only utilize the innovative system to build disaster safety wireless networks in Korea, but also plans to share its expertise and know-how with many other countries around the world."
"This world's-first portable LTE solution will be invaluable when critical services are needed to respond to all kinds of disasters and emergencies," commented Andrew Cope, head of Korea at Nokia. "We are very pleased to customize our all-in-one Ultra Compact Network in cooperation with SK Telecom and local small and medium-sized enterprises to suit their individual needs. Nokia will continue to take the lead in PS-LTE related standardization activities by collaborating with Korean companies and offering advanced PS-LTE solutions to our customers."